Why pick one dessert for Thanksgiving dinner when you can have them ALL! We've assembled all of our fave fall treats onto one delicious board for the perfect party platter - there is literally something for everyone!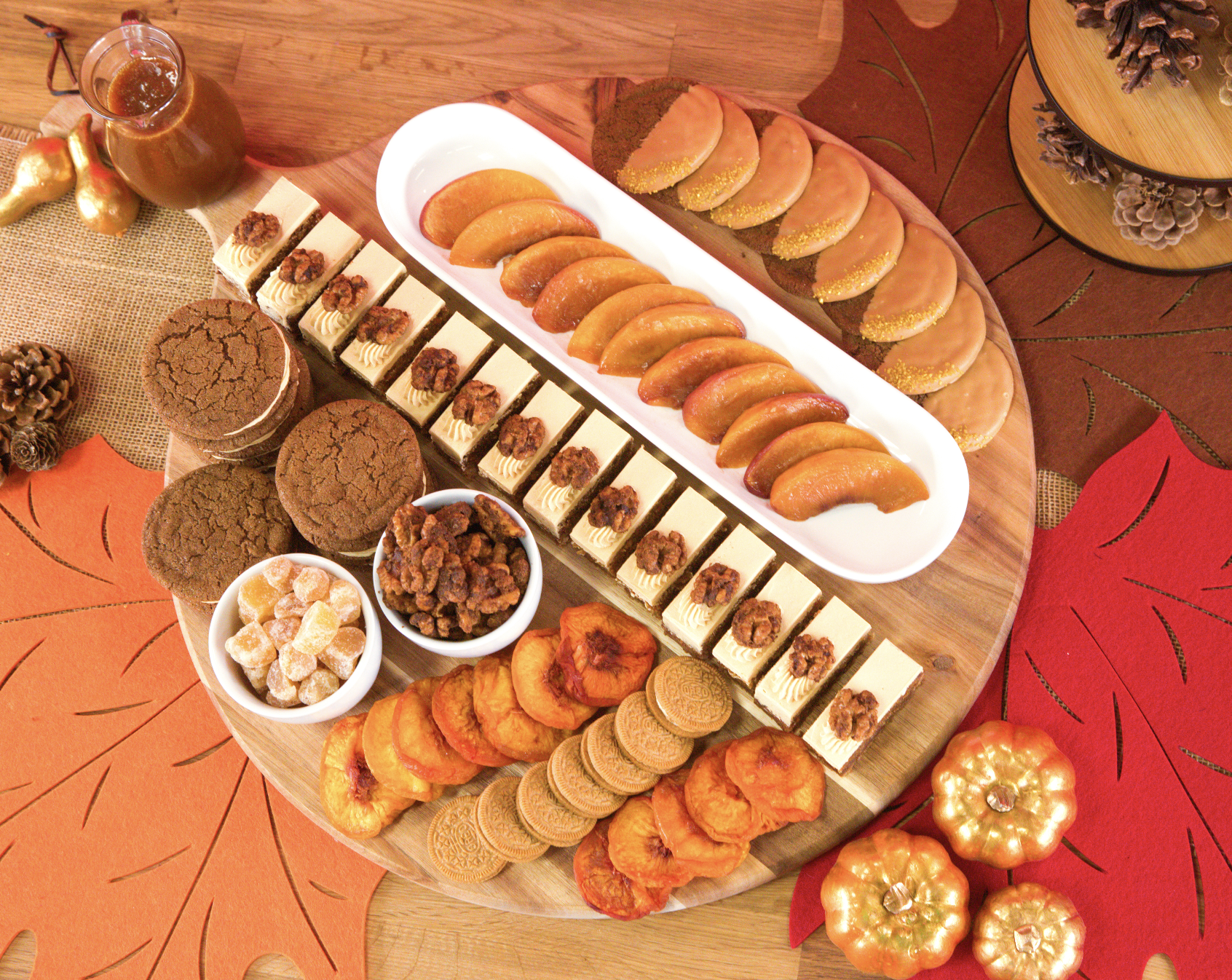 ---
Peaches
2 tbsp brown sugar
2 tbsp unsalted butter
Ginger
Prepare the recipes below in advance to make the assembly process smoother and quicker.

Make half a batch of Yo's Carrot Cake recipe in a 8" square cake pan then let it cool completely.

Once your cake has cooled, remove it from the cake pan and level off the top. Lightly drizzle some simple syrup onto the cake layer to keep it moist. Then use a large offset spatula to ice on some maple caramel buttercream on and let your cake chill.

Once your ginger snap cookies have cooled, match two dozen of them up in pairs according to size and set the remaining unmatched dozen of cookies aside.

Take your paired cookies and piped a maple caramel buttercream swirl onto one cookie and place the matching cookie on top to create a cookie sandwich. Repeat this for the rest of your matched up cookies until you have 12 cookie sandwiches.

Take your remaining dozen of cookies and dip them halfway into some melted gingerbread compound chocolate then sprinkle on a bit of gold sanding sugar.

Once your carrot cake has chilled, remove it from the fridge and grab a ruler. Measure equal parts of your cake to create 3 rows which will be then divided into 8 slices to create 24 even rectangles. Make sure to use a sharp kitchen knife for this.

Pipe on a little dollop of maple caramel buttercream to each cake square then place a roasted walnut on top.

Slice up your peaches and measure out your ingredients.

Turn your stove on and let your pan heat up. Once it's been heated, add your butter, brown sugar, and ginger to the pan and let simmer for a minute. Turn your heat down slightly then lay your peach slices on top of your butter mixture..

Sautee your peaches slightly on both side so that they are slightly carmelized but not mushy!

TIP: Be careful when sautéing the peaches because the sugar will get very hot.

It's time to assemble your board! Feel free to get as creative as you want with this process and don't shy away from store bought treats to jazz up your arrangement. We added all of our baked goods along with store bought candied ginger, golden Oreos, dried fruits, and of course, some extra caramel ;). Have fun with this step and get ready to enjoy all the fall goodies!
#howtocakeit
Sunday,Monday,Tuesday,Wednesday,Thursday,Friday,Saturday
January,February,March,April,May,June,July,August,September,October,November,December
Not enough items available. Only [max] left.
Add to Wishlist
Browse Wishlist
Remove Wishlist