Overflowing With Golden Sponge Toffee Nuggets And Chocolate Coins! In Irish mythology, legend has it that if you follow a rainbow to it's end, you'll find a pot of gold waiting underneath - but you'll have to catch a leprechaun to find it first! I don't know about you, but that sounds like WAY too much work. Lucky I can make my very own pot of gold in CAKE!
That's why this St. Paddy's Day, I'm filling layers of chocolate and vanilla cakes with "extra Irish" Bailey's Buttercream and piling it to the brim with gold-dusted sponge toffee nuggets & chocolate coins! Once it's finished, you'll not only have a pot of gold, but you'll also have a whole lotta CAKE too! Now who's the lucky one, huh? ;)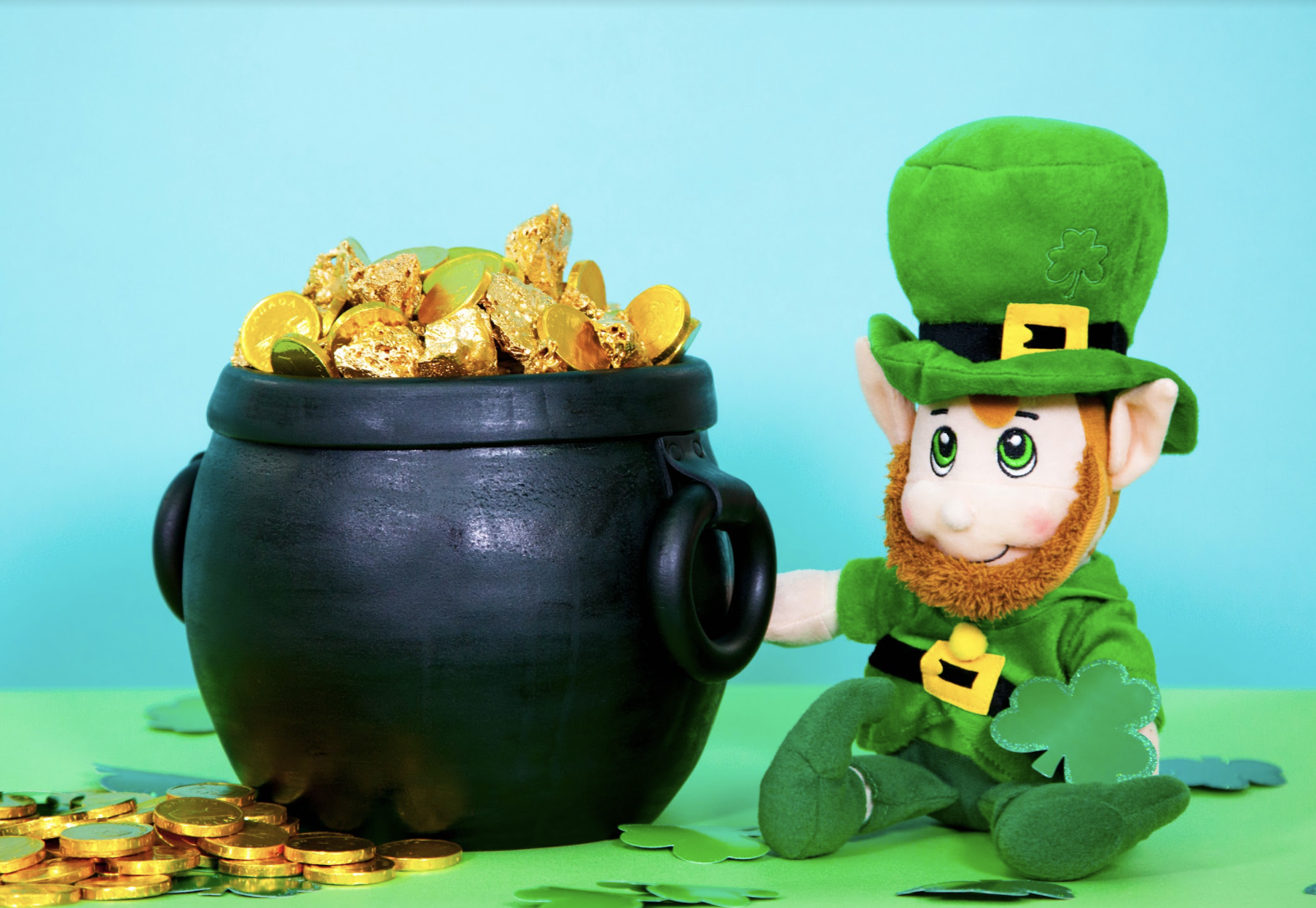 ---
6 lbs Yo's Ultimate Vanilla Cake
6 lbs Yo's Ultimate Chocolate Cake
1 1/2 teaspoons Chefmaster Leaf Green
Simple Syrup
Italian Meringue Buttercream
1 cup Irish Cream
1 cup Dark Chocolate Shavings
3 lbs Black Fondant
Clear Piping Gel
Icing Sugar
Color Right Base Black
Clear Food Grade Alcohol
Gold Luster Dust
Chocolate Gold Coins
Prepare your Ultimate Vanilla Cake batter and mix about 1 ½ teaspoons of Chefmaster Leaf Green food gel until you get a vibrant green colour. Divide batter evenly between your 9-inch round cake pans and bake at 350 degrees for about 50 minutes, or until a toothpick comes out clean. Cool cakes completely in their pans sitting on a wire rack.

Prepare your Ultimate Chocolate Cake batter and divide so that there is 2 lbs in your 9-inch cake pan and 2 lbs in each of your 8-inch cake pans. Bake all of your cakes at 350 degrees for about 50 minutes, or until a toothpick comes out clean. Cool cakes completely in their pans sitting on a wire rack.

Prepare your Italian Meringue Buttercream. Once complete, take 4 cups of your prepared buttercream and add in 1 cup of Bailey's Irish Cream to the bowl. Beat in your standing mixer until light and whipped. Next, fold in 1 cup of chocolate shavings using your rubber spatula and set aside. Save the remaining Italian Meringue buttercream in a separate container. (I like to call this version my "Extra Irish" Buttercream because I used my "After The Kids Are Tucked In" Holiday Buttercream recipe, but doubled the Irish Cream and chocolate shavings!)


Note: If you don't have a standing mixer, it would be a good idea to use your StayBowlizer and slowly add the Bailey's while continually whisking instead of pouring it in all at once, because it tends to slosh around in the bowl.

Prepare your simple syrup and set aside at room temperature.

Once your cakes are completely cool, remove them from their pans and level with a ruler and serrated knife. Cut off the caramelization from the bottoms your green vanilla cakes.

Shower all of your cake layers with simple syrup. Allow the simple syrup to soak in completely before moving on to the next step.

Begin stacking and filling each cake in the following order using your small offset spatula:

8-inch chocolate layer on the bottom
9-inch vanilla layer
9-inch chocolate layer
9-inch vanilla layer
8-inch chocolate layer on top

Place your freshly stacked cake in fridge for about 15 minutes to chill and firm up a bit.

Using your serrated knife, carve out a rounded 'pot' shape all the way around your cake, making sure that all of your sides are even and that the top remains completely flat. We're actually carving the cake upside down, and the top will actually be the bottom of your pot once we flip it.

Crumb coat around the entire cake using your small icing spatula and chill in the fridge for about 20 minutes.

Remove your cake from the fridge and ice again, making sure that the buttercream is smooth and even on all sides. Chill for another 20 minutes. Once the buttercream is chilled and firm, smooth out any ridges with wet fingertips or a small spatula and set aside.

Roll out your black fondant, about ¼ of an inch thick, in a circle that's large enough to cover the entire cake. Cover your cake in black fondant and smooth it all around the pot using the palms of your hands and a fondant smoother to get the fondant flush to the cake. Make sure to trim away all of the excess fondant using your sharp paring knife.

Place a cake board on top of your cake, press down firmly on the top and bottoms of the cake and flip the entire cake over so that it's now right side up.

Create your two pot handles by rolling out some of your remaining black fondant into two tubes that are about ½ inch thick. Use a circle cutter or another circular tool to help form the fondant tubes into two equal-sized rings. I did this by wrapping my fondant on the outer edges, and then cutting the fondant where the ends meet to form two equal rings. Set aside to dry.

Taking a bit of your black fondant, roll out another tube - this time making sure it's long enough to fit around the entire circumference of the top of thepot. Use your fondant rolling pin to flatten only one side of the entire length of the tube so that your 'rim' is rounded on top and thin and tapered on the bottom. Trim the bottom of the flattened side with your sharp paring knife so that it's a clean straight line. Brush a bit of clear piping gel along the top circumference of the pot, directly on top of the fondant. Then, carefully add the rim and cut away any excess fondant with your sharp paring knife. Smooth the band to the pot with your fingertips, pushing the rounded top inward so it's slightly overlapping the top of the chocolate cake, making sure it's fully secure.


NOTE: The fondant trim can be quite heavy if your tube is too thick. If you notice your fondant pulling off, you may want to start again with a thinner tube, because this means your rim is a little too heavy for the cake.

Mix a bit of your Wilton Color Right Base Black with some Clear Food Grade Alcohol in a bowl. While constantly turning your cake on your Lazy Suzan, paint all over your cake in rings using a big brush (starting from the top and working your way down) to give the pot a darker, blacker and more realistic effect.

With a little bit of black fondant, roll and cut out two identical bands that are about 1¼ inches thick using your fondant roller and sharp paring knife. These will be the bands that hold the handle rings onto your pot! Wrap each band around your handles where the seams are (where the ring comes together). Glue the ends of those bands together with a little bit of clear piping gel and attach the entire thing to either side of your pot using some more clear piping gel. Insert a toothpick at the bottom of each handle so it sticks inside the cake to help secure everything together. Allow some time to set.

When everything is set and secure, give your pot a second coat of paint - making sure to paint the handle and the flaps that attach them this time. Let dry.

Use your #11 Round Piping Tip to make two circular indents on each flap so that it looks like a grommet or fastener that holds the handles to the pot.

When your sponge toffee is completely cool, break it into chunks and place in a bowl. Shower your sponge toffee 'nuggets' with some gold luster dust and toss until all of your chunks are coated in gold.

NOTE: Although sponge toffee keeps well on its own, it cannot be put in the fridge because it dissolves when exposed to moisture. Make sure to not to put them on top of your cake until you are serving it, because they will completely melt.

Once it's time to top your cake, pile on your golden nuggets and chocolate gold coins until it gives the impression that your pot is overflowing with gold.
#howtocakeit
Sunday,Monday,Tuesday,Wednesday,Thursday,Friday,Saturday
January,February,March,April,May,June,July,August,September,October,November,December
Not enough items available. Only [max] left.
Add to Wishlist
Browse Wishlist
Remove Wishlist