Guinness Stout & Bailey's Irish Cream Chocolate Cake with Sponge Toffee. I think I'm going to call this cake Irish Overload. Guinness, Bailey's Irish cream, gold nuggets, four leaf clovers. This cake has it all! If only I could find some way to incorporate potatoes and rolling green hills....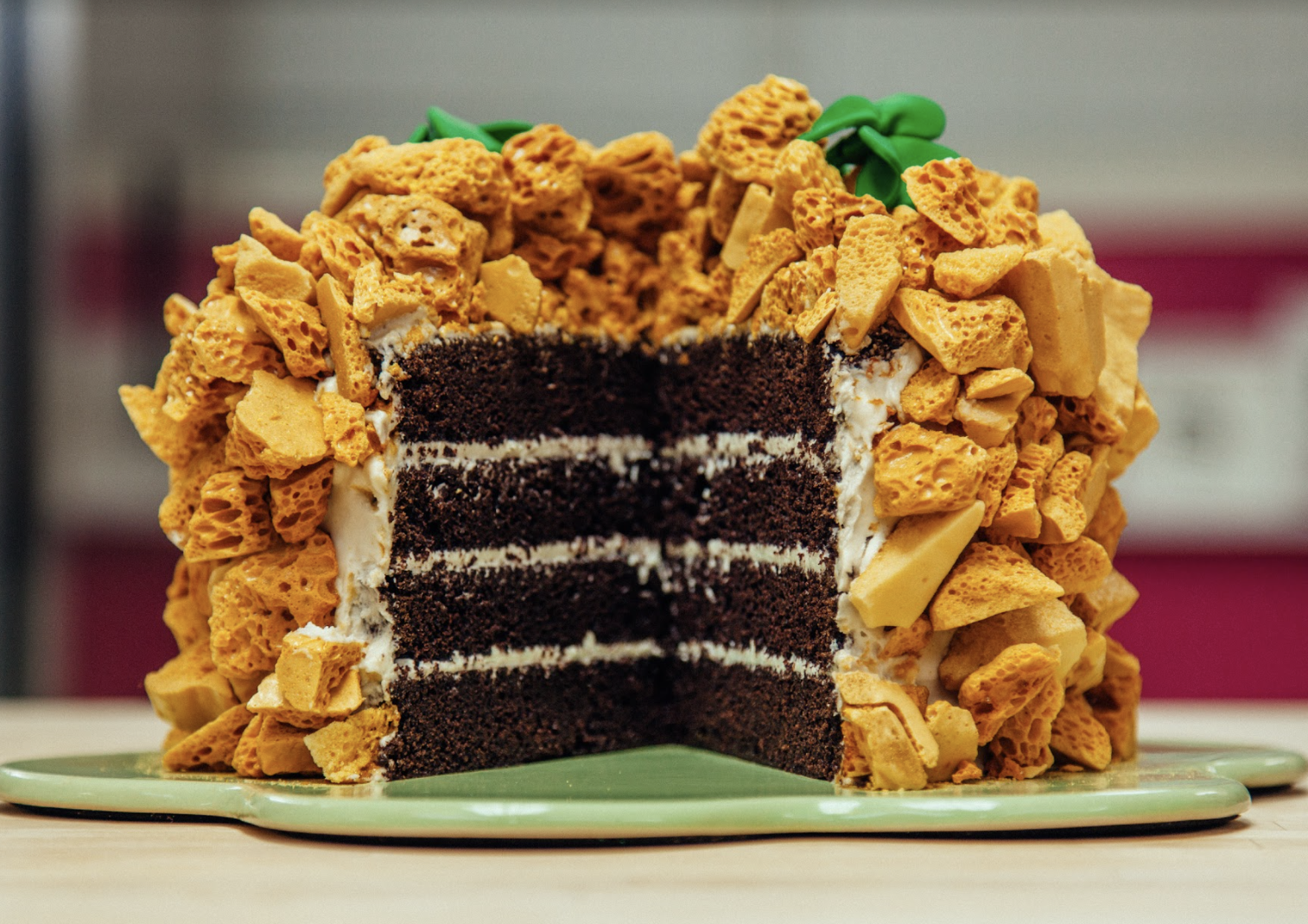 ---
1 cup Guinness
1 cup Unsalted Butter
3/4 cups Dutch-process Cocoa Powder
2 cups All Purpose Flour
2 cups Sugar
2 teaspoons Baking Soda
1 teaspoon Salt
2 large Eggs
3/4 cup Sour Cream
Green Fondant
Gold Lustre Dust
Preheat oven to 350 degrees. Line the bottom of two 8" round cake pans with parchment paper.

Place your Guinness and 1 cup of butter in a large saucepan, and bring to a simmer over medium heat. Remove from the stove and add cocoa powder, whisking until mixture is smooth. Cool slightly, about 10 minutes.

Whisk flour, sugar, 2 teaspoons baking soda, and salt together in a bowl. In the bowl of your electric mixer, beat eggs and sour cream to blend.

Add Guinness-chocolate mixture to egg mixture and beat. Add your dry ingredients and beat briefly on low speed. Using rubber spatula, give your batter a final stir.

Divide batter among prepared pans. Bake cakes until tester inserted into center of cakes comes out clean, about 55 minutes. Cool cakes completely in pans, and set aside.

Prepare sponge toffee and Baileys Irish Cream icing. Set both components aside.

Remove cakes from pans. Level and layer. Fill layers with your Bailey's cream cheese frosting and then crumb coat. Let chill.

If you haven't already, break your sponge toffee into pieces.

Sprinkle edible gold lustre dust over the sponge toffee nuggets, toss thoroughly. Set aside.

Ice your cake. Once complete, use the palm of your hand to press the sponge toffee nuggets all the way up the sides of your cake, and mound a big pile on top.

Roll out your green fondant and cut 12 hearts. Overlap your hearts, four at a time, face down, pinch the tips together. Now invert your hearts and, voila, you have a four leaf clover! Place on cake.
#howtocakeit
Sunday,Monday,Tuesday,Wednesday,Thursday,Friday,Saturday
January,February,March,April,May,June,July,August,September,October,November,December
Not enough items available. Only [max] left.
Add to Wishlist
Browse Wishlist
Remove Wishlist