WARNING: This Flavour Profile Leads To Pure EnjoyMINT! Did you know chocolate and peppermint is one of my favourite flavour profiles? There is just something about this combination that brings me pure enjoyMINT so I CAKED a Chocolate Mint Mega Cake topped with homemade chocolate bark and chocolate bars. This cake is minty, chocolaty and EVERYTHING I LOVE in one cake!
To make this Peppermint Chocolate Mega Cake, I baked 5 lbs of my Ultimate Chocolate Cake batter and filled the layers with chocolate ganache, mint buttercream, Mint Oreos and Peppermint Patties.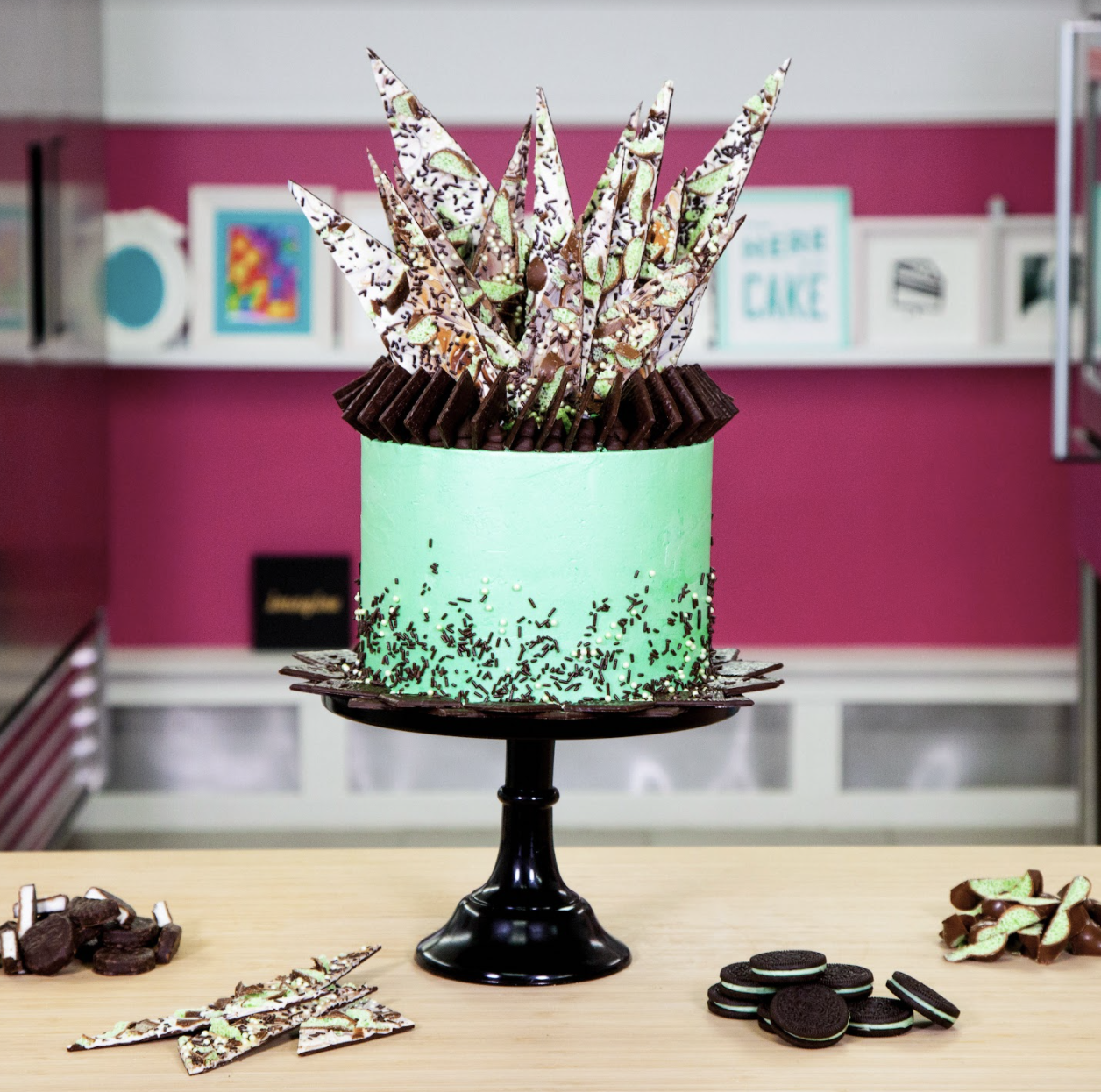 ---
5lb of Yo's Ultimate Chocolate Cake
Simple Syrup
1 ½ batches of Italian Meringue Buttercream
Kelley Green Food Colouring
Blue Food Colouring
Peppermint Oil
Chocolate Ganache
1lb Dark Chocolate
1 lb White Chocolate
½ Bright White Candy Melts
Peppermint Patties
Mint Oreo Cookies
Mint Aero Bars
After 8 Chocolate Bars
Chocolate Sprinkles
Green Dragees
Level all three cakes and layer the two thicker cakes into two layers.

Add food colouring to the Italian Meringue Buttercream to create the perfect shade of peppermint green. Add a touch of peppermint oil to add flavour.

Note: Once you over colour buttercream you can't take it back. So I like to make a sample batch of peppermint buttercream to test the colour. When I'm happy with the colour I apply the same combination to the rest of my batch. To see how I did this step, please see the video here!

Fill the cake layers with chocolate ganache, peppermint buttercream, Mint Oreo cookies and Peppermint Patties.

Note: You can cut the Mint Oreos and Peppermint Patties in half to help them fit on the cake. To see how I did this step, please see the video here!

Crumb coat the cake with the mint buttercream and chill for 15 minutes.

Ice the top of the cake with a large offset spatula and the sides with a large straight spatula. Smooth the buttercream with a bench scraper and chill the cake for 15 mins.

Note: If you're having trouble with the buttercream, try chilling your cake and building your buttercream in layers.

Make chocolate bark using dark chocolate and white chocolate. Chop the 2 chocolates and melt them in separate bowls. Melt them in the microwave in 20 second increments stirring in between until fully melted.

Note: Melting the chocolate in 20 second increments will avoid it getting overheated or possibly burning.

Pour the dark melted chocolate on to a pan lined with parchment paper. Then pour the melted white chocolate on top. Use a knife to create a swirl design in the chocolate. Sprinkle chocolate garnish like mint aero bar chunks, chocolate sprinkles and green dragees. Then let the bark set at room temperature.

Note: To see how I did this step, please the video here.

Decorate the border of the cake with chocolate squares like After 8 chocolate bars. Use chocolate ganache to secure them on top.

Note: You can use toothpicks to help space out the chocolates evenly. There is not right answer with where you add the chocolate squares. You can even add a row or to at the base of the cake. To see how I did this step, please see the video here!

Cut the chocolate bark into points and place on top of cake in a decorative way.

Sprinkle the chocolate sprinkles and green dragees onto the buttercream.
#howtocakeit
Sunday,Monday,Tuesday,Wednesday,Thursday,Friday,Saturday
January,February,March,April,May,June,July,August,September,October,November,December
Not enough items available. Only [max] left.
Add to Wishlist
Browse Wishlist
Remove Wishlist