It's the luck o' the irish with this Guinness Chocolate Cake! St Patrick's Day is this weekend, and a little leprechaun made his way into my kitchen! He was up to some mischief, and to get him to leave I decided to cake him one GIANT golden nugget. Fair warning YoYos- this one is for the adults!
Starting with 10.5lbs of my Guinness Chocolate Stout Cake, the booze infused goodness doesn't stop there! I'm stacking this cake up with Iri, Irish Cream Ganache, and topping it all off with golden sponge toffee!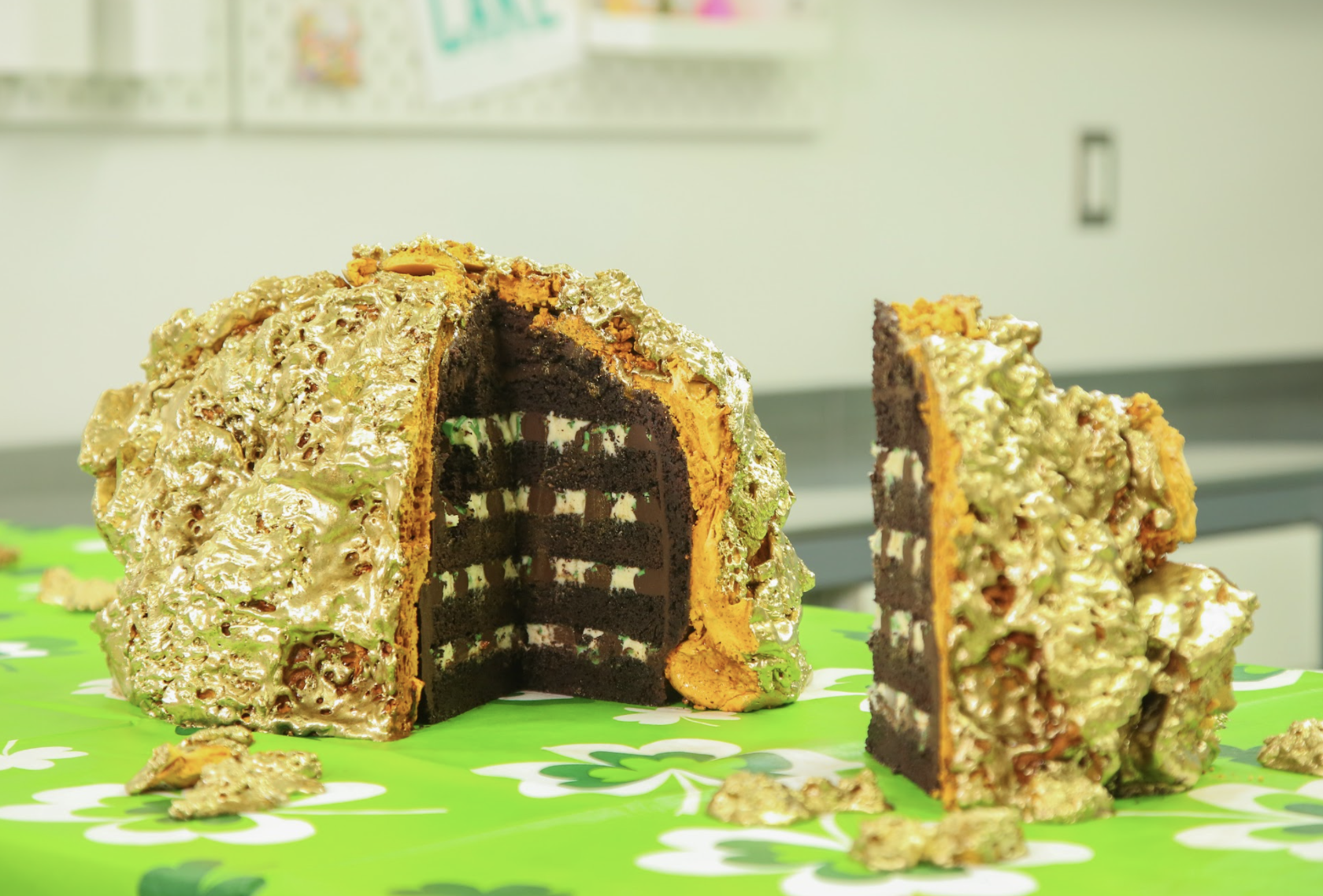 Divide 3.5lbs of batter into each of your 9" round cake pans and bake at 350 degrees for 1 hour 20 minutes. Let your cakes cool completely in their pans

Use a ruler and serrated knife to level your cakes, and layer each in half horizontally. Save your scraps!

Shower your cakes with simple syrup and allow a few minutes to absorb

Warm your heavy cream and baileys over a double boiler, and bring to a light simmer. Pour over your chocolate, and let sit for a few minutes before stirring into a smooth ganache.

Fill piping bags fitted with #807 tips with your Bailey's Irish Cream Frosting, and Bailey's Chocolate Ganache. Pipe concentric rings of your fillings, starting with ganache. Pour melted green candy melts into a parchment piping bag and drizzle over your cake, then stack the next layer on top. Continue stacking all of your cake layers in this fashion. Chill for 20 minutes

Attach cake scraps to your cake, securing with ganache to create a more "nugget-y" shape. Blend together by carving, and use a spoon to carve out additional valleys and ridges

Crumb coat your cake with Bailey's Chocolate Ganache, and chill for 20 minutes.

Make a fresh batch of sponge toffee, and while it's still warm form it over your cake, pressing in as you go. Fill in any gaps with additional sponge toffee pieces, and repeat until your whole cake is covered.

Mix gold luster dust with Bailey's Irish Cream and paint your entire cake, being sure to get into all the nooks and crannies. Paint additional sponge toffee pieces gold to stage around your cake.
#howtocakeit
Sunday,Monday,Tuesday,Wednesday,Thursday,Friday,Saturday
January,February,March,April,May,June,July,August,September,October,November,December
Not enough items available. Only [max] left.
Add to Wishlist
Browse Wishlist
Remove Wishlist