Breakfast is the most important meal of the day, and it's so much fun to cake! I'll teach you how to take all of the flavours of a stack of blueberry pancakes, and turn them into a brunch-worthy novelty cake. Maple buttercream, blueberry jam, and vanilla cakes come together with fondant details to make the ultimate stack of pancakes.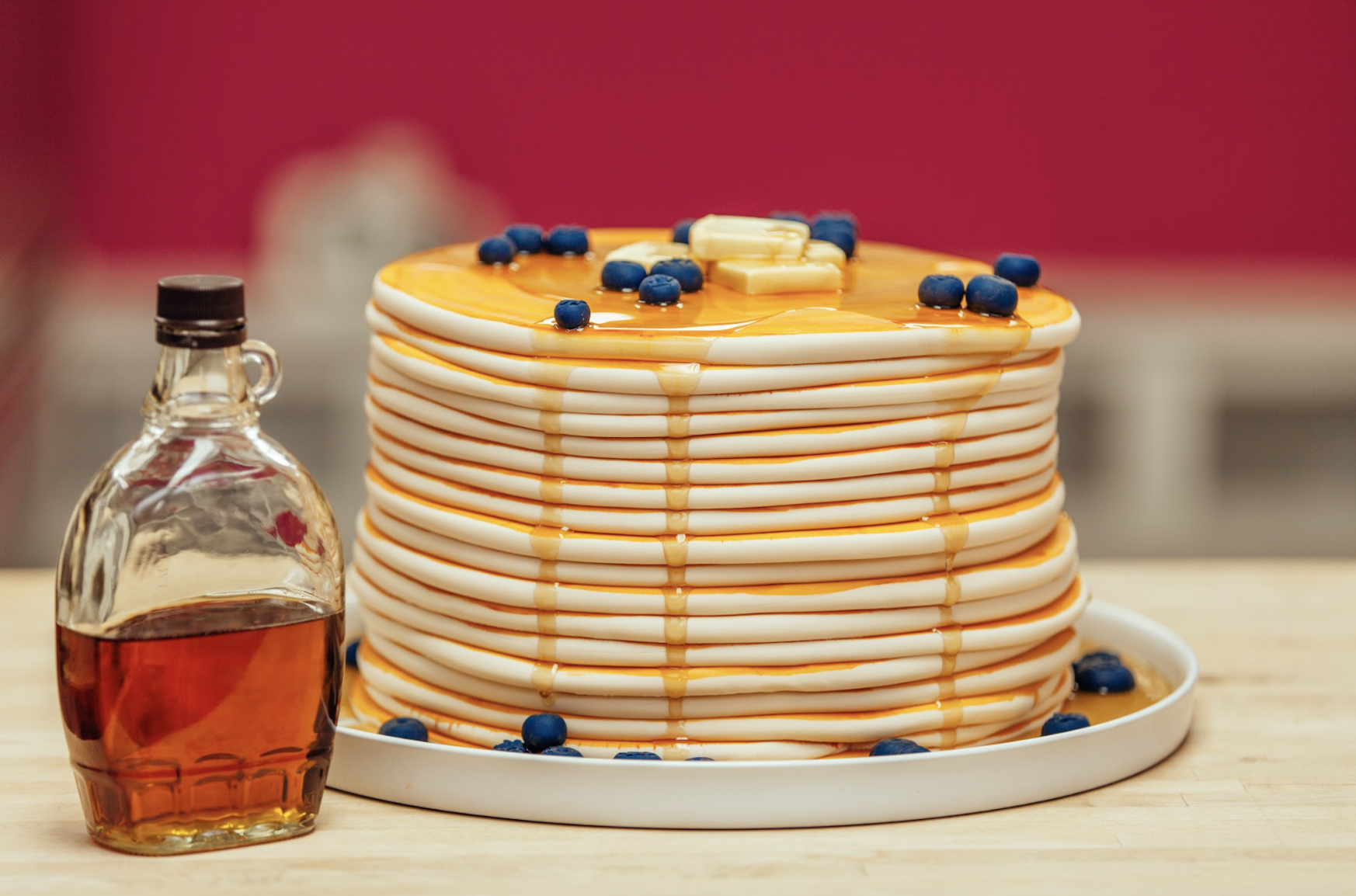 ---
2 x 6lb Portion Yo's Ultimate Vanilla Cake
Blueberry Jam
Yo's Italian Meringue Buttercream
1 Cup Real Maple Syrup
Cornflower Blue Icing Color
Violet Icing Color
Black Icing Color
Cocoa Powder (for dusting)
Buttercup Yellow Icing Color
½ Cup Corn Syrup
5 lbs White Fondant
Ivory Icing Color
Clear Food Grade Alcohol (such as white rum or vodka)
Prepare your batter and divide evenly among your prepared pans. Bake at 350 degrees for 1 hr 10 mins, or until a toothpick comes out clean. Set aside to cool completely at room temperature. Do not remove from pans.

Dye the fondant for your blueberries. Take a small portion of your white fondant, and colour with Wilton Cornflower Blue, Violet, and Black Icing Color. Roll fondant into blueberry sized balls.

Press your round piping tips into the top of the blueberries, followed by your start tips to create a stem. Brush with cocoa powder, and set blueberries aside.

Take another small portion of your white fondant and dye a butter yellow with Wilton Buttercup Yellow Icing Color. Roll out your fondant into a thick slab using a non-stick rolling pin and board. Use a sharp knife to cut into pats of butter, using your fingers to soften the edges.

Mix your remaining ½ cup of maple syrup with ½ cup of corn syrup. This will make the maple syrup more ooey gooey looking.

Level your cakes and cut them in half horizontally using a ruler and serrated knife, leaving you with six cake layers. You can watch me do this here. Shower all six layers with simple syrup.

Spread a layer of blueberry jam on your first vanilla cake layer, keeping jam away from edges. Pipe a maple buttercream fence around your jam, to keep it from spreading. Then fill the rest of the layer with maple buttercream, and place your next vanilla cake on top. Repeat until all layers are filled and stacked.

Crumb coat your cake and place it in the fridge to chill. Once chilled, take out for another ice, and return to the fridge for a second chill.

Roll white fondant into long tubes, and wrap around the side of your cake until you reach the top. Once the cake is covered in fondant tubes, dilute your Wilton Ivory Icing Color with clear food grade alcohol, and brush onto the top of each tube.

Roll out a round of your remaining white fondant into a full pancake shape, and place on top of your cake. Then paint the surface to look like a freshly griddled pancake.
#howtocakeit
Sunday,Monday,Tuesday,Wednesday,Thursday,Friday,Saturday
January,February,March,April,May,June,July,August,September,October,November,December
Not enough items available. Only [max] left.
Add to Wishlist
Browse Wishlist
Remove Wishlist