Beep! When Star Wars: The Force Awakens came out, Walt Disney Studios Canada gave me the opportunity of a lifetime. They lent me a BB-8 to cake! Although my version is chocolate cake, fondant, and modeling chocolate it felt as difficult as jedi training! Ok. Maybe not that difficult, but BB-8 is definitely one of the most challenging cakes Ive ever made. So much pressure!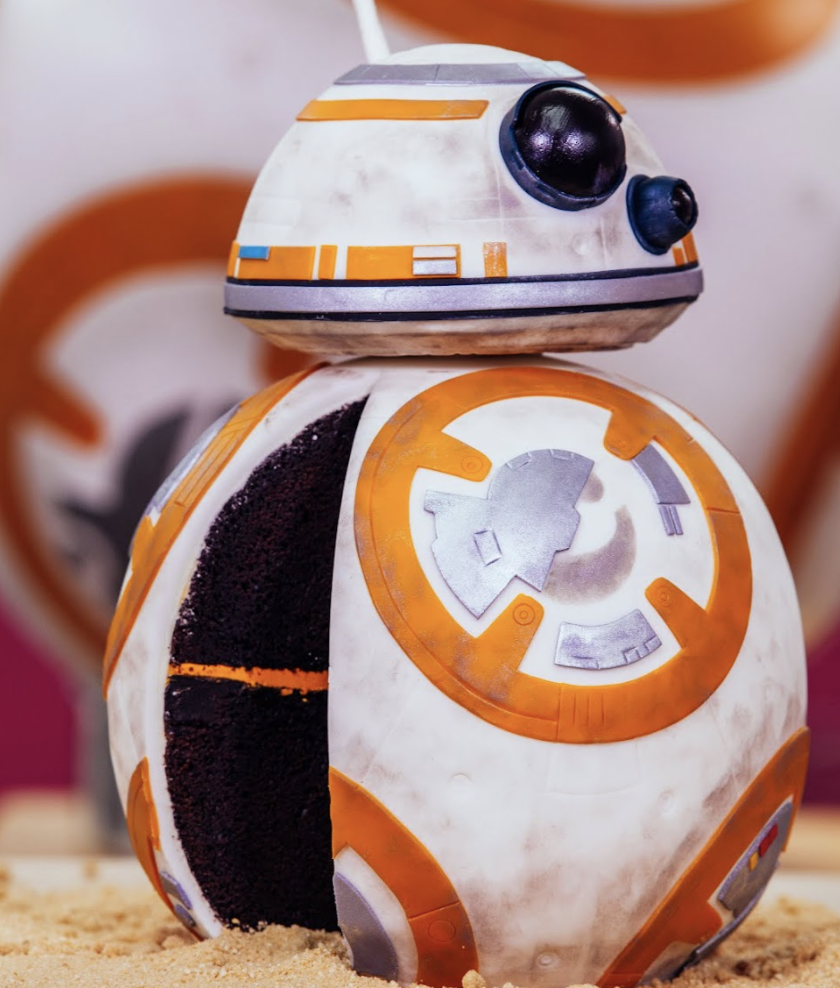 ---
10lbs of Yo's Ultimate Chocolate Cake
Italian Meringue Buttercream
Simple Syrup
Icing Sugar
Royal Icing
½ recipe of Modeling Chocolate
4 oz Gumpaste
2oz Melted Dark Chocolate
3 lbs White Fondant
4oz White Fondant
1oz Black Fondant
Sunset Orange gel Colour
Clear Piping Gel
Silver Highlighter
Gel food coloring: Buttercup Yellow, Ivory, Black, Teal, White
Color Right Base Black
Color Right Base Brown
Black Pearl Lustre
Prepare your chocolate cake batter. Divide the batter amongst three pans. Pour 4 lbs of batter into each 8 bowl, and 1 lbs into the 5 half sphere pan. Bake at 350 degrees for 50 minutes (Half Sphere Pan), and 1 hour and 30 minutes (8 bowls), or until a cake tester comes out completely clean. Let cool completely in their pans.

Prepare your Italian Meringue Buttercream. Dye 1 cup of your buttercream with Buttercup Yellow, Ivory, and Sunset Orange to match the orange colour of BB-8.

Prepare your recipe of modelling chocolate. Set aside.

Prepare your batch of royal icing. Set aside.

Level your cakes while they are still in their pans. Cut off the top humps by running your serrated knife along the top edge of the bowls. Remove the cakes from their bowls.

Soak your cakes with Simple Syrup. Use a small spatula to spread melted chocolate over any areas that may need to be patched.

Flip one of the cakes over, so that the flat side is down, cut off a little bit of the curve at the top, to create a flat surface for your cake board. Glue down the cake board with melted chocolate, and ice a rim of chocolate around the outside edge of the board. Repeat this process to glue your 5 half sphere cake to the 5 cake board.

Add a layer of orange buttercream to the 8 cake with the board on the bottom. Place the other 8 cake on top to create a full sphere. Crumb coat the 8 cake, and 5 half sphere. Chill for 15 minutes.

Ice both cakes again, and chill for 30 minutes. Once chilled, wet your hands and use your fingertips to rub out any ridges in the buttercream.

Roll out your white fondant, and cover your cakes. Use a ball of the same fondant to smooth the surface of your sphere cakes.

Dye your modeling chocolate to suit BB-8. Knead in Buttercup Yellow, Ivory, and some Sunset Orange. Set aside.

Weigh out 3oz of white fondant and knead in a little black food colouring. You want to end up with a medium grey fondant. Pinch in some CMC to soften the fondant. Set aside. Roll out the fondant, and the modelling chocolate into sheets that are 1/16 thin. Chill in the fridge.

Dye your remaining 1 oz of white fondant using teal and black, this will be used for the detail around BB 8s eye.

Cut out 6 parchment circles to place on BBs body, these circles are the same diameter as his head. Pin each parchment circle in place. Use templates to cut out every single detail, use a cutting wheel and circle cutter to make indentations. Apply the orange circles to BB-8s body.

Use your cutting wheel tool to make all the indentations found on the white surface of BBs body.

Use a dry brush to apply silver highlighter to the surface of each to your grey fondant detail. Then apply them to the cake with piping gel.

Take a 1 tablespoon that is very rounded, and press black fondant into it. After letting them set, cut off the excess flush to the spoon, and remove from the spoon.

For BB-8s head, roll out orange modeling chocolate and grey fondant. Use an onion mincer to roll over long pieces of fondant and cut 5 even stripes. Use the same technique to recreate the details on BBs face.

Use gumpaste on a floral wire to recreate his antenna, and use bamboo skewers to help secure his heavy little eyes.

Roll out tiny pieces of yellow, light blue, royal blue, red and white fondant to add extra detail on BB-8.
#howtocakeit
Sunday,Monday,Tuesday,Wednesday,Thursday,Friday,Saturday
January,February,March,April,May,June,July,August,September,October,November,December
Not enough items available. Only [max] left.
Add to Wishlist
Browse Wishlist
Remove Wishlist