A Homey Spiced Cake With Shredded Sweet Potato & Ginger. I used this recipe to create my Sweet Potato Marshmallow Cake and Sweet Potato Casserole Cake, but this delicious cake doesn't need to be in a towering treat to make a delicious dessert. Try it with an autumn spiced buttercream for a simpler bake.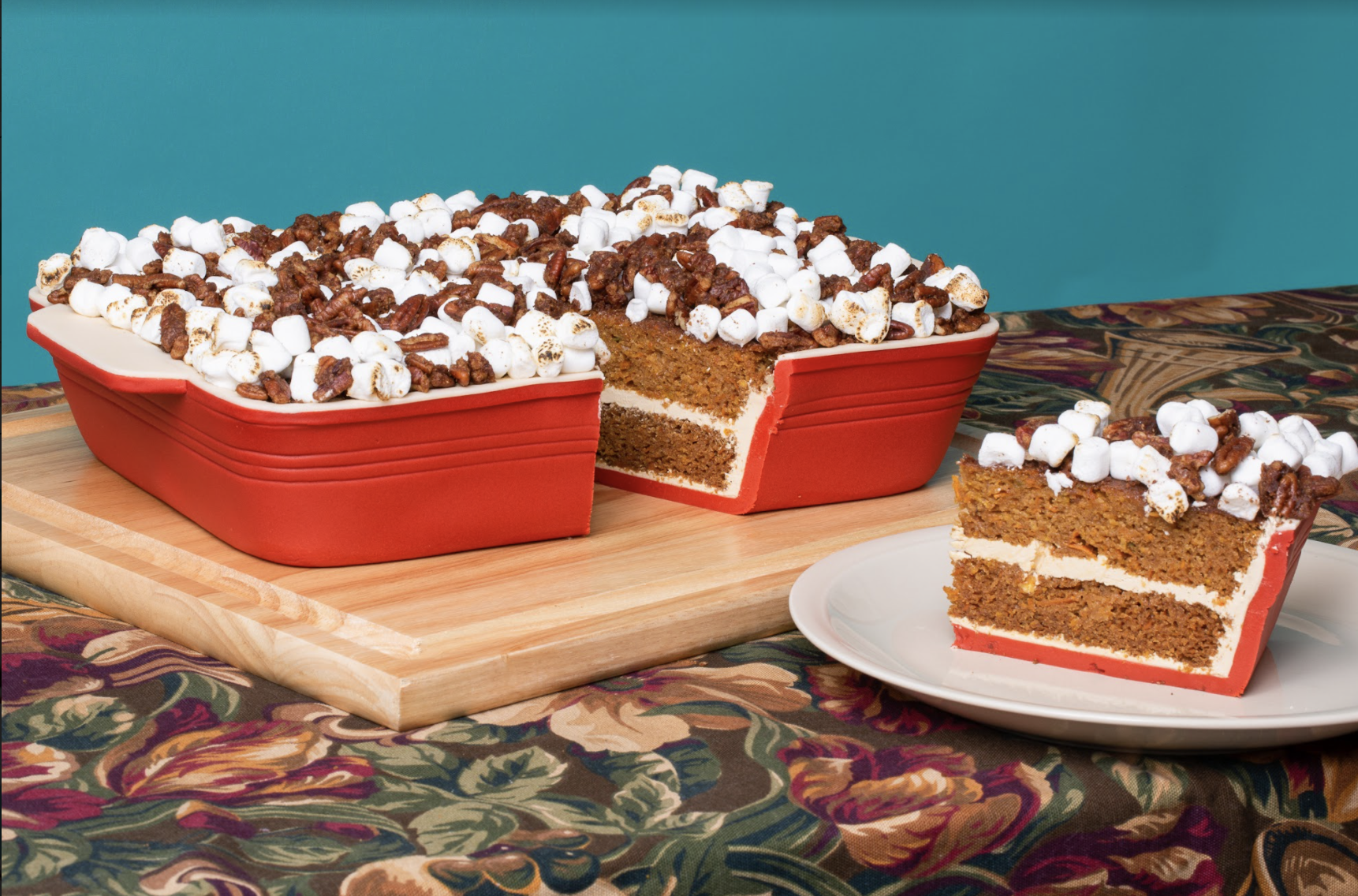 ---
1 ¼ cup Whole Pureed Orange (approximately 3 small oranges)
5 Eggs, at room temperature
1 ½ cups Vegetable Oil
2 ½ cups Flour
2 ½ cups Golden Brown Sugar, packed
1 Tbsp Baking Powder
1 Tbsp Baking Soda
1 Tbsp Cinnamon
1 Tbsp Ground Ginger
1 tsp Nutmeg
½ tsp Salt
2 ½ cups Grated Sweet Potato
Preheat oven to 350F. Line the bottom of each cake pan with parchment paper.

In a large bowl, sift the flour, baking powder, baking soda, cinnamon, ginger, nutmeg, and salt. Add in the golden brown sugar. Mix until combined and set aside.

Wash and dry your oranges, cut off the ends and cut into small pieces. Puree your oranges in a high powered blender until smooth. Measure out the 1 ¼ cups you will need for this recipe!

Wash and peel your sweet potatoes then grate! Set aside.

In a stand mixer fitted with the whisk attachment, mix the pureed orange and eggs on high speed for 3-5 minutes.

Slowly pour in the vegetable oil along the side of the mixing bowl, still whipping the orange and egg mixture on high speed. I recommend using the guard for your stand mixer if you have one!

As you pour the oil in slowly but surely, you will notice this mixture will really thicken up! When you're finished adding the oil, continue letting it whip for an additional 5 minutes.

Once oil is combined, remove your guard and turn your mixer down to low speed and start adding your dry ingredients, scraping down the sides with a rubber spatula as you go; be careful not to overmix.

Still on low speed, add in your grated sweet potato!

Divide your batter evenly into the prepared pans. Bake for 1 hour or until a toothpick or cake tester comes out clean.

Transfer to a wire rack and let cool completely in the pan(s). Cover tightly with plastic wrap and refrigerate overnight. Loosen the edges with a straight spatula, invert the pan(s) to remove the cake, and peel off the parchment.
#howtocakeit
Sunday,Monday,Tuesday,Wednesday,Thursday,Friday,Saturday
January,February,March,April,May,June,July,August,September,October,November,December
Not enough items available. Only [max] left.
Add to Wishlist
Browse Wishlist
Remove Wishlist