Yolanda's favorite chocolate jelly roll sponge cake! This delicious, and texturous Chocolate Cake was the perfect addition to my Sushi Cake. I often use it when, Im looking to have lots of texture in my recipes. Also, it is so easy to make!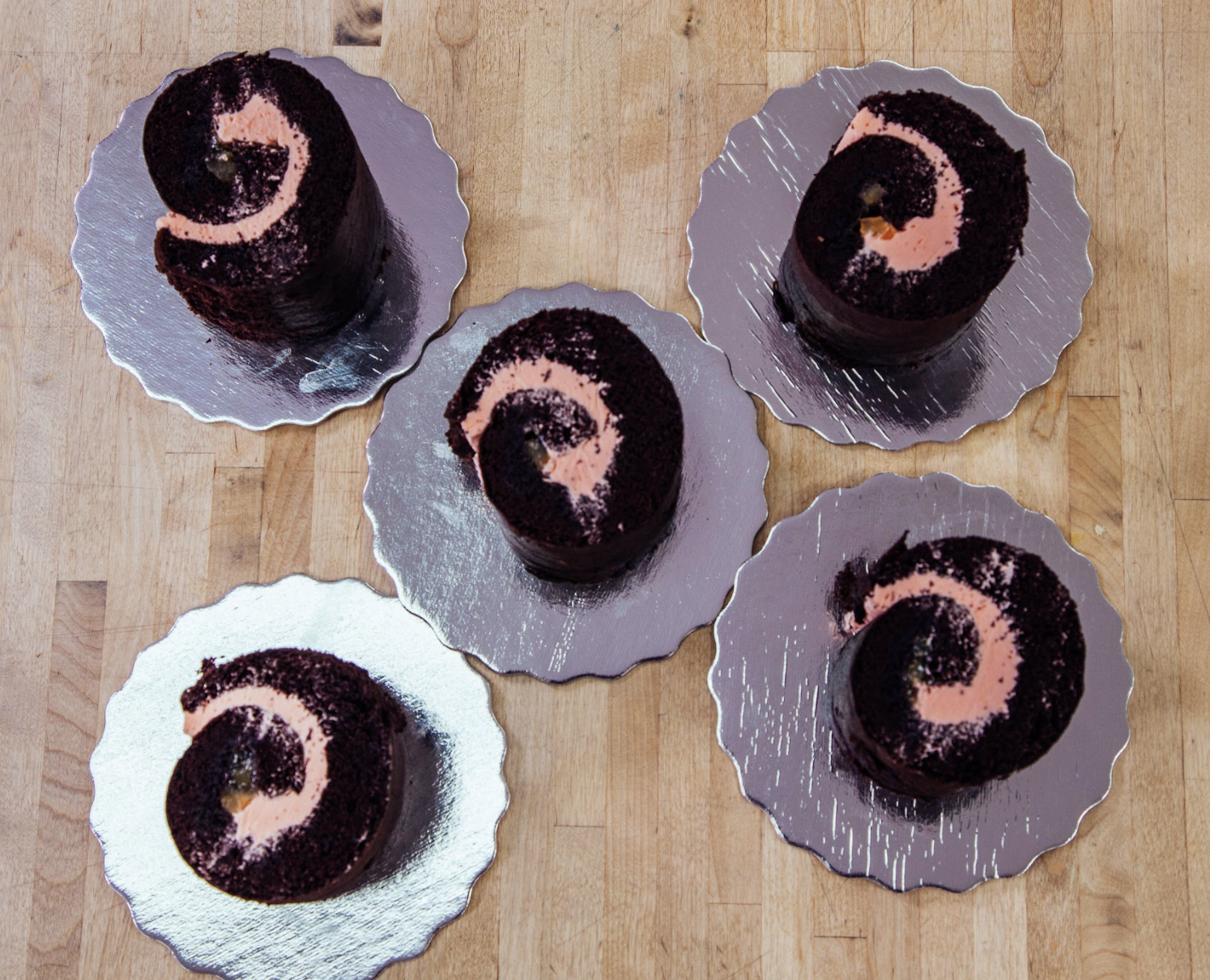 ---
½ cup + 2 tablespoons Flour
½ cup Dutch Process Cocoa
1 teaspoon Baking Soda
½ teaspoon Salt
8 Eggs, separated, at room temperature
1 cup Sugar
1 teaspoon Instant Coffee
1 teaspoon Water
Set your oven to 400. Sift the flour, cocoa, baking powder, and salt together into a bowl.

In a stand mixer with the whip attachment, whisk the egg yolks and cup of the sugar on high speed for 3-5 minutes.

Mix the instant coffee with the water to dissolve. Add to the egg yolk mixture and whisk until combined.

In a separate mixing bowl with a whip attachment, whisk the egg whites on high speed until frothy. Gradually add the remaining cup of sugar, and beat until stiff peaks form.

Gently fold your egg whites into the egg yolk mixture. Sift your dry ingredients once more, directly over your egg mixture. Fold them in gently.

Pour the batter into your prepared baking tray. Bake for 15 minutes or until the cake springs back when touched in the centre.

Let the cake cool for 10 minutes in the pan. Dampen a clean kitchen towel that is larger than your cake. Lay a sheet of parchment paper on top of the towel, and sprinkle it liberally with icing sugar.

To remove your cake from its pan, run a sharp paring knife along all four sides. Flip the cake out onto the sugared parchment paper. Peel the parchment paper off the bottom.

Roll up the cake, starting at one of the long sides. Use the towel and parchment paper to help you roll tightly, but never allow the cake to roll onto itself.

Twist the ends of the towel, and place the cake in the fridge to cool completely for four hours or overnight.
#howtocakeit
Sunday,Monday,Tuesday,Wednesday,Thursday,Friday,Saturday
January,February,March,April,May,June,July,August,September,October,November,December
Not enough items available. Only [max] left.
Add to Wishlist
Browse Wishlist
Remove Wishlist