There is nothing more comforting than a chocolate chip cookie. Especially when it is incorporated into a delicious cake! Whenever I can, I try to incorporate chocolate chip cookies into my cakes! I used them in my Chocolate Chip Cookie Mega Cake, and my Birthday Cake. But sometimes, all you want is a warm batch of hot and gooey chocolate chip cookies.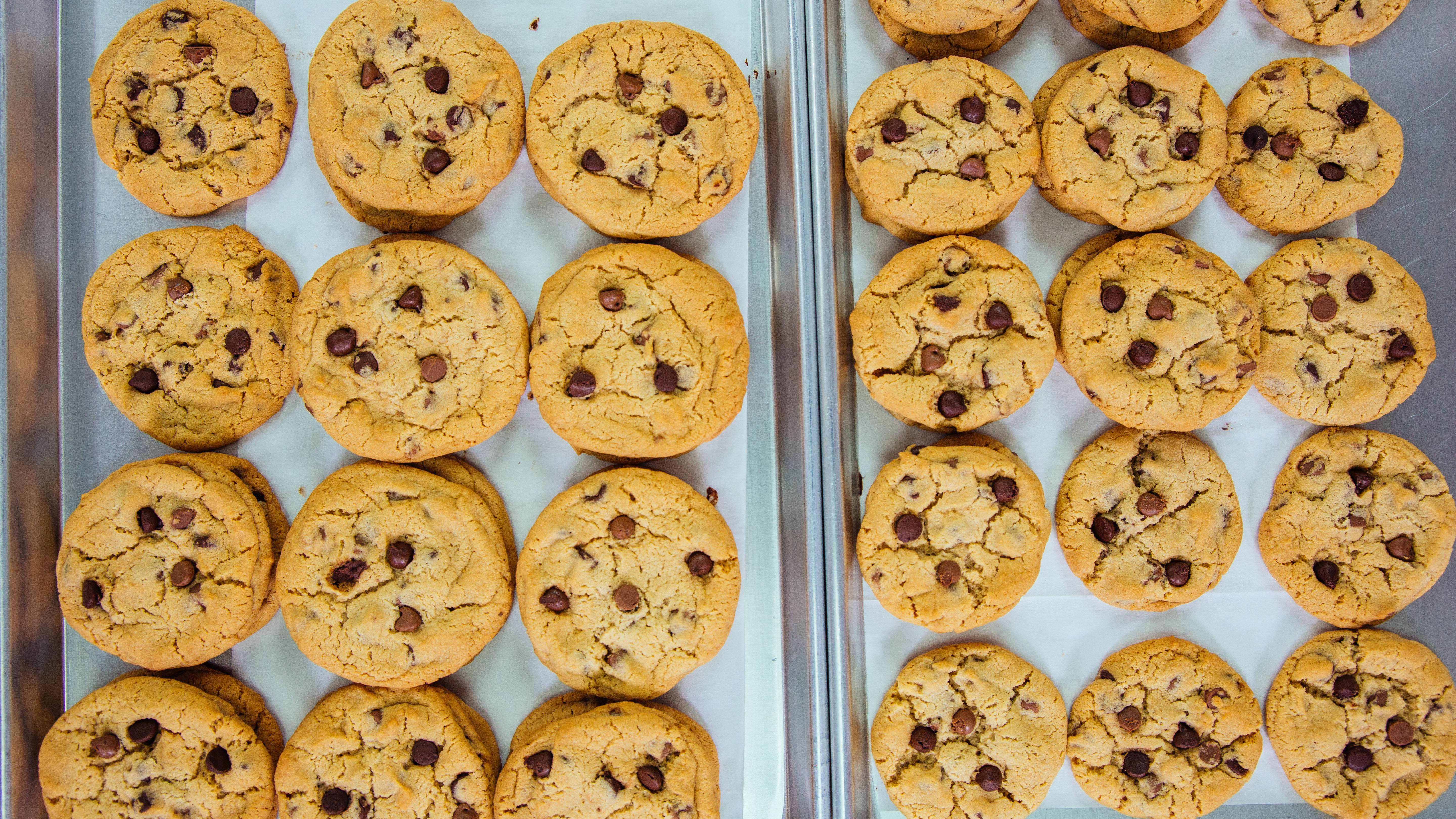 ---
2 ¾ cups flour
1 ¼ teaspoons salt
1 teaspoon baking powder
1 teaspoon baking soda
1 ¼ cup unsalted butter, room temperature
1 ¼ cup light brown sugar
3/4 cup sugar
2 eggs, room temperature
1 teaspoon vanilla
1 1/4 cup semi sweet chocolate chips
3/4 cup milk chocolate chips
Preheat your oven to 350°F and line your baking sheet with parchment paper.

Stir the flou, baking soda, baking powder,a nd salt ogether in a bowl and set aside.

In the bowl of a stand mixer with a paddle attachment, beat your butter, both sugars, and vanilla for 3 minutes on medium speed.

On the lowest speed, add your eggs one at a time, and mix until fully incorporated.

Add your flour in thirds, mixing on low speed until combined. Be careful not to overmix!

Fold in the chocoalte chips, both semi-sweet and milk chocolate.

Once your ingredients are incorporated, portion the dough. When making my dough balls, I use a scale to weigh out 1.5 oz balls, so that I can make sure each cookie will be the same size. If you don't have a scale, jsut eye ball it!

Chill your dough for 30 minutes before the rolling stage! It really helps maintain the sizes of your cookies.

Bake your cookies for 10-12 minutes, or until golden around the edges. Once baked,s et your cookies aside to cool on the baking tray.
#howtocakeit
Sunday,Monday,Tuesday,Wednesday,Thursday,Friday,Saturday
January,February,March,April,May,June,July,August,September,October,November,December
Not enough items available. Only [max] left.
Add to Wishlist
Browse Wishlist
Remove Wishlist