Cast a spell with this black chocolate cake! Halloween is one of the best times of year for getting truly creative with your cakes and decorations. This week I'm taking a classic and giving it an HTCI twist! Witches are one of the most iconic characters this time of year, and the hat is what truly makes the outfit in my opinion, so that's what I'm making this week!
Starting with 11lbs of my Ultimate Chocolate Cake dyed black, this cake gets stacked up with orange Italian Meringue Buttercream- a classic Halloween color combo! Iced and crumb coated in black chocolate ganache and covered in black fondant this cake gets whimsical with the help of some gumpaste and black glitter!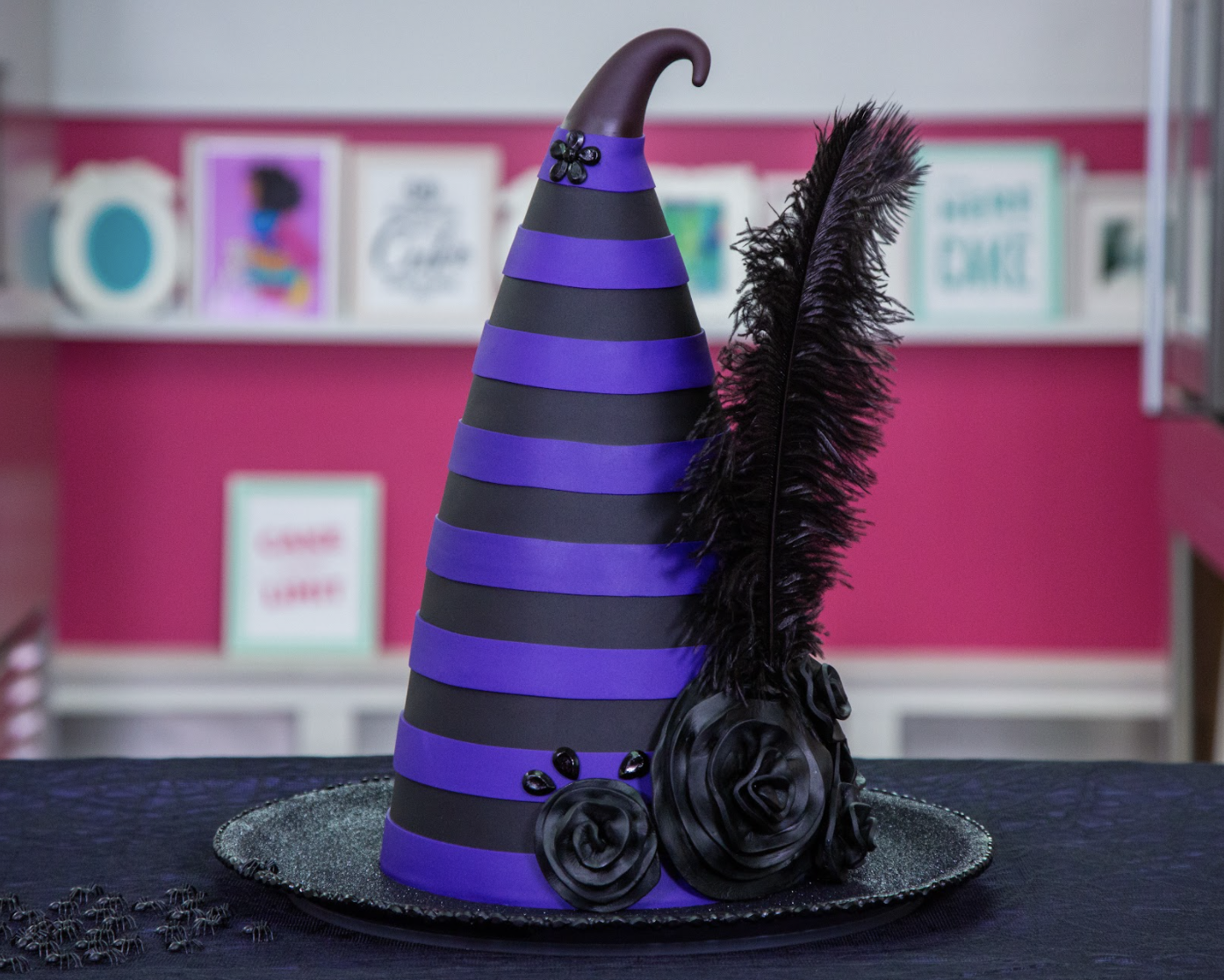 ---
11lbs Yo's Ultimate Chocolate Cake
Black Gel Food Coloring
Yo's Simple Syrup
Yo's Famous Italian Meringue Buttercream
2x Yo's Dark Chocolate Ganache
Orange & Black Gel Food Coloring
2lbs Black Gumpaste
2.5lbs Black Fondant
1.5lbs Purple Fondant
Black Glitter Gel
Black Disco Dust
Clear Piping Gel
Clear Food Grade Alcohol
Divide your batter and bake at 350 degrees as follows

8" round -- 3lbs batter -- 60 mins
7" rounds -- 2 ½ lbs batter -- 45 mins
6" round -- 1 ½ lbs batter -- 40 mins
5" round -- 1lb batter -- 35 mins
4" round --1/2lb batter -- 25 mins

Let your cakes cool completely in their pains before continuing

Remove your cakes from their pans and level with a ruler and serrated knife. Create 2 layers from each of your cakes with the same technique





Dye your Italian Meringue Buttercream orange, and use it to stack your cakes starting with your 8" round and working up to your 4" round.

Carve your cake into a hat shape, starting at the top and working down to the bottom. Carve away small sections at a time until you're happy with the shape.

Dye your dark chocolate ganache black, and use it to crumb coat your cake. Chill for 20 minutes before icing your cake and chilling for another 20 minutes.

Measure the circumference and height of your cake, and thinly roll out a triangle of black fondant large enough to cover your cake. Roll up on a french rolling pin and quickly unravel around your cake, smoothing in place as you go.

Roll a cone of black gumpaste, and curl the top over. Attach to the top of your cake and blend in using fondant paste.

Thinly roll out purple fondant, and cut 1" strips. Attach horizontally around your cake, lining up the seams with the seam on your cake, and using one strip to space out the others.

Roll out a circle of black gumpaste, and drape over the back of a greased pizza pan. Allow to set for one week.

Mark an 8" circle in the middle of your brim, and paint around it with black glitter gel, and add black disco dust. Blow away excess. Attach the top of your hat.

Create flowers for your hat by rolling up strips of black gumpaste. Stuff the insides with tissue to hold their shape while they set. Paint with clear food grade alcohol mixed with black gel food coloring. Attach to your cake with royal icing and toothpicks to support.

Press black fondant into a jewel mold. Brush them with black gel food coloring diluted with clear food grade alcohol and attach to the brim of your cake.

Top your cake off with black feathers wrapped in food grade plastic
#howtocakeit
Sunday,Monday,Tuesday,Wednesday,Thursday,Friday,Saturday
January,February,March,April,May,June,July,August,September,October,November,December
Not enough items available. Only [max] left.
Add to Wishlist
Browse Wishlist
Remove Wishlist