I needed to make a watermelon CAKE. The idea has been on my bucket list for a long time, and when a lot of my fans on YouTube started asking for it, the decision was made! It is actually relatively easy on the novelty cake scale of difficulty. I made a pink vanilla cake with matching pink Italian Meringue Buttercream. Chocolate chips made the perfect seeds! And I painted my white fondant to get the rind and skin to look just right. And who doesnt like watermelon? Dont tell me - I dont want to know them.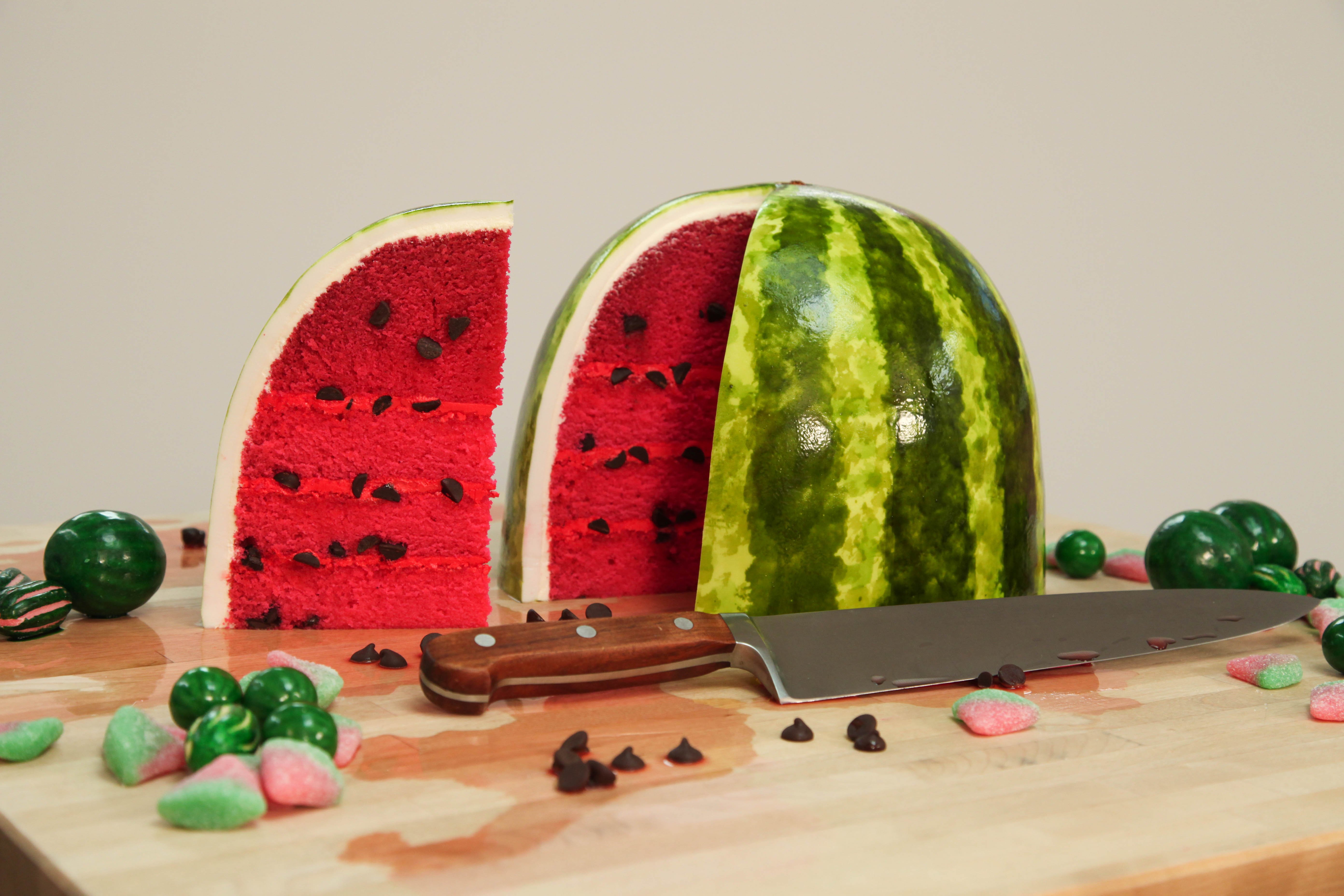 ---
1.5 x portions of Yos Pink Velvet Cake
2 cup semi-sweet chocolate chips (divided)
1 batch of Yo's Italian Meringue Buttercream
Red Red Icing Color
1 x recipe of Simple Syrup
4lbs White Fondant
Moss Green Icing Color
Kelly Green Icing Color
Buttercup Yellow Icing Color
Ivory Icing Color
Clear food grade alcohol (like vodka or rum) or lemon extract
Prepare your Pink Velvet Cake batter. Pour half of your batter into your prepared pans, sprinkle with chocolate chips, and top with remaining batter according to the proportions listed below.

9" round cake pans - 1 ½ lb of batter and ¼ cup chocolate chips each

9" stainless steel bowl - 3 ½ lbs of batter and ½ cup of chocolate chips

Bake your bowl at 350 degrees for approximately 1 hour and 30 minutes, and your 9" round pans for approximately 40 minutes, or until a cake tester comes out completely clean. Let cool completely in their pans.

Prepare your Italian Meringue Buttercream, and divide evenly among two bowls. Remove ½ cup from one of the bowls into a new bowl. Colour your new bowl of buttercream with red red gel food colouring, until it is bright red. Slowly add this to your white buttercream little by little. Keep a levelled pink velvet cake nearby, and try to match the pink colours as closely as possible. You should still have one bowl of plain white buttercream after this step.

Prepare your Watermelon Simple Syrup, and set aside.

Remove your round cakes from their pans, and level them. Level bowl cake with a serrated blade flush against the top of the bowl, using the bowl lip as a guide.

Spread your buttercream on the top of your first round cake. Then sprinkle cup of chocolate chips. Repeat this process with your other 2 round cakes. Place your bowl cake on top of your layered round cakes.

Carve away the outer crust of your stacked cakes, maintaining the dome shape.

Using the other portion of your Italian Meringue Buttercream, crumb coat and ice your cake. Give your cake a chill between crumb coating and icing.

Roll out 4lbs of white Fondant until it is thick. Cover your cake, and trim away any excess fondant.

Mix Wilton Moss Green, Wilton Kelly Green, Wilton Buttercup Yellow and just a touch of my Wilton Red Red, and dilute it using a bit of clear alcohol. Using a round tip paint brush, paint a base coat onto the cake. Allow to dry.

Add more Wilton Moss Green to your mixture, deepening the colour. Paint dots all over the cake to create a speckled pattern. Allow to dry.

Add darker stripe-like patterns, softening the lines with brush. Use a drier brush to smudge and soften the stripe pattern. Allow to dry.

Add a little nub that is on the bottom of any watermelon where they have cut the stem. This isnt totally necessary, but its a cool little detail!
#howtocakeit
Sunday,Monday,Tuesday,Wednesday,Thursday,Friday,Saturday
January,February,March,April,May,June,July,August,September,October,November,December
Not enough items available. Only [max] left.
Add to Wishlist
Browse Wishlist
Remove Wishlist