A mega cake for mega love! February is one of the sweetest month's ever and not just because of Valentine's Day but because it's our anniversary month! This Valentine's Day MEGA cake is our way of showing you all how much we love you but also, makes for such a sweet Valentine's Day treat for the people you want to show MEGA love to!
There is no cake more romantic than a classic red velvet cake - maybe it's something about it red and chocolatey that screams Valentine's Day! Which is exactly why I made this cake out of 3lbs of my Ultimate Red Velvet Cake and stacked it with cream cheese frosting - the perfect combination. For an extra sweet surprise, I created a heart shaped secret chamber filled with Sprinkle Some Love - a gorgeous red, pink, and purple sprinkle blend. I also made pink and red chocolate hearts and chocolate lollipops to decorate the entire cake! You could totally get creative and add your own candy or whatever other treats you'd like - it is a mega cake after all!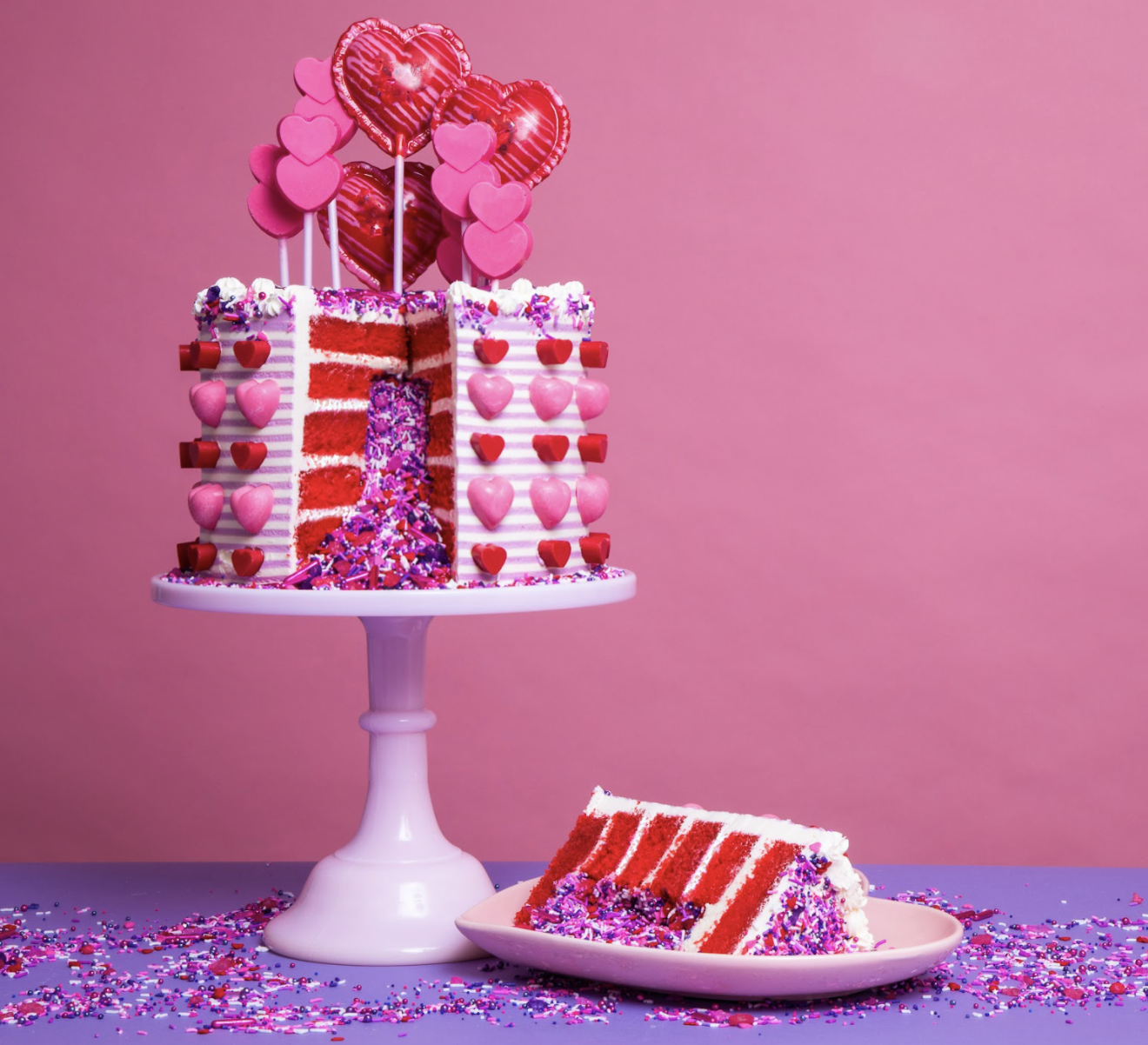 ---
3lbs Yo's Ultimate Red Velvet Cake
1 batch of Simple Syrup
1 batch of Italian Meringue Buttercream
1 batch of Cream Cheese Frosting
Sprinkle the Love Sprinkle blend
1 bag red candy melts
1 bag pink candy melts
Cinnamon hearts
Heart confetti
Pink lustre dust
Pink food gel coloring
Purple food gel coloring
Melt your pink and red candy melts (in 20 second increments, stirring in between). Pour your melted chocolate into piping bags then fill your molds with each color. Bang the molds onto your counter to remove any air bubbles. Let molds set.

To make your lollipops, fill your lollipop molds with the same melted chocolate but add in a stick. Make one sprinkled lollipop by adding a pinch of sprinkles to the bottom of the largest lollipop mold. Let molds set.

Line your pans with parchment paper and preheat your oven to 350 degrees Fahrenheit. Prepare 3lbs of batter then divide evenly into three 8" round cake pans. Bake each cake for 1 hour and 25 minutes.

TIP: Let your cakes cool in their pans completely before removing.

Remove your cakes from their pans then level each layer and remove the caramelization from the bottoms.

Use a large serrated knife to cut each layer into 2.

Set a 7" round cake pan on top of each layer and use it as a guide to cut away any caramelization from the sides.

Use Sir Squeeze A Lot to soak each layer with simple syrup then let them sit for a couple of minutes to absorb.

Use a heart shaped cutter to cut a heart out of 4 layers. Use the first layer as a guide to make sure that each cut out lines up.

Fill and stack your layers from the bottom as follows:

Full layer (on bottom)
Pipe fence of IMBC
Spread with cream cheese frosting
1st chamber layer
Pipe fence
Spread with pink cream cheese frosting
Use heart cutter to protect the chamber
Continue to top

Fill your secret chamber with the "Sprinkle Some Love" sprinkle blend. Once it's full, spread on some cream cheese frosting and add on the final whole layer of cake.

Crumb coat your cake with IMBC then let it chill in the fridge until firm. Ice the entire cake once again with more IMBC and use a bench scraper to smooth out the edges.

Ice your cake again then hold your cake comb at about a 45 degree angle against the cake. Slowly spin your turntable around while dragging the comb along the buttercream to create stripes. Continue until you are happy with the ridges. Chill your cake very well to ensure that it is completely set.

Use purple gel food coloring to dye your IMBC purple. Ice your chilled cake with the lavender IMBC then use a bench scraper to fill in the grooves. Pipe on a border of purple IMBC to the top of your cake. Move your cake to a pretty cake stand.

Carefully remove your chocolates from their molds then dust on some pink lustre dust.

Decorate your cake by lining up the chocolate hearts along the buttercream stripes then add in the chocolate lollipops to the top of the cake! Feel free to get extra creative here.
#howtocakeit
Sunday,Monday,Tuesday,Wednesday,Thursday,Friday,Saturday
January,February,March,April,May,June,July,August,September,October,November,December
Not enough items available. Only [max] left.
Add to Wishlist
Browse Wishlist
Remove Wishlist