This cake will keep you cozy! Dear Winter, please stop. It's too cold, and Christmas is over, and I need some sunshine. No? Fine, I'll bake myself some sunshine instead! This cake is the ultimate comfort food! I'm talking brownie slabs, cheesecakes, cherry pie filling, more brownies, and chocolate buttercream. Let's get through this long winter together!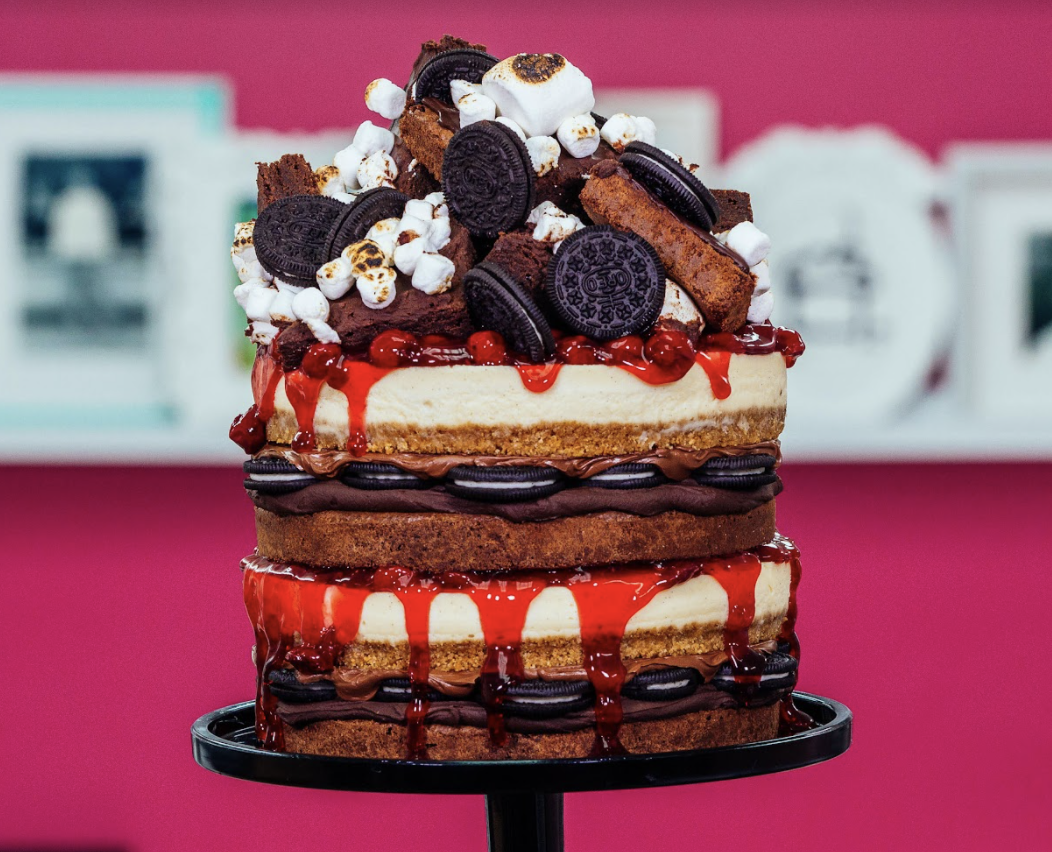 ---
2 x 8" Round Chocolate Fudge Brownies
2 x 8" Round Cheesecakes
Dark Chocolate Ganache
Chocolate Buttercream
Oreo Cookies
Cherry Pie Filling
9" x 13" Chocolate Fudge Brownie
Mini Marshmallows
Vegetable Oil
To ensure that your cheesecakes are nice and firm for stacking, prepare the day before you assemble. I would recommend popping them in the freezer for 1-2 hours just before you start to assemble.

You'll also want your brownie layers, and toppings to be cool before assembling your cake. Prep them the day before so that you've got ooey, gooey, room temperature brownies to work with.

To allow your ganache time to set, I would recommend making it that day ahead as well. This ensures it will firm up into a rich, spreadable texture.

Whip up a batch of your chocolate buttercream, and set aside.

Lay down your first brownie layer, and spread on some dark chocolate ganache with your small offset spatula. Cover your ganache with Oreos (cutting down to size where needed).

Add a dollop of chocolate buttercream to the top of your Oreos, and spread with your small offset spatula. Place your first cheesecake layer on top, and drizzle generously with cherry pie filling. It's okay if some spills over the side. We want this cake to look generous!

Repeat the above stacking order until you reach the top, finishing with a final layer of cherry pie filling.

Take your 9" x 13" pan of brownies, and spread a layer of ganache over the top. Sprinkle with an assortment of mini and regular sized marshmallows.

Who needs a fire when I've got a brulee torch to keep me warm? Brulee all of your marshmallows to your desired colour (I like golden brown with a bit of char), and allow to cool.

Once marshmallows have cooled, cut your brownie into diamonds, and place Oreos here and there. The more the better!
#howtocakeit
Sunday,Monday,Tuesday,Wednesday,Thursday,Friday,Saturday
January,February,March,April,May,June,July,August,September,October,November,December
Not enough items available. Only [max] left.
Add to Wishlist
Browse Wishlist
Remove Wishlist