Feeling Mega Lucky! Happy St Patrick's Day everyone! I wanted to bring you all some extra luck this year with this four leaf clover of cakes!
This St. Patty's Day Mega Cake is a pure sign of luck! It's stacked with ombre layers of bright green vanilla cake and iced in smooth green stripes with a secret chamber full of gold - gold painted nugget gum! The cake is then decorated in true St Patty's Day spirit with all green candy - green dragees, rock candy, sixlets, pearl dragees, fondant shamrocks, and detailed in a green cake drip. At the end of the rainbow and on the top of this cake is a chocolate pot of gold filled with more golden nugget gum for some extra luck!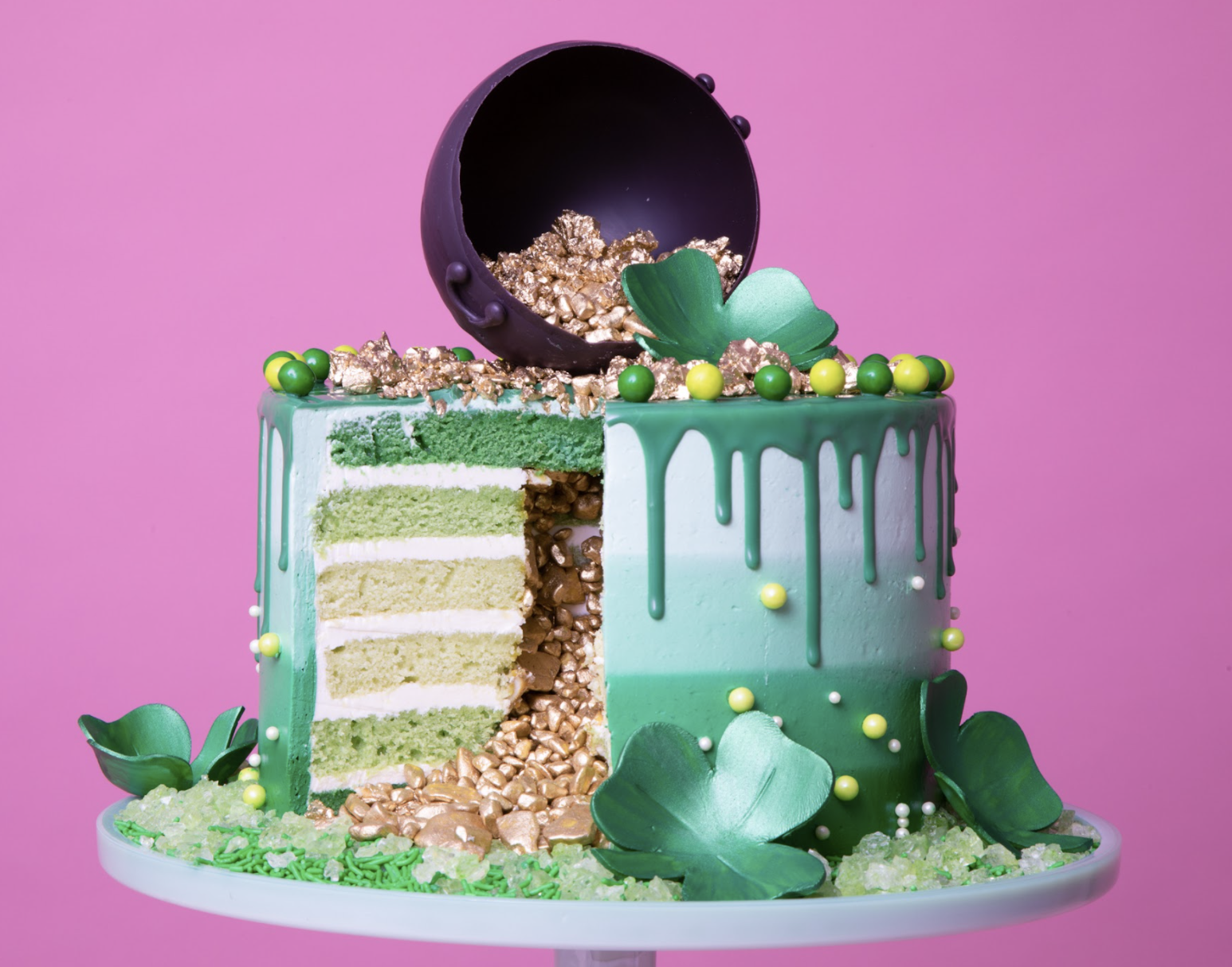 ---
6.25lbs Yo's Ultimate Vanilla Cake
1 batch of Simple Syrup
1 batch of Italian Meringue Buttercream
Gold nugget gem
Yellow rock candy
Gold lustre dust
Green dragees
Green pearl dragees
Green sixlets
Green sprinkles
Green rock candy
Balloons
Gel food coloring: forest green & rustic green
2 oz green fondant
Green color dust
Green lustre dust
Green cake drip
1 bag of black candy melts
Mix gold lustre dust together with clear food grade alcohol to create a gold paint. Pour your nuggets into a bowl then add the paint and swirl it around to evenly cover the gums. Lay them out to dry then repeat with the yellow rock candy.

Roll out some thin green fondant. Use a template to cut out shamrocks then let them set in a cup or on a paper towel to give them a rounded shape. Once they have dried, paint each one with green lustre dust.

In a microwave safe bowl, melt your candy melts. Blow up a balloon slightly to the desired size of your chocolate bowl then dip it into the candy melts. Dip twice if necessary. Let it set.

Line your pans with parchment paper and preheat the oven to 350 degrees Fahrenheit. Prepare 6.25lbs of vanilla cake batter than divide it into bowls. To create ombre green cake layers, use blue and lemon yellow gel food coloring as follows then bake each for 50 minutes:




3 blue drops + 2 yellow drops
7 blue drops + 5 yellow drops
14 blue drops + 10 yellow drops




TIP: Let your cakes cool completely in their pans before removing.

Remove your cakes from their pans then level each one and remove the caramelization from the bottoms of each cake.

Use a small serrated knife to layer each of your cakes into 2 layers for a total of 6 layers.

Use a small serrated knife and an upside down 7" round cake pan as a guide to remove the caramelization from the sides of the cakes.

Use Sir Squeeze A Lot to soak each of your 6 layers with simple syrup then let them sit for a couple of minutes to absorb.

Use a 2¼" circle cutter to cut a secret chamber out of the centre of the 4 layers - the two lightest and two medium layers.

Place one of the darkest green cake layers down on the cake board then place the same 2¼" circle cutter into the centre to protect the secret chamber. Spread IMBC around the cutter onto the layer then continue to stack the cake layers using the same cutter to protect the centre from buttercream.

Fill the secret chamber with gold nuggets to the top. Add the final layer of cake.

Use an offset spatula to crumb coat your entire cake with IMBC.

Divide the remainder of your IMBC into four. Use forest green and rustic green to dye the first mix a dark green buttercream. Once you are satisfied with the green, use it to colour the rest of your shades by adding varying amounts of the dark green to each. Place each one into a piping bag.

Mark your cake into 4 equal sections then pipe your IMBC on in horizontal stripes with the darkest color at the bottom and lightest at top. Spread the buttercream with a small offset spatula then use a bench scraper to smooth it out creating four stripes.

Use your cake drip to add a drip effect around the top edges of your cake then spread the drip to cover the top of the cake.

Decorate the cake with sixlets, dragees, rock candy, sprinkles, and shamrocks.

Pop the balloon in the chocolate bowl then place it on top of your cake and add gold nuggets to it.
#howtocakeit
Sunday,Monday,Tuesday,Wednesday,Thursday,Friday,Saturday
January,February,March,April,May,June,July,August,September,October,November,December
Not enough items available. Only [max] left.
Add to Wishlist
Browse Wishlist
Remove Wishlist