Welcome to Camp Cake! We are so happy you could join us this summer. Camp Cake is an indoor camp where you can learn fun things like, baking, and caking, and most importantly how to slice and eat cake! I really wish there was a camp like this.and now there is! Today at Camp Cake we are making a Smoreo Campfire cake. Yum! All the delicious elements of a Smore - graham crackers, marshmallows and chocolate, plus the added bonus of an Oreo cookie. Time to build a fire.. or pull out a brle torch!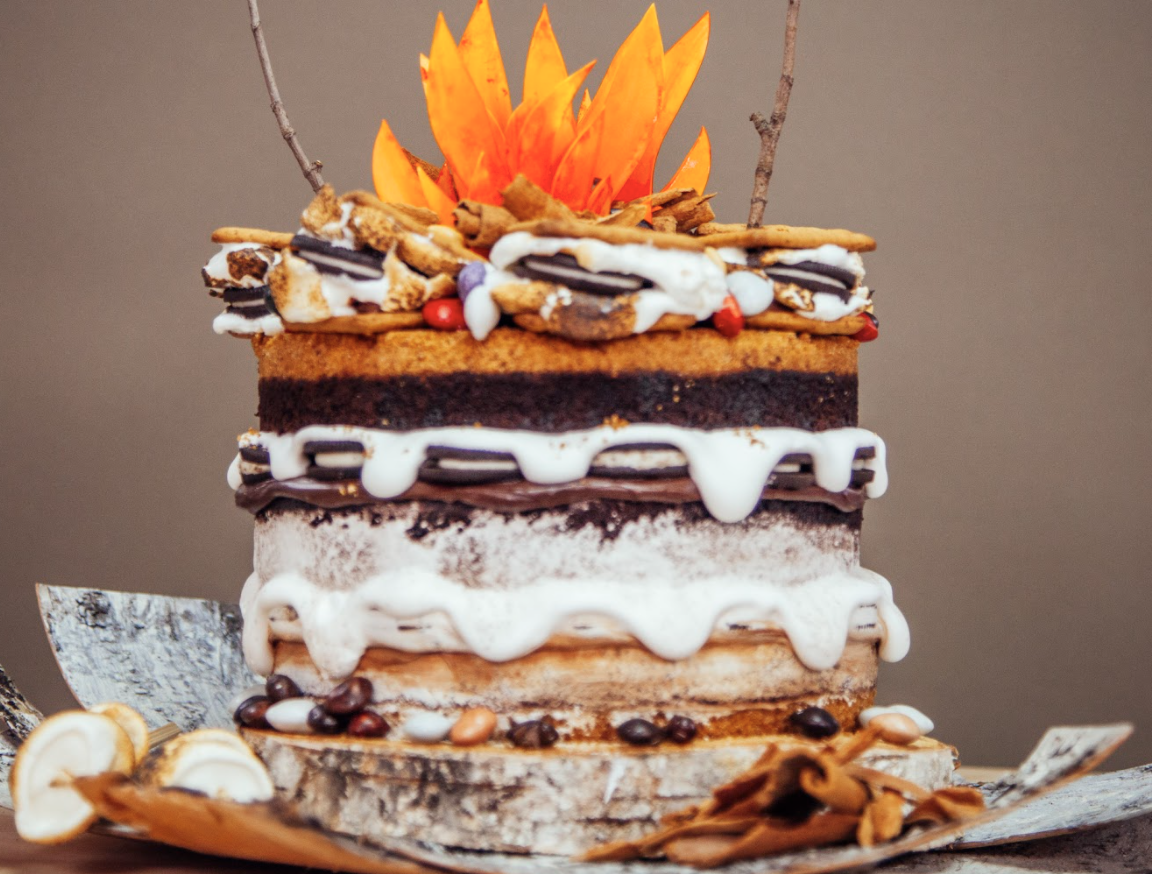 ---
6lb portion of my Ultimate Chocolate Cake
1 batch of my 7 Minute Frosting
1 x Ganache Recipe (using 12oz of semi sweet chocolate and 12oz of whipping cream)
1 x Simple Syrup Recipe
2 cups Graham Cracker Crumbs
Gumpaste Flames
1/3 cup Sugar
¾ cup Unsalted Butter, melted
2 x 300g bags of Double Stuffed Oreos
16 Graham Crackers
16 Regular Marshmallows
8 Squares of Chocolate
8 Double Stuffed Oreo Cookies
River Rock Chocolates
Cinnamon Sticks
Wilton Colour Mist Red
Wilton Colour Mist Yellow
Prepare your 6lb portion of Yos Ultimate Chocolate Cake batter. Set aside.

Prepare your chocolate ganache. Set aside.

Prepare your 7 Minute Frosting. Set aside.

Prepare your Simple Syrup. Set aside.

Toss your sugar and graham crumbs together in a bowl. Pour in melted butter and mix together.

Divide your graham crust evenly between the two 8 round cheesecake pans.

Press the graham crust down firmly into the pans using a 4 round cake pan or flat glass. Chill for 20 minutes.

Fill two 8 round cheesecake pans with 1 lbs of chocolate batter directly on top of the graham cracker crusts. Fill one 8 round cake pan with 2 1/2 lbs of chocolate batter.

Bake at 350 degrees for, 1hr or until a cake tester comes out completely clean. Let cool completely in their pans.

Remove your cakes from their pans and level them. Sprinkle with simple syrup.

Place one of your graham crusted cakes, graham side down, onto your serving platter. Spread ganache onto that layer, then top with Oreos. Spread 7 Minute Frosting onto your Oreo layer.

Place your 8 round Chocolate Cake on top. Use a spatula to scrape any excess frosting. Repeat the process of your previous cake layer. Place your final graham crusted chocolate cake on top, making sure the graham cracker crust is on top!

Prepare you Smoreos. Sandwich a toasted marshmallow and an Oreo between two graham crackers.

Spread a layer of chocolate ganache onto the top of your cake, and lay your Smoreos on top.

Using your river rock chocolate, form an inner circle within the Smoreo border. Use your cinnamon sticks to create wood for the campfire cake top.

Cut flames from thinly rolled gumpaste (letting dry overnight). Paint Wilton Colour Mist in Red and Yellow on both sides to enhance colour. Once dry, place on top of the cinnamon sticks.

As an extra touch, place a pre-made banner above the campfire.
#howtocakeit
Sunday,Monday,Tuesday,Wednesday,Thursday,Friday,Saturday
January,February,March,April,May,June,July,August,September,October,November,December
Not enough items available. Only [max] left.
Add to Wishlist
Browse Wishlist
Remove Wishlist