Do you know how to solve a scrambled Rubiks Cube? Regretfully, I dont. I know its just a game but I used to get so frustrated when I could not solve it. I did have a little trick back in the day - I would simply peel off the coloured squares and re-apply them where I need them. Yes, I know, thats cheating, but I loved seeing all the colours line up again. I caked a Rubiks Cube on How To Cake It. This is one puzzle I can definitely solve!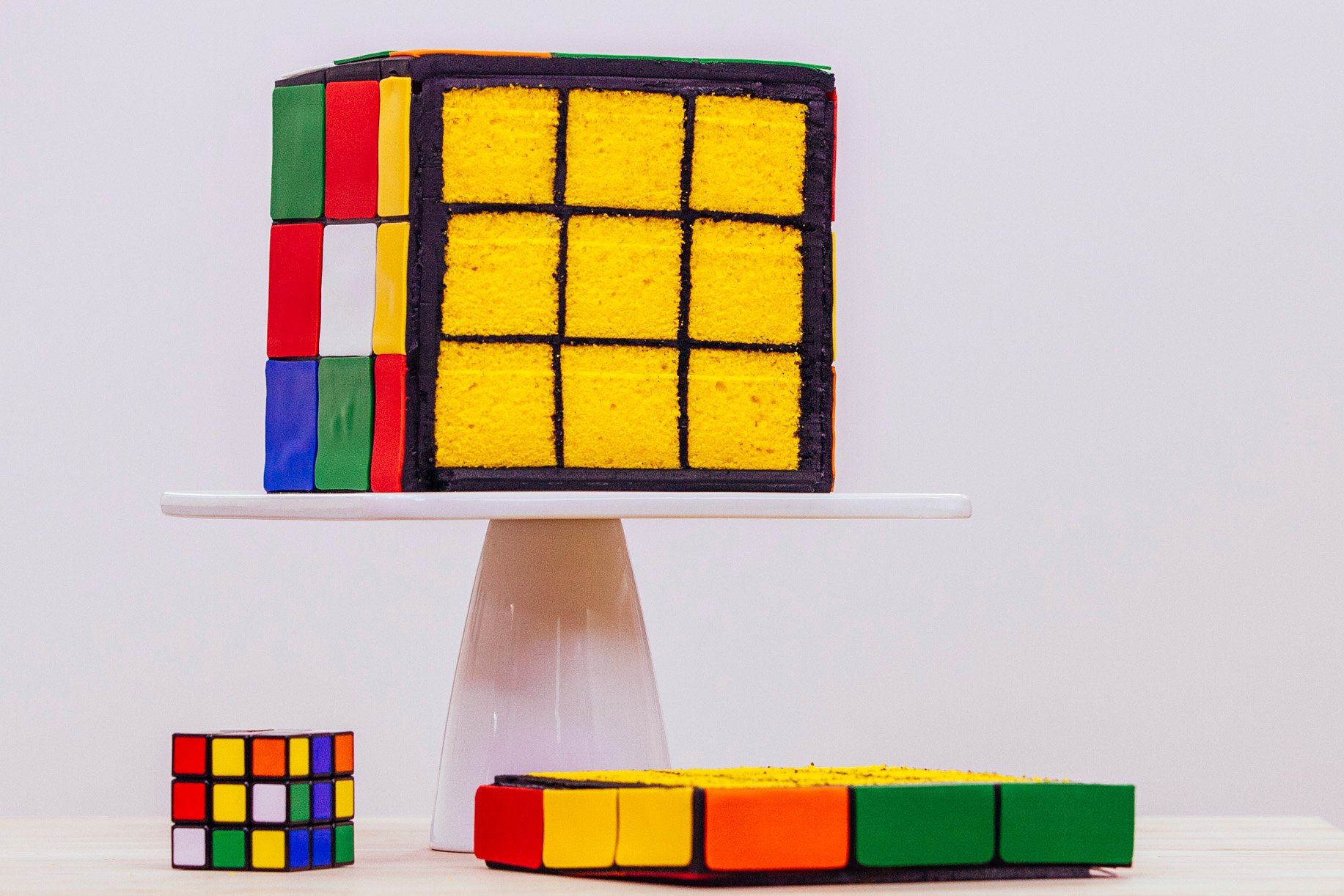 ---
2 x 8lb portion of my Vanilla Cake
1 x Italian Meringue Buttercream
1 x recipe Chocolate Ganache
½ lb semi sweet chocolate
4 lbs Black Fondant
¼ lb Red Fondant
¼ lb Green Fondant
1 lb White Fondant
Gel food coloring: yellow, black, orange, blue, violet
Prepare Yos Ultimate Vanilla Cake batter. Colour both batches of vanilla cake batter using Wilton Lemon Yellow Icing Colour. You want all four of your cakes to be the exact same colour. Divide your yellow vanilla batter evenly between your four 8 square pans. Bake at 350 degrees for 1 hour, or until a cake tester comes out completely clean. Let cool completely in their pans.

Prepare your Italian Meringue Buttercream. Set aside.

Prepare your chocolate ganache, adding lb of extra chocolate to the ganache. Dye black using a whole container of Wilton Black Icing Colour. Let set overnight.

Remove all four yellow vanilla cakes from their pans and level them. Take one cake, and cut it into 3 even cake layers. Set aside.

Colour 1 cup of buttercream using the same Wilton Yellow you used to dye your vanilla cake batter. Try to match the buttercream to your cake layers.

Spread a very thin layer of yellow buttercream on top of your three single layer cakes.

Place one thin layer of cake, from the fourth cake that you cut, on top of each one of the buttercreamed layers. You should now have 3 cakes that are 8 square and 2 high.

Cut all three of your cakes into three even strips measuring 2 wide. This leaves a total of nine cake strips that are 2 wide x 8 long x 2 high.

Cut all nine strips to measure 6 long.

Spread your chocolate ganache along the side of two of your cake strips and sandwich all three cake strips together so that you have one layer of cake that measures 6 wide x 6 long x 2 high. Repeat this process with the remaining six cake strips.

Stack these three cakes on top of each other with more black ganache. Crumb coat, chill, then ice again.

Roll the black fondant into panels that are slightly bigger than the four sides and top surfaces of the Rubiks Cube cake.

Cut four of the slabs of fondant to the height of your cube cake. Use a set square, which is the official name of the triangle ruler and a very sharp knife to cut a straight line.

Cover the cake by applying panels of black fondant to two opposite sides of the cube. Repeat this process and cover to the two remaining opposite sides of your cake cube.

Use the fifth and final black fondant panel to cover the top of the cake.

Measure the side panels and top panel of your cube cake so that you can mark a grid on all five fondant panels.

Using your ruler and sculpting tool, mark 2 horizontal lines, and 2 vertical lines at even intervals along all five panels of black fondant.

There are six colours on a Rubiks Cube. Take the three pre-coloured portions of fondant (Red, Green, and White), then dye three lb portions of white fondant. Dye one portion yellow with Wilton Lemon Yellow, one portion orange with Wilton Orange and a little Wilton Lemon Yellow, and the final portion blue using Wilton Royal Blue and Violet icing colours.

Roll out all six colours of your fondant as thinly as you can, matching the size of square panels on your cake. Use a square cutter to cut nine squares out of each colour of your fondant.

Leave a black border around each square of colour, about an 1/8 border all the way around.

Arrange your squares onto your Rubiks Cube Cake by attaching them with a little bit of water brushed on the back of each square
#howtocakeit
Sunday,Monday,Tuesday,Wednesday,Thursday,Friday,Saturday
January,February,March,April,May,June,July,August,September,October,November,December
Not enough items available. Only [max] left.
Add to Wishlist
Browse Wishlist
Remove Wishlist