This cake is poppin'! Whenever I go to the movies, I love getting a bag of popcorn (we all know movie theatre popcorn is the best popcorn) and dumping peanut M&Ms into the mix! It's literally the perfect sweet and salty snack and definitely makes saving popcorn until after the trailers even more challenging! So as I sit at home on my couch watching movies galore, I want to bring this movie theatre sensation home… and the best way to do so is through snacks of course!
This iconic red and white striped Popcorn Bucket is the ultimate movie theatre treat - it's stacked with my Ultimate chocolate cake AND layers of movie night bars (melted marshmallows with buttered popcorn, salted chips, and peanut M&Ms… could it get any better?!). I draped the entire cake in white fondant then added on red fondant stripes and lettering and completed the cake off with an overflowing pile of more buttered popcorn and M&Ms!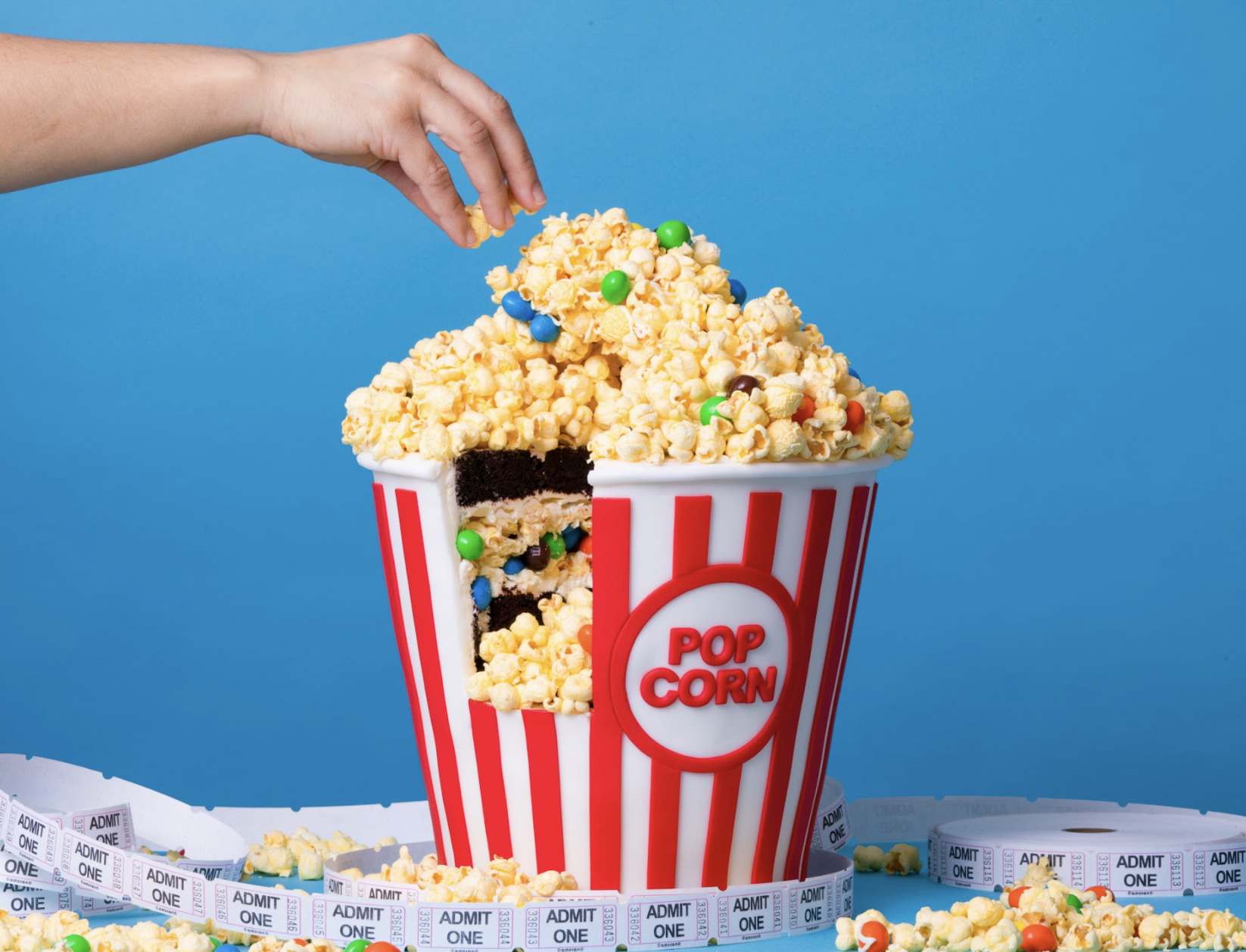 ---
2 batches of Italian Meringue Buttercream
2 batches of Simple Syrup
5lbs white fondant
1½lbs red fondant
3 bags buttered popcorn
1 large bag peanut M&Ms
Prepare one batch of Movie Night Bars but rather than making squares, press them into one 8" round cake pan and one 9" round cake pan.

Line your pans with parchment paper and prepare 9.5lbs of Yo's Ultimate Chocolate cake batter. Bake your cakes as follows:




8" round pan x 2 → 3lbs chocolate cake batter → 1 hour and 10 minutes

9" round pan → 3.5lbs chocolate cake batter → 1 hour and 10 minutes




Let your cakes cool completely in their pans before removing.

Remove your cakes from their pans then level each one and layer them into 2.

Use Sir Squeeze A lot to soak all of your cake layers with simple syrup. Set your layers aside for a couple of minutes to absorb

Fill and stack your layers as two cakes with IMBC as follows:

First cake:

9" layer

Movie night bar

9" layer

8" layer




Second cake:

8" layer

Movie night bar

8" layer




Chill both of your cakes.

Stack your smaller cake on top of the larger, then carve with a large serrated knife to create an A-line shape. Once you're happy with your cakes, unstack them and level each cake if needed. Add a cake board cut to the diameter of the top of your larger cake then insert dowels for support and restack your cakes. Insert more dowels into the top of the cake (this will create enough support for when you flip the cake over later on) and add on a final cake board.

Crumb coat your cake with IMBC then let it chill in the fridge until firm. Once firm, ice again with more IMBC using a bench scraper to smooth out the edges then chill.

Measure the circumference and height of your cake then roll out fondant slightly larger. Wrap it around your cake and smooth it out then cut a clean seam down the back. Trim away any excess at the top by running a knife flush along the board and trim away the excess at the bottom. Place your cake back in the fridge to chill.

Roll out some thin red fondant then cut strips tall enough for your cake and wider at the top than the bottom (so that they look straight on the cake) - mine were 10½" in height then ¾" wide at the top and ½" at the bottom.

Use any letter cutters to cut out the word "POPCORN" from your red fondant then cut out a circle frame using 2 circle cutters.

Measure the circumference of your cake at the top and bottom then create a template to the size of the top of your cake (the smaller part). Fold the circle template into 20 sections and pin it to the top board then mark it off on the cake. Now mark off 20 sections at the bottom of the cake so that they line up with the top markings. Start at the back of your cake and begin lining the red stripes up with your marks and gluing them on with clear piping gel (make sure the wider end of the stripes are at the bottom). Alternate between adding stripes onto the two sides rather than going in one direction then leave the last two lines off (this will give you the opportunity to adjust if necessary).

Use the larger circle cutter you used to create the frame to mark off where you want the label to go on your cake. Gently press it into the cake then use a sharp paring knife to cut away any of the overlapping red stripes. Use the circle cutter again to pick up the frame then add it onto the cake - using your fingertips to readjust. Add the final two red stripes - cutting away the excess as it meets the centre circle label.




TIP: If the red fondant stains the white, brush it with clear food grade alcohol to erase.

Clay extrude a thick cord of white fondant then glue it around the base of your cake to create a rim. Carefully flip your cake right side up.

Glue the "POPCORN" letters into the circle frame.

TIP: Start with the middle letters so you can centre the letters better and adjust as you please.

Carefully remove the dowels from the top half of your cake as they are no longer needed.

Now for the fun part! Top your cake with a mountain of popcorn and M&Ms and continue to add more using melted white chocolate to glue the toppings in place (but don't let it show!)
#howtocakeit
Sunday,Monday,Tuesday,Wednesday,Thursday,Friday,Saturday
January,February,March,April,May,June,July,August,September,October,November,December
Not enough items available. Only [max] left.
Add to Wishlist
Browse Wishlist
Remove Wishlist