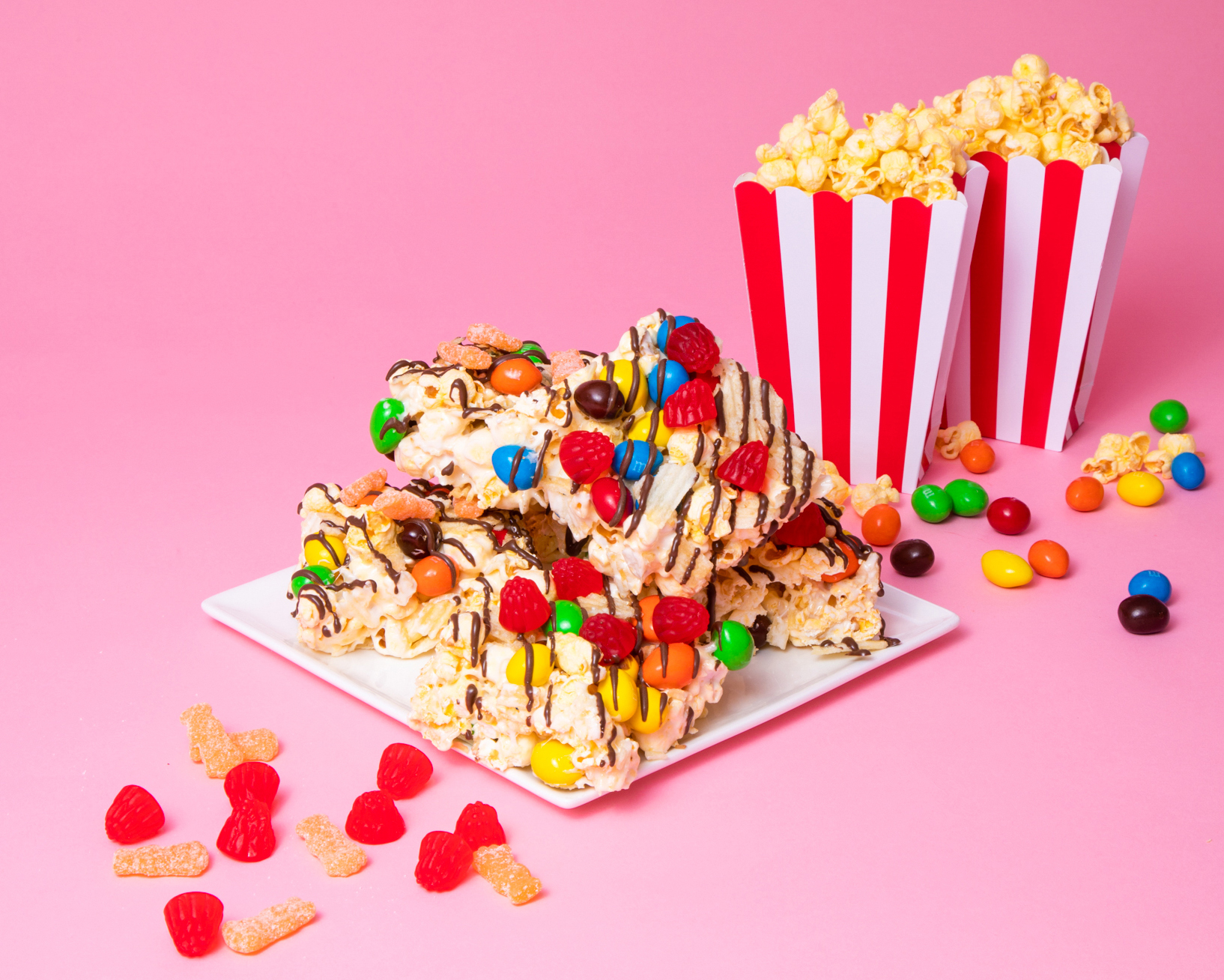 ---
¼ cup unsalted butter
1 bag of mini marshmallows
5 cups of popcorn
2 cups of chips
2 cups of peanut M&Ms
Swedish berries
Sour patch kids
Chocolate candy melts
Add your butter to a heavy pot and melt it over medium heat. Once your butter is almost completely melted (you may still have a few pieces floating), add in all of your marshmallows. Keep the pot at medium heat and begin to stir for a bit then let the marshmallows sit and melt on their own.

Once your marshmallows are almost completely melted, take the pot off of the heat. Add in all of your popcorn then stir it up. Crush your chips into the mix as well and continue to stir. Feel free to add in more popcorn or chips - whatever you feel like!

Line your pan with parchment paper then pour some of your marshmallow mix in. Generously add in your M&Ms and add more popcorn mix on top and spread it so that's its flat in the pan. Add more M&M's on top and press it down with a smaller cake pan.

Add more popcorn, crushed up chips, and M&Ms on top and press them in. Let your pan set and cool completely for a couple of minutes.

Once your pan has set, run a small spatula along the sides then flip it over to remove the entire bar. Use a ruler and a chef's knife to cut it into equal parts.

Melt some chocolate candy melts and pour into a parchment piping bag. Lay your cut bars onto a cookie sheet with a silicone mat then drizzle them with chocolate and stick more candy on (I used Swedish berries and sour patch kids.
#howtocakeit
Sunday,Monday,Tuesday,Wednesday,Thursday,Friday,Saturday
January,February,March,April,May,June,July,August,September,October,November,December
Not enough items available. Only [max] left.
Add to Wishlist
Browse Wishlist
Remove Wishlist