Gotta Cake Em All With This Chocolate Pokémon GO Cake! I want to be the very best, like no one ever was...So when the Pokmon GO craze hit, I knew it was time to take on the challenge of a Pokmon Cake. Youve seen me conquer my sphere fear with my Ornament Cakes, Kettlebell Cake, and my BB-8 Cake, but the unique pattern of the Pok Ball called for a completely new fondant process. Lets do this! Lets Cake Em All!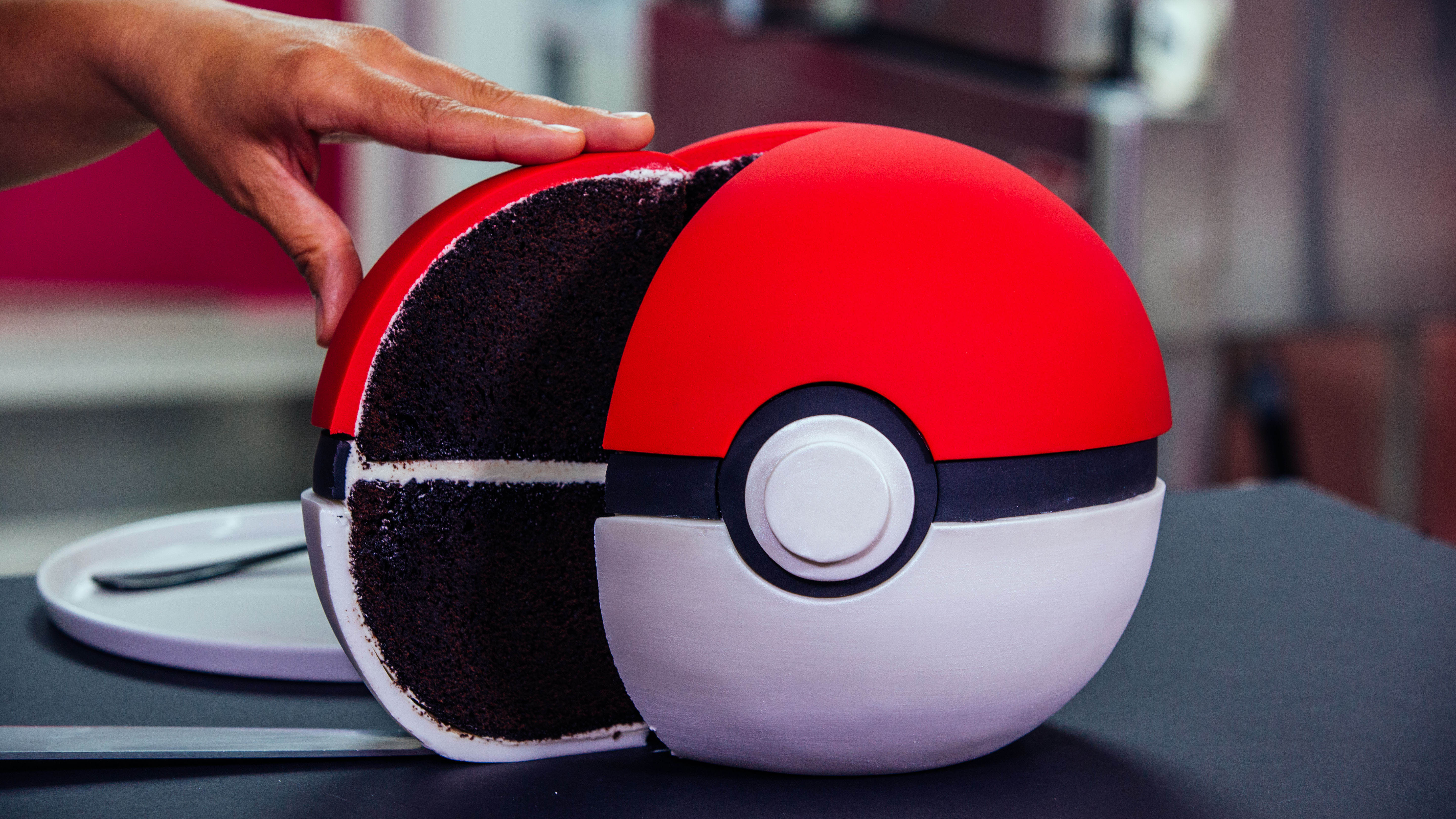 ---
8 lbs Yo's Ultimate Chocolate Cake
Italian Meringue Buttercream
Simple Syrup
1 1/2 lbs White Fondant
1 1/2 lbs Red Fondant
1/2 lb Black Fondant
Icing Sugar
Pearl Luster Dust
Lemon Extract or Clear Food Grade Alcohol (like Vodka or White Rum)
Prepare the 8lb portion of Yos Ultimate Chocolate Cake batter, and divide evenly among parchment lined bowls. Bake at 350 degrees for 1 hour and 30 minutes, or until a toothpick comes out clean. Let cool completely in bowls.

Level the cakes with a serrated knife while theyre still in their bowls, using the top of the bowl as a guide.

Place cakes flat side down on their own 10 round cake boards, and simple syrup your cakes. Allow to absorb for a few minutes before continuing

Using a small icing spatula, give both cakes a crumb coat, and chill. Once chilled, ice again before returning to the fridge. Once iced for the second time, wet your hands and smooth out any ridges.

Roll out a slab of white fondant to about inch thick and drape over one of the halves of your cake, smoothing in place and cutting away excess. Repeat with the second half sphere in red fondant.

Use a cake board as a guide to cut away an inch of fondant from the rim of each of your half spheres.

Dilute the pearl luster dust with a little bit of lemon extract or clear food grade alcohol, and paint onto the white fondant half sphere.

Flip the white cake over, so that its flat side up, and fill with a layer of buttercream. Chill for 10 minutes.

Lower the red half sphere on top of your white cake, ensuring that both cakes lineup..

Roll out a black fondant to an inch thick. Measure the circumference and height of the bare piece of cake between the white and red fondant, and trim the black fondant to the proper dimensions creating a band. Apply the black band using a thin ruler to help guide it into the groove.

Roll out more black fondant and cut with a 2" circle cutter. Use the same circle cutter to cut a gap right out of the center of your Poke Ball, cutting equal parts white and red. Apply the black circle in this place.

Roll out a inch thick white fondant slab. Use a 2 inch and 1 inch circle cutters to cut out two white circles. Glue the smaller circle to the bigger one with just a bit of water.

Paint them with the same diluted pearl luster dust mixture as the white half sphere. Brush water onto the back of the buttons, and glue into place.
#howtocakeit
Sunday,Monday,Tuesday,Wednesday,Thursday,Friday,Saturday
January,February,March,April,May,June,July,August,September,October,November,December
Not enough items available. Only [max] left.
Add to Wishlist
Browse Wishlist
Remove Wishlist