Out with the plain treats, in with the rainbow cookies! These rainbow shortbread cookies by Jyoti from @thepurplecupcake_ are the perfect way to add some color into your day! They're just as delicious as they are colorful so we already know you're going to LOVE them!
Want to add more sweetness to your day? Check out Jyoti's upcoming live tutorials! Click here for more info.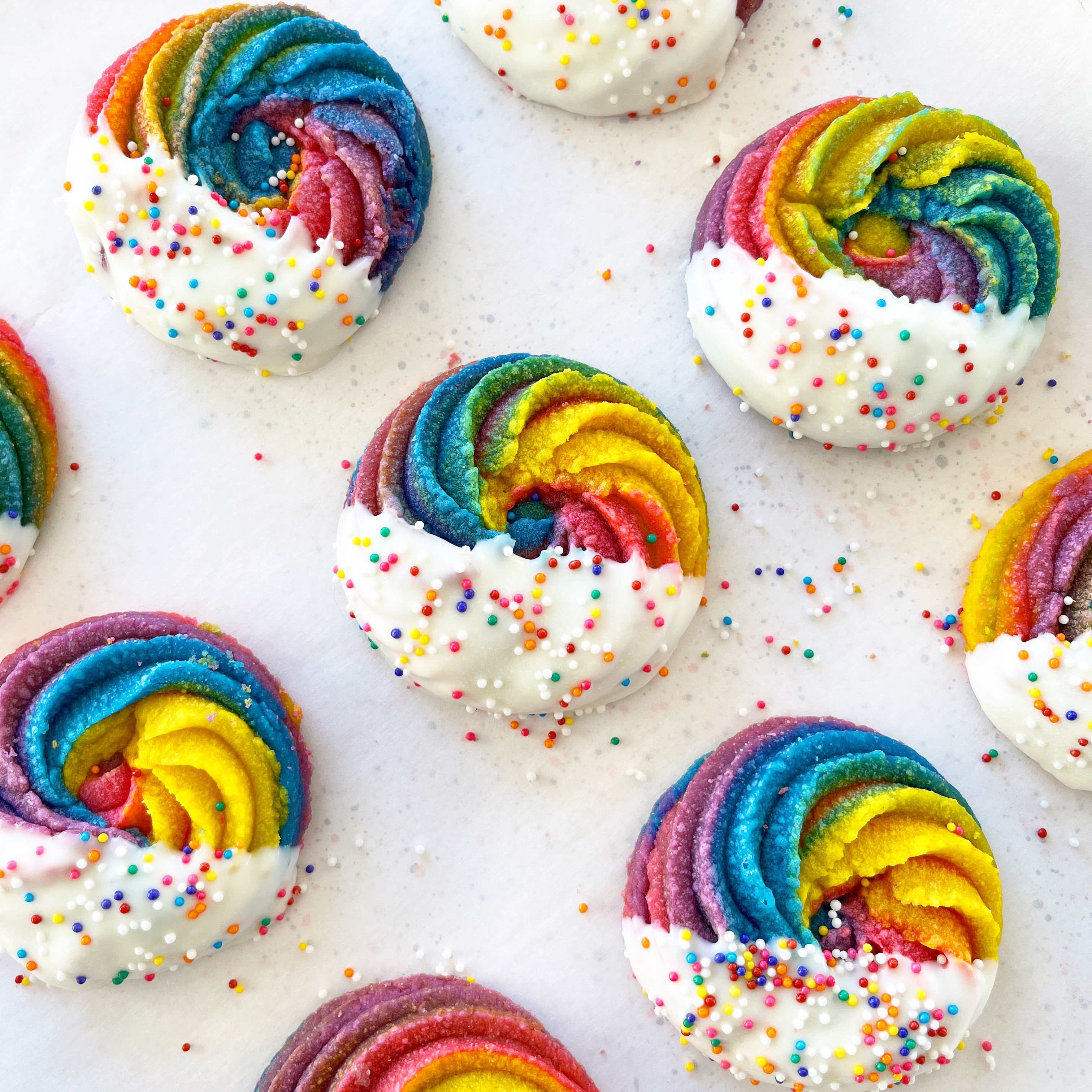 ---
1 cup Butter
2 ½ cups All Purpose Flour
½ cup White Granulated Sugar
½ tsp Salt

Gel Food Colors: Yellow, Pink, Purple, Blue
Celebakes Whimsical White melting wafers
Rainbow Nonpareils
Preheat the oven to 325°F and line two baking sheets with parchment paper. Set aside.

In the bowl of a food processor, add the flour, sugar, and salt, and pulse to combine.

Add half of your butter pieces and pulse a few times, then add the remaining butter. Pulse your dough in 5 second bursts until the dough comes together.

Divide the dough in four equal portions in separate bowls. In each bowl, add your desired gel food coloring and mix well with a spoon.

Line your countertop with a sheet of plastic wrap, and line up your colored dough in strips, going from the lightest color to the darkest.

Roll up your colored doughs into a cylinder, and cut one end with a pair of scissors.

Place the cylinder of dough into a piping bag fitted with a large open star tip.

Pipe your cookies onto your baking sheet, leaving space in between for the cookies to expand.

Bake the shortbread for 25 minutes, rotating the pan halfway through.

Use a spatula to transfer the cookies to a cooling rack.

While the shortbread is cooling, melt your Celebakes Whimsical White melting wafers in the microwave in 10 second bursts, stirring in between each increment.

When your cookies are cool enough to handle, dip one half of the cookie into the melted white wafers.

TIP: dip the side of the cookie with the piped edge!

While your dip is still wet, sprinkle on Celebakes rainbow nonpareils!

Your rainbow shortbreads are ready to eat! These can be stored in an air tight container for up to 5 days.
#howtocakeit
Sunday,Monday,Tuesday,Wednesday,Thursday,Friday,Saturday
January,February,March,April,May,June,July,August,September,October,November,December
Not enough items available. Only [max] left.
Add to Wishlist
Browse Wishlist
Remove Wishlist