The perfect cake for getting caught in the rain! If you like pina coladas, this Piña Colada Mega cake is perfect for you! Who could resist a slice of Yo's pineapple cake stacked with chopped up maraschino cherries and crushed pineapple buttercream? Not to mention the pina colada flavored buttercream - full of pineapple, cream of coconut, and a hint of rum, this cake is sure to take your tastebuds to paradise! Seas the day with this delicious mega cake!
For a whole slice of paradise, this Pina Colada Cake begins with Yo's Coconut Cake with pineapple chunks folded in. Each layer soaked with pineapple simple syrup then stacked with sliced up maraschino cherries and pineapple infused buttercream. For an extra tropical kick, the cake is then iced in more Italian meringue buttercream flavored with coconut cream, blended up pineapple, and a splash of dark rum. This cake will take your taste buds to paradise!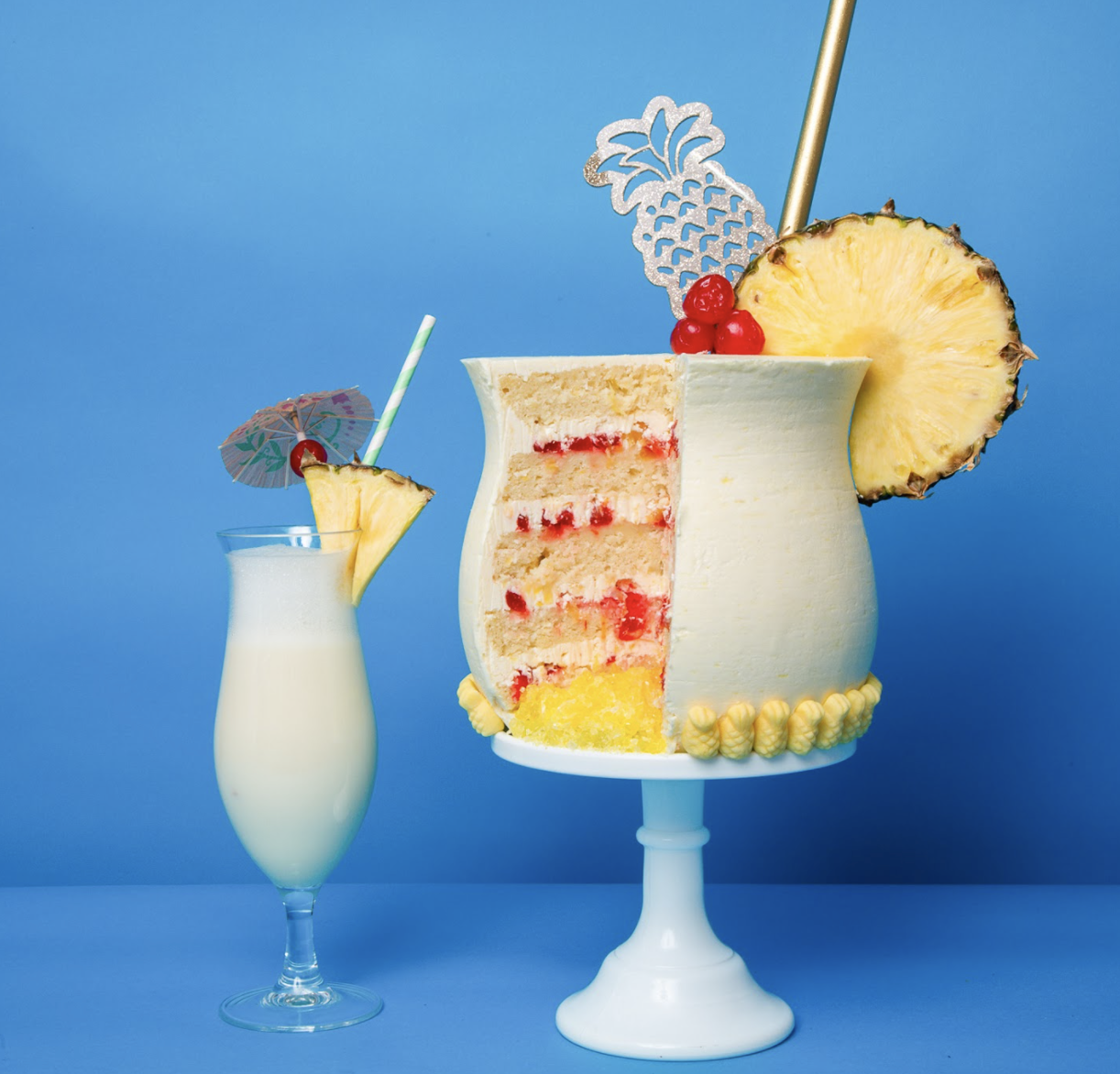 ---
5.5lbs Yo's Coconut Cake
1¼ cups crushed pineapple
1 batch of pineapple simple syrup
1 batch of Italian Meringue Buttercream
2 cans crushed pineapple
Cream of coconut
Maraschino cherries
2 oz yellow gumpaste
Gold lustre dust
Clear food grade alcohol
Pineapple candies
A pineapple
Pineapple topper (optional)
Bamboo skewer
Line your pans with parchment paper and preheat your oven to 350 degrees Fahrenheit. Prepare 5.5lbs of Yo's Coconut Cake and fold in 1¼ cup of crushed pineapple into the batter. Bake your cakes as follows:

7" round cake pan → 2lbs coconut cake → 1 hour and 10 minutes

7" round cake pan → 2lbs coconut cake → 1 hour and 10 minutes

7" round cake pan → 1.5lbs coconut cake → 1 hour

TIP: Let your cakes cool completely in their pans before removing.

Remove your cakes from their pans then level each and remove the caramelization.

Use a large serrated knife to cut the two higher cakes into 2 layers each for a total of 5 layers (do not layer the shorter cake).

Piña Coladas always come in a very distinct glass - with a sort of bulbous bottom and flared out rim. To create this shape, stack your cakes then take a small serrated knife and carefully begin carving away to resemble the glass.

Make one batch of simple syrup (with a cup of pineapple juice). Add in rum until satisfied with the flavor.

Unstack your cake layers then use Sir Squeeze A Lot to soak all of them with pineapple simple syrup. Let them soak for a couple of minutes.

Strain your crushed pineapples very well (you can strain them through a cheesecloth as well). Divide your buttercream into two parts and set one aside. Mix half a can of your crushed pineapple into your buttercream and add the cream of coconut.

Fill and stack your cakes by piping on a plain IMBC border along the edge of the first cake layer, spoon in chopped up maraschino cherries within the fence, then spread your piña colada buttercream. Place another layer of cake on top then continue until you have reached the top of the cake.

Crumb coat your entire cake with plain Italian meringue buttercream then place your cake in the fridge to chill.

In a food processor, blend together strained pineapples, coconut cream, and some rum for taste then mix it into your remaining buttercream for a smooth piña colada buttercream.

Ice your entire cake with the rum infused piña colada buttercream and smooth out all the edges using my invention - a square piece of acetate. Chill the cake until firm then ice again until you're happy with it.

To create the straw, roll out some thin yellow gumpaste then cover a wooden dowel with it and trim away all excess. Let the gumpaste dry then paint it with a mix of gold lustre dust and clear food grade alcohol.

Place your cake onto a small cake stand. Touch up any buttercream if necessary.

Line up your pineapple candy around the base of the cake.

Cut a slice of pineapple out then cut it so that it fits the edge of the "glass."

To give your cake more support, insert bamboo skewers into the cake.

To garnish your piña colada, add cherries to the top, the gumpaste straw, and the pineapple topper then enjoy a slice of paradise!
#howtocakeit
Sunday,Monday,Tuesday,Wednesday,Thursday,Friday,Saturday
January,February,March,April,May,June,July,August,September,October,November,December
Not enough items available. Only [max] left.
Add to Wishlist
Browse Wishlist
Remove Wishlist