Fooled you, Santa! What's better than a pile of cookies? A pile of cookies with cake on the inside of course! Try fooling Santa Claus this Christmas Eve by leaving this pile of cookies CAKE out for him and seeing what happens! Who knows, he may just end up loving it even more than a regular pile of cookies and staying there all night long… Which just means more presents for you!
This Pile of Cookies Cake begins with 7lbs of my Ultimate Vanilla Cake with sweet chocolate chips folded into the batter. Each layer of this cake is stacked with smooth Italian Meringue Buttercream, delicious homemade chocolate chip cookies, and extra chocolate chips scattered between. The cake is then covered in more chocolate chip cookies because you can simply never have too many cookies!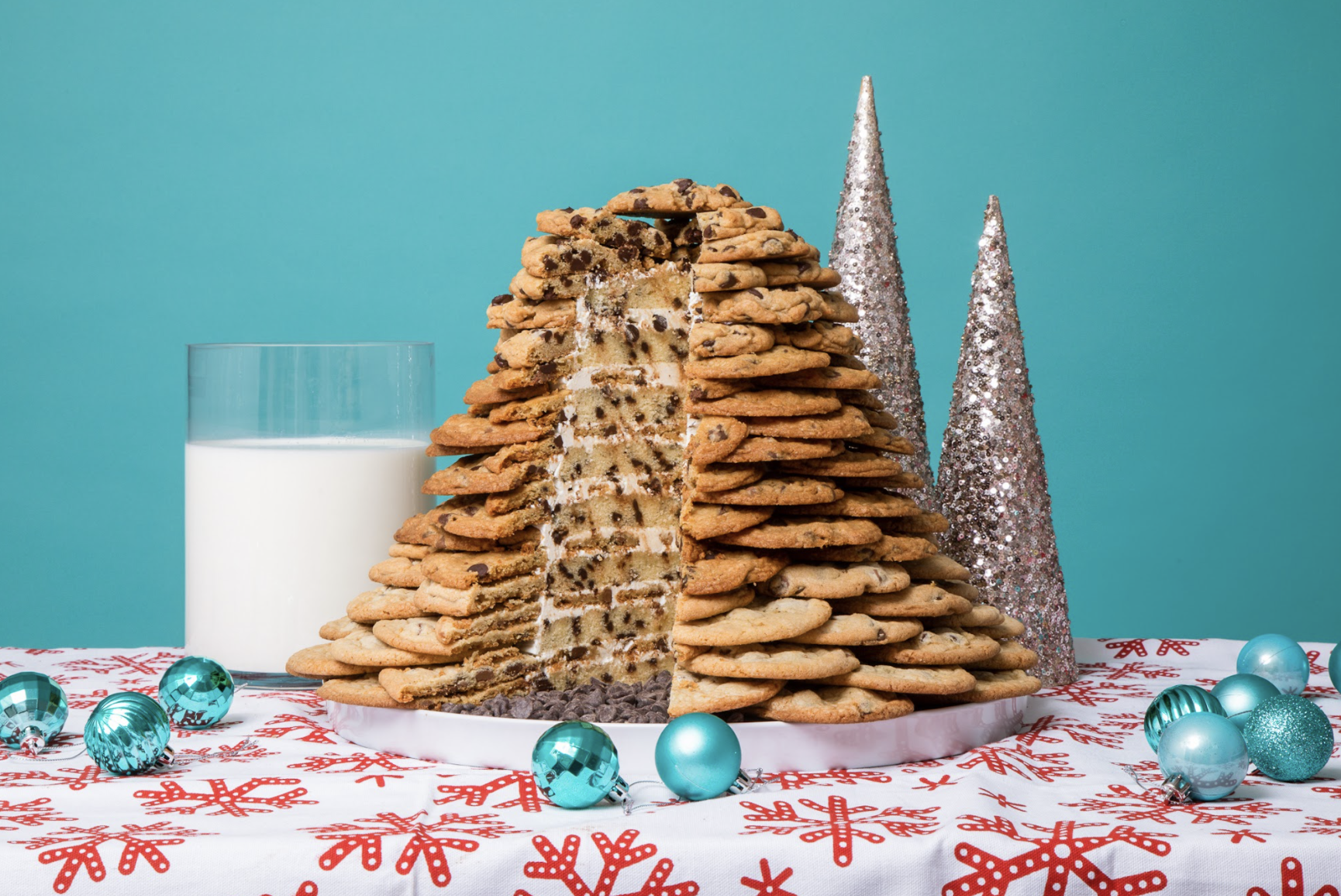 ---
7lbs of Yo's Ultimate Vanilla Cake
3.5 cups of chocolate chips
1 batch of simple syrup
1 batch of Italian Meringue Buttercream
4 batches of chocolate chip cookies (from Chocolate Chip Mega recipe)
Chocolate chips
Bake 4 batches of cookies from my Chocolate Chip Mega recipe. Set them aside to cool.

Line all of your pans with parchment paper and preheat your oven to 350 degrees Fahrenheit. Prepare 7lbs of Yo's Ultimate Vanilla Cake batter then fold 3.5cups of chocolate chips in. Bake your cakes as follows:




6" round pan → 1lb vanilla cake batter → 55 minutes

7" round pan → 1.5lbs vanilla cake batter → 1 hour and 10 minutes

8" round pan → 2lbs vanilla cake batter → 1 hour and 10 minutes

9" round pan → 2.5lb vanilla cake batter → 1 hour and 20 minutes




TIP: Let your cakes cool completely in their pans before removing.

Remove your cakes from their pans then level and remove the caramelization from the bottoms of each cake.

Use a large serrated knife to layer each of your cakes into two creating a total of 8 layers.

Stack your cakes from largest to smallest then carve your cakes into a cone shape ensuring to remove all the caramelization from the sides.

Unstack your cake then use Sir Squeeze A Lot to soak each layer with simple syrup. Let the layers sit for a couple of minutes to absorb.

Fill and stack your cakes with Italian Meringue Buttercream, a layer of cookies (trimmed to fit), and chocolate chips scattered in between the cookies.

Crumb coat your cake with Italian Meringue Buttercream then let your cake chill in the fridge until firm.

Remove your cake from the fridge and ice it once again working from the bottom up. Add your cookies in a ring around the cake as you ice starting with a layer of half cookies for support then adding on full cookies. As you work your way up, begin trimming the cookies so that they gradually get smaller as they reach the top.

Top off your cake with a few more cookies until there is no buttercream showing.
#howtocakeit
Sunday,Monday,Tuesday,Wednesday,Thursday,Friday,Saturday
January,February,March,April,May,June,July,August,September,October,November,December
Not enough items available. Only [max] left.
Add to Wishlist
Browse Wishlist
Remove Wishlist