Im the kind of girl who likes to bring baked goods to a friends house. I always try to have something sweet when people come over. At this point, it's pretty much expected of me, and I still enjoy it.
I never really have an extra day to whip up a novelty cake. ;) Thats why I love recipes like this Peach Blueberry Upside Down Cake. All you have to do is sautee fresh peaches with butter and brown sugar, throw in some blueberries and pour your batter over. I highly suggest eating this cake warm, with some sliced sugared strawberries and whipped cream. So good!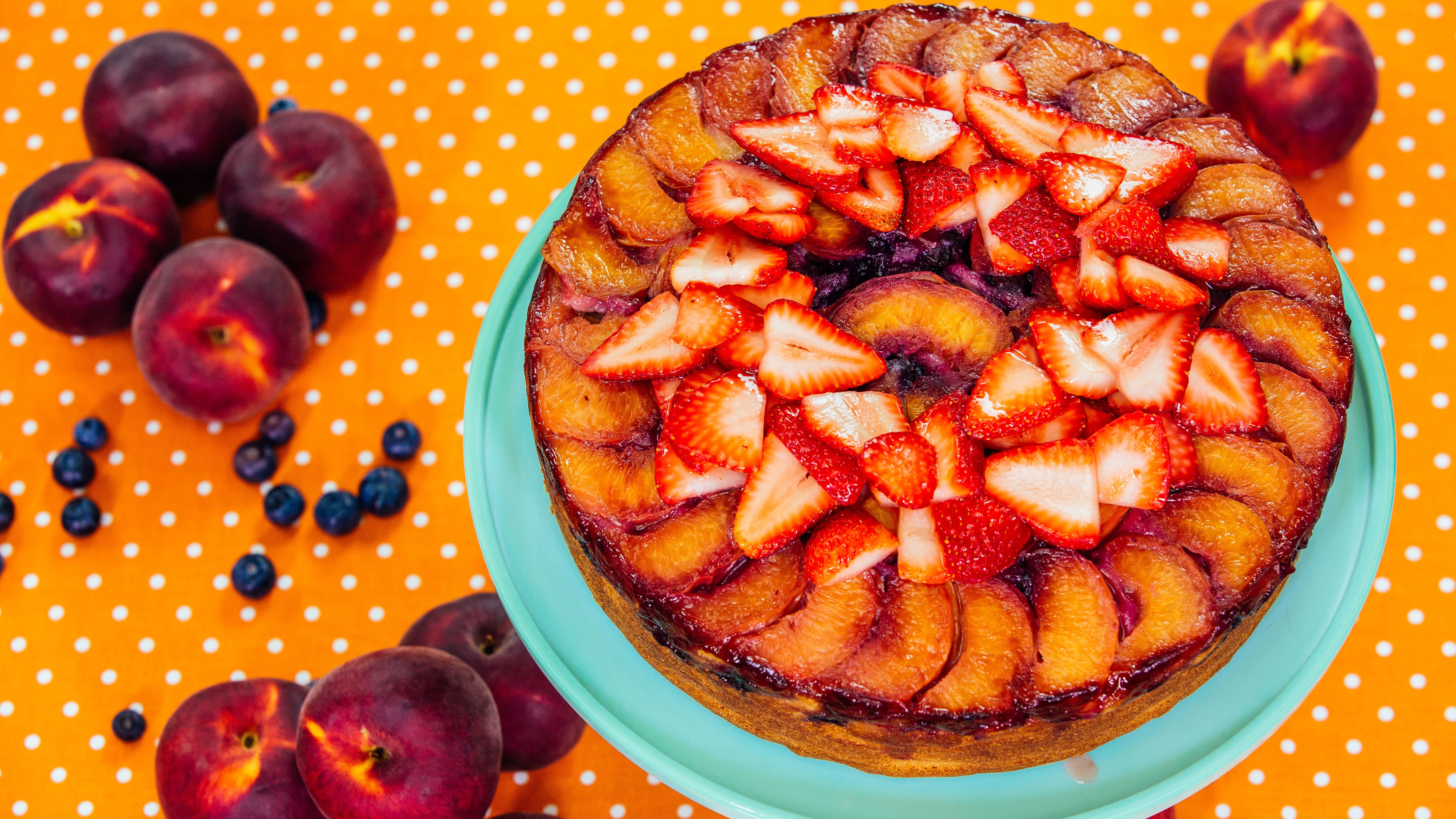 ---
1 cup Unsalted Butter
2 cups Sugar
1 teaspoon Vanilla
4 eggs
1 cup Milk
2 1/2 cups Flour
2 1/2 teaspoons Baking Powder
1/2 teaspoon Salt
1/4 cup Sugar
1 teaspoon Cinnamon
1/4 teaspoon Nutmeg
Handful of Fresh Strawberries
1 Tablespoon Sugar
6 Peaches, ripe but still firm
1/4 cup Unsalted Butter
1/4 cup Brown Sugar
1 cup Blueberries
Following my mixing instructions here, but be sure to use the ingredient quanties above. Once your batter is prepared, set it aside until your fruit is ready.

Cut the peaches in half around the pit. Use a melon baller to neatly remove the split pit from the fruit. Cut the half peach into quarters and pull them away from the pit. Cut all the peaches into wedges. 8 wedges per peach.

Melt half the butter in your frying pan over medium heat. Add your peaches carefully, fanning them inside the pan without overlapping. Saut for 1 minute and then flip them all over. Sprinkle the tops with brown sugar and saut for another minute.

Remove peaches from the pan with tongs and lay them on a baking tray to rest. Repeat this process with the rest of the peach slices.

Use leftover butter from sauting to grease the cake pan.

Lay peaches around the bottom of the pan by fanning them in a circle. Sprinkle fresh blueberries on top. Spread half the cake batter carefully over the fruit.

In a bowl, mix together the sugar, cinnamon and nutmeg until combined. Sprinkle the sugar and spice mixture on top of the batter. Use a knife to swirl it into the batter.

Pour the rest of the vanilla cake batter on top, and smooth the surface.

Bake this cake at 350 for about 1 hour and 30 minutes or until a toothpick inserted in the centre comes out clean. Let cool for 30 minutes, then flip it out.

Wash and dry your strawberries. Slice them and toss them with the sugar. Place on top of cake, or serve them on the side.
#howtocakeit
Sunday,Monday,Tuesday,Wednesday,Thursday,Friday,Saturday
January,February,March,April,May,June,July,August,September,October,November,December
Not enough items available. Only [max] left.
Add to Wishlist
Browse Wishlist
Remove Wishlist