Oh, Bob. You are just so cute, arent you? The moment I decided to make a minion cake, I knew I would pick Bob. Although, he seems to be the last guy that any other minion would chose to work with, he is my first choice. Underneath that bright yellow fondant, and those beautiful gumpaste eyes is layers of moist chocolate cake, chocolate ganache, and Minion yellow buttercream. YUM!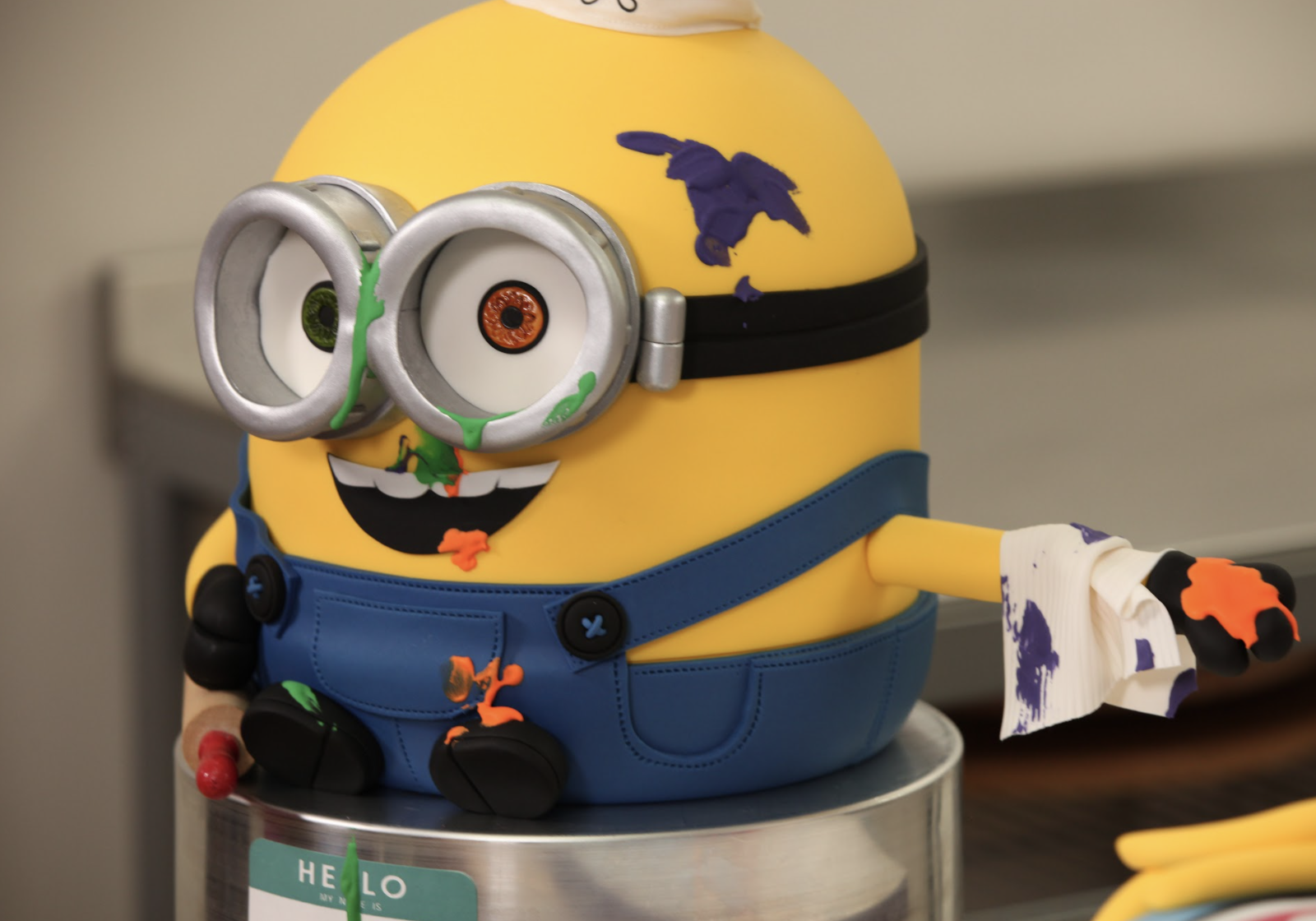 ---
2 x 6lb portion of Yo's Ultimate Cake
1 x recipe Italian Meringue Buttercream
1 x Ganache Recipe
6 lbs White Fondant
½ lb Black Fondant
1 lb Gum Paste
Silver Lustre Dust
Lemon Yellow Icing Colour
Golden Yellow Icing Colour
Violet Icing Colour
Royal Blue Icing Colour
Black Icing Colour
Ivory Icing Colour
Moss Green Icing
Prepare your chocolate cakes. Fill two 8" pans with 3 lbs of chocolate cake batter. Bake at 350 degrees for 1hr, or until a cake tester comes out completely clean. Let cool completely in pans.

Fill one 8" pan with 2 lbs of chocolate cake batter. Bake at 350 degrees for 40 minutes, or until a cake tester comes out completely clean. Let cool completely in pan.

Fill the stainless steel bowl with 4lbs of chocolate cake batter. 1hr and 20 minutes, or until cake tester comes out completely clean. Let cool completely in bowl.

Prepare your chocolate ganache. Set aside.

Prepare your Italian Meringue Buttercream, then dye yellow using a combination of Wilton Lemon Yellow and Golden Yellow icing colours.

Remove your cakes from their pans and level them.

Fill the bottom half of your cake - the 2 x 8 round cakes with chocolate ganache, and fill the top half - the 1x8 round cake AND bowl cake with yellow buttercream. Then round out the bottom half to replicate Bobs body.

Place the bottom cake, curved side down, onto a 5 round cake board.

Dowel the bottom cake with 8 cut dowels that are the same height as the cake, in a 4" circle pattern that is centered in the cake.

Add your 8" round cake board and stack the top domed cake on top.

Crumb coat your cake, then chill.

Push one sharpened dowel from the centre of Bobs head down the entire cake. Trim the dowel flush to the cake.

Ice the cake again, and chill.

Colour 4lbs of your fondant to a Minion Yellow using the same icing colours as the buttercream. Use 2lbs of white fondant for Bobs clothes. To recreate the jeans, use a combination of Royal Blue, Violet, and Black icing colours.

Use the overstitch tool to create seams in his clothes.

Add a black strip of fondant as the goggle band along the seam connecting the fondant.

Wrap yellow fondant around a wooden dowel to create Bobs arms. Sculpt his hands and feet using black fondant. Also use black fondant to make two buttons for his overalls.

Using gumpaste dyed grey, and rolled into thick strips around round containers, create Bobs goggles. Rub them with shortening, and brush them with silver lustre dust to give them a polished look.

Using 3 lengths of floral wire, attach Bobs goggles to his head.

Using a flower cutter, press some texture onto his pupils, then paint them with Wilton Ivory and Moss Green, Bob does has two different coloured eyes!
#howtocakeit
Sunday,Monday,Tuesday,Wednesday,Thursday,Friday,Saturday
January,February,March,April,May,June,July,August,September,October,November,December
Not enough items available. Only [max] left.
Add to Wishlist
Browse Wishlist
Remove Wishlist