Sweeten up your Taco Tuesday. Cinco de Mayo AND Taco Tuesday fall on the same day this year… so I'm having the sweetest fiesta ever! Join me in making some mini taco cakes, with a side of refreshing caked up watermelon slices cakes then call your friends for a zoom fiesta and let the virtual party begin!
These mini tacos are made of my Ultimate Chocolate Cake wrapped in tortillas sprinkled with a sugar and spice mix, then filled with chocolate Rice Krispy and jelly bean meat. Here comes the best part: toppings! Each taco is completed with licorice tomatoes, coconut lettuce, and modelling chocolate cheese!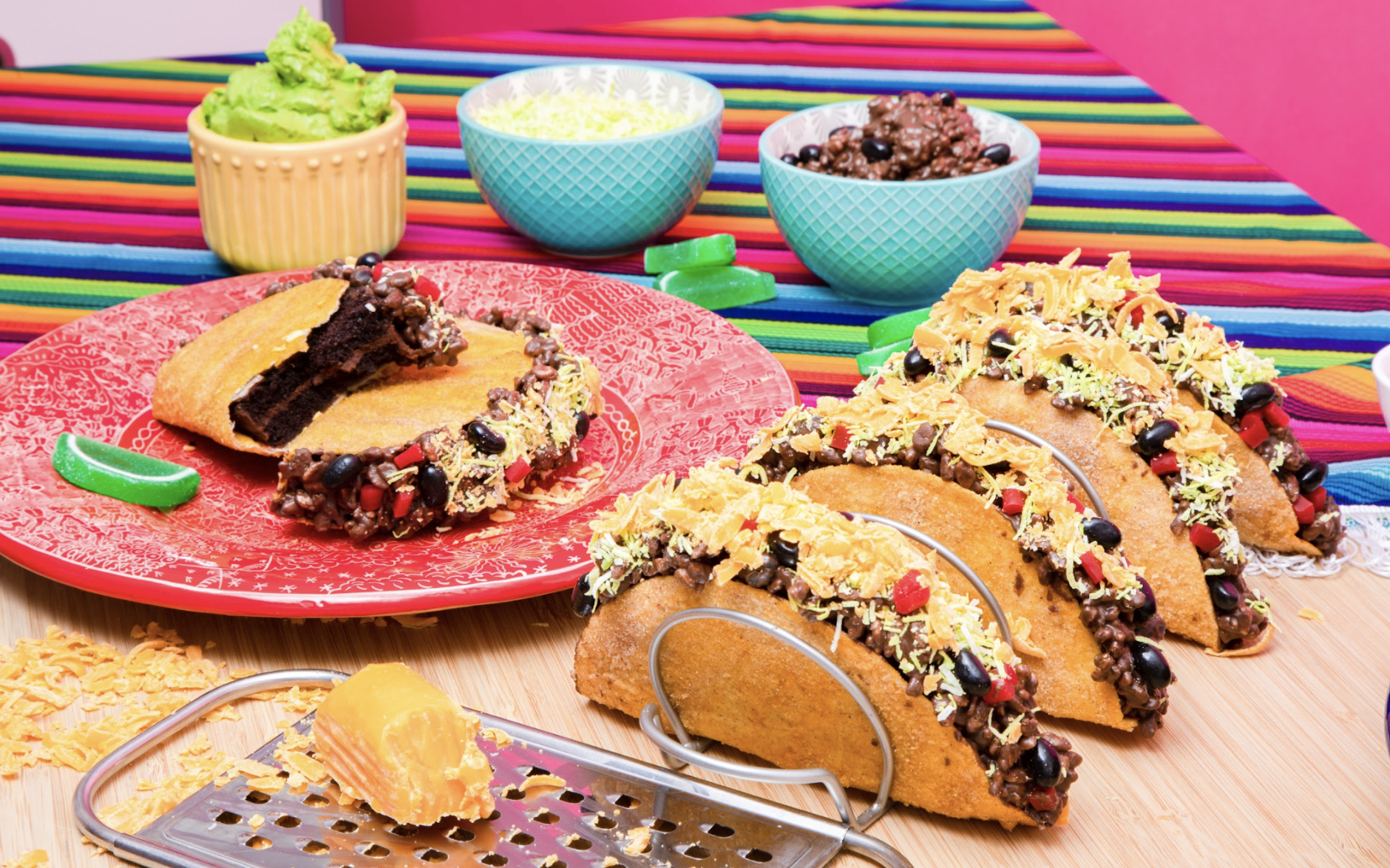 ---
2lbs of Yo's Ultimate Chocolate Cake
½ recipe of ganache
1 batch of simple syrup
¼ cup unsalted butter
½ cup sugar
½ tsp cinnamon
¼ tsp allspice
¼ tsp nutmeg
Buttercup yellow gel color
6 x 6" tortillas (or 8")
½ recipe of modelling chocolate dyed yellow/orange
Electric green gel color
1½ cup shredded coconut
To make your modelling chocolate, add your compound white chocolate and clear corn syrup to a heatproof bowl then place it over a pot of simmering water and let it melt completely. Once it's melted, take it off the heat and color it to look like cheddar cheese. Let it chill until room temperature then place it in the fridge.

Line your pans with parchment paper then preheat your oven to 350 degrees Fahrenheit. Prepare 2 lbs of chocolate cake batter then divide into your two 6" pans and bake each for 40 minutes. Let your cakes cool completely in their pans before removing.

Remove your cakes from their pans then level each one and cut each in half to create 4 semi circles. Level your humps as well then cut them in half and stack two together (each stack will be the same height as your other layers). Trim your cakes to fit the tortillas - I used 6" wraps so I trimmed away the excess that would otherwise stick out.

Use Sir Squeeze A Lot to soak all of your cake layers with simple syrup then let them sit for a couple of minutes.

Crumb coat your cakes with chocolate ganache and for the humps, sandwich them together first with ganache then continue to crumb coat. Make sure you crumb coat both sides then let chill in the fridge.

Preheat your oven to 350 degrees Fahrenheit. Melt your butter then stir in some buttercup yellow gel coloring. Create your sugar and spice mix by combining sugar, cinnamon, allspice and nutmeg together. Lay 2 tortillas on a silicone mat then brush both sides of each with the butter and sprinkle on the sugar mix (only on one side). Bake for 3-5 minutes then let cool for 1 minute. Lay one cake layer on half of each of the tortillas then wrap them around the cakes and repeat for the other 4.



NOTE: Make sure you act fast because the tortillas will harden as they cool.

Dilute a bit of electric green gel food coloring in some water then soak your shredded coconut inside the color to dye it for about 5 minutes. Strain your coconut with a sieve and sprinkle the flakes onto a paper towel to dry.

Cut up some licorice nibs to look like chopped tomatoes.


TIP: Use a bit of vegetable oil or shortening on your knife blade to make it easier to cut the candy.

Grate your modelling chocolate to look like shredded cheese.



NOTE: your modelling chocolate should be cold.

Once you're ready to fill your tacos, it's time to make the meat! Melt your two chocolates then add cocoa rice krispies (or regular) and black jelly beans in and mix together to create the meat.

Use a spoon to add your meat mixture to the tortillas then lean them against something to keep them propped up. Before the meat sets, top it off with all your fave toppings: licorice tomatoes, coconut lettuce, and chocolate cheese. The more toppings the better! Repeat this for the rest of your tacos.




TIP: if your meat begins to set, pop them in the microwave for about 10 seconds just to soften it up a tad.
#howtocakeit
Sunday,Monday,Tuesday,Wednesday,Thursday,Friday,Saturday
January,February,March,April,May,June,July,August,September,October,November,December
Not enough items available. Only [max] left.
Add to Wishlist
Browse Wishlist
Remove Wishlist