Shake it out with this MEGA marble cake! Personally, I'm not the biggest fan of milkshakes themselves. Caked up one's however, now that's something I can get behind. The simply classic flavors of vanilla, chocolate, and strawberry are some of my favorites- that's why I had a hard time choosing just one! The best part of a MEGA cake? You don't have to!
7.5lbs of marbled Ultimate Vanilla and Ultimate Chocolate cake batter make a great base for all of the yummy flavors that get piled into this cake! Italian Meringue and Swiss Chocolate Meringue help me layer in fresh strawberries and bananas, topping it all off with tri-chocolate drips, shavings, and crispy pearls!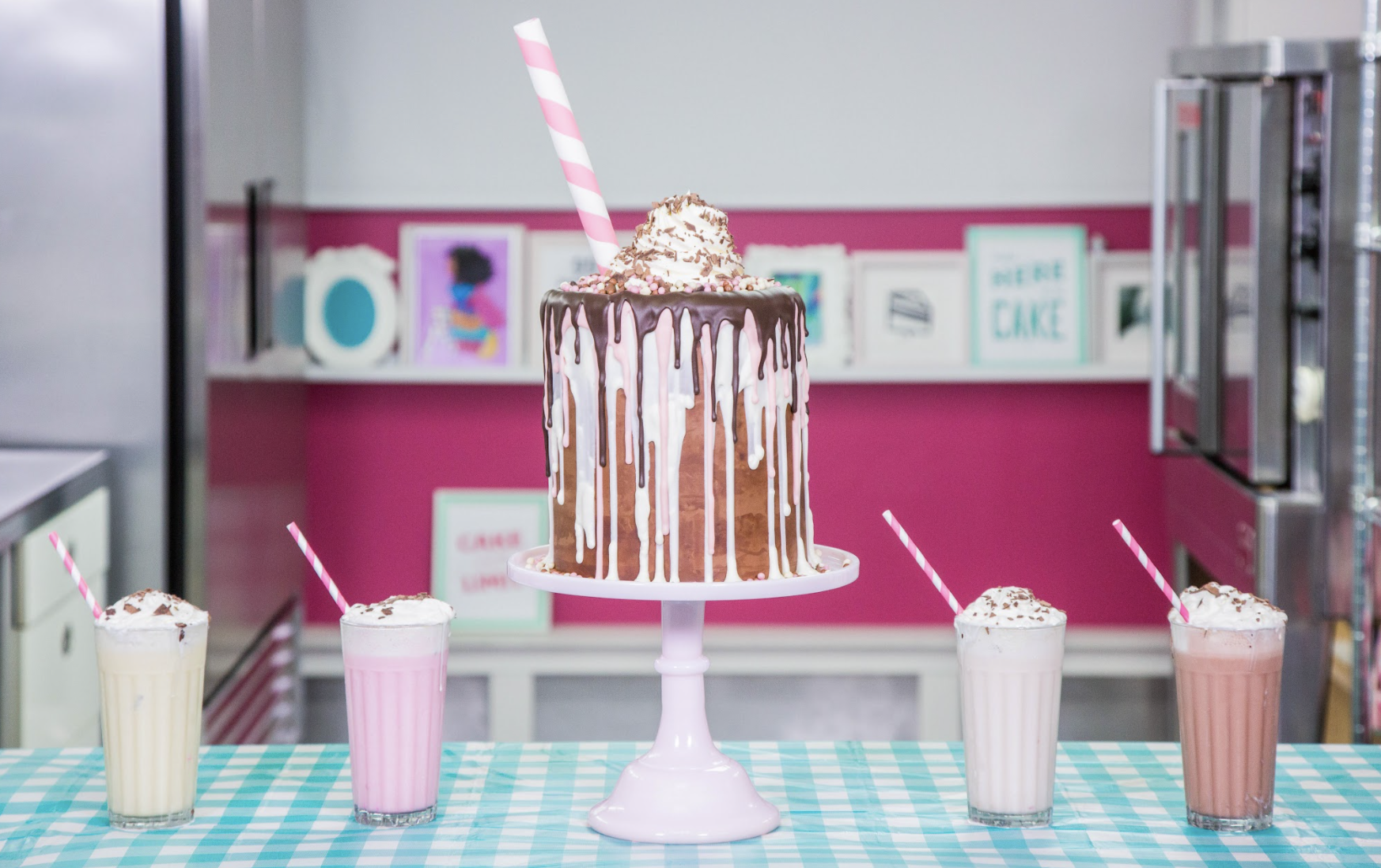 ---
3.5lbs Yo's Ultimate Chocolate Cake
3.5lbs Yo's Ultimate Vanilla Cake
Chocolate Swiss Meringue Buttercream
Italian Meringue Buttercream
Strawberry Buttercream
Chocolate Ganache
Simple Syrup
Fresh Strawberries
Bananas
White, Milk, and Dark chocolate chips
Dark chocolate shavings
White, milk, and pink crispy pearls
Pink, white, chocolate candy melts
Marble your batters together and divide 3lbs of batter into 2 of your pans and 1.5lbs into the third. Bake at 350 degrees for 1 hour 25 min and 55 mins respectively. Let you cakes cool completely in their pans.

Level all of your cakes and layer the 2 that baked with double the batter.

Shower all of your cake layers with simple syrup

Take your first layer of cake and pipe a fence of ganache around the outside. Spread a layer of chocolate buttercream in the center. Slice a banana as you go so it doesn't brown and add a ring next to your ganache. Pipe a ring of strawberry buttercream, and fill the center with more banana.

Add your next cake layer, repeating the same sequence substituting sliced strawberries for the bananas.

Repeat steps 3 and 4 one more time, capping off with your last cake layer.

Crumb coat your cake in chocolate buttercream and chill for 20 minutes before icing your cake and chilling for another 20 minutes.

Add dabs of ganache around your cake, and smear with a bench scraper

Transfer your cake to its final serving platter before decorating.

Melt your candy melts and pour into piping bags. Begin with your white, and drip it around your cake. Allow to set before repeating with pink, and then chocolate.

Pipe a swirl of Italian Meringue Buttercream on top of your cake, and surround with your 3 types of chocolate chips and crispy pearls

Coat a dowel with shortening, and wrap with a cord of white and pink fondant for a striped effect. Insert into your cake.
#howtocakeit
Sunday,Monday,Tuesday,Wednesday,Thursday,Friday,Saturday
January,February,March,April,May,June,July,August,September,October,November,December
Not enough items available. Only [max] left.
Add to Wishlist
Browse Wishlist
Remove Wishlist