Sprinkles are the solution to everything. Bad day? Sprinkles! Missed the bus? Sprinkles! Boring cake batter? Sprinkles! Sprinkles add the perfect pop of colour to just about anything. Don't believe me? Try to be grouchy while eating this Funfetti Mega Cake. I dare you. I swear, it's impossible!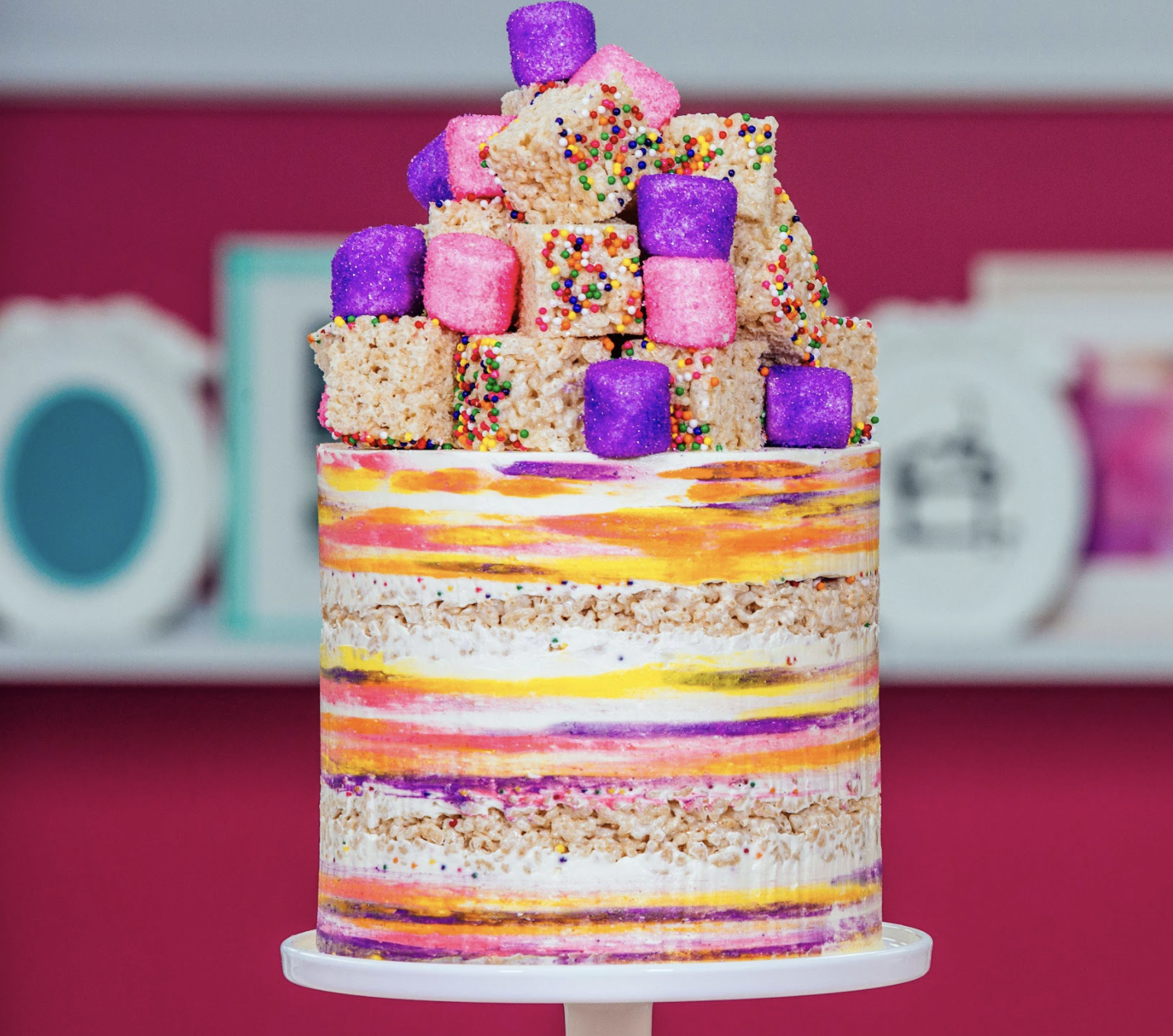 ---
6 lbs Yo's Ultimate Vanilla Cake
1 3/4 cup Jumbo Rainbow Sprinkles
2 x Portions Rice Krispie Treat
Simple Syrup
2 x portions Italian Meringue Buttercream
Chefmaster Lemon Yellow Gel Colouring
Chefmaster Sunset Orange Gel Colouring
Chefmaster Violet Gel Colouring
Wilton Pink Icing Color
20 Marshmallows
Pink Sanding Sugar
Purple Sanding Sugar
Prepare your vanilla cake batter according to my recipe. Divide your batter evenly between your 3 round pans, folding 1/4 cup of sprinkles into each pan of batter just before baking otherwise the colour will bleed into the batter too much. Bake at 350 degrees for 45 minutes or until a toothpick comes out clean. Allow to cool completely in their pans.

Prepare your rice krispie treats according to my recipe here. Add 2 tablespoons of sprinkles to the bottom of the 8"round pans and 3 tablespoons to the bottom of the square pan so that we'll end up with a smooth sprinkle top. Pour your rice krispie mix into your prepared pans, pressing down to condense, and add a final layer of sprinkles on top in the same quantities as before. Allow to set in pans at room temperature.

Remove, level and cut caramelization off the bottom of all three cakes using a ruler and serrated knife. Remove the caramelization from the sides by laying a 7" round cake pan on top, and cutting around it with a small sharp serrated knife.

Give all of your cakes a simple syrup shower and allow to soak in.

Remove four half cup portions of your buttercream and place them in four separate bowls. Dye them each orange, pink, yellow, and purple.

Starting stacking your cake by placing a layer of funfetti cake on the bottom, and spread a layer of orange buttercream on top. Place a round rice krispie layer on top, centering it on the cake. Keep in mind that it is a bit wider that the cake, so there will be a tiny bit of overhang (about ¼ inch).

Add a layer of pink buttercream on top of your round rice krispie layer. Repeat this process by adding a layer of cake, yellow buttercream, a rice krispie round, purple buttercream, and finishing with a layer of cake on top.

Chill the stacked cake for 20 mins to set the buttercream. If you have any leftover coloured buttercream, you can place them in little parchment paper piping bags.

Fill your piping bag, prepared with tip, with plain Italian meringue buttercream. Pipe rings of buttercream all the way around the sides of the cake layers, about three rings per layer. On your higher layers, these rings will actually be sitting on top of your rice krispie overhang. Crumb coat, and ice the top.

Using a tall icing smoother, turn the cake to smoothly blends the plain buttercream rings, wiping away excess buttercream as you go. Keep the rice krispie layers visible, but some buttercream overlap is pretty.

Use a small offset spatula to smooth out each individual ring of buttercream. Then use your straight spatula to drag any excess buttercream on top into the center of the cake.

Take the 4 piping bags of your remaining coloured buttercream, and pipe thin lines of colour randomly around each layer of buttercream. Use a small offset spatula to smooth into a pattern.

Chill the cake in the fridge. Take your square rice krispie cake, and use a ruler to cut even cubes out of the pan. Brush your marshmallows with a little bit of clear piping gel, and dip them in the pink and purple sanding sugar to make disco marshmallows!

Pile your cake with rice krispie and then your disco marshmallows!
#howtocakeit
Sunday,Monday,Tuesday,Wednesday,Thursday,Friday,Saturday
January,February,March,April,May,June,July,August,September,October,November,December
Not enough items available. Only [max] left.
Add to Wishlist
Browse Wishlist
Remove Wishlist