Cake me away from this cold weather! I've been fortunate enough to hop across the globe to some of my favourite places, and my travel wishlist is constantly growing. To sooth my wanderlust, I caked a classic piece of leather luggage with chocolate cake, and three types of buttercream.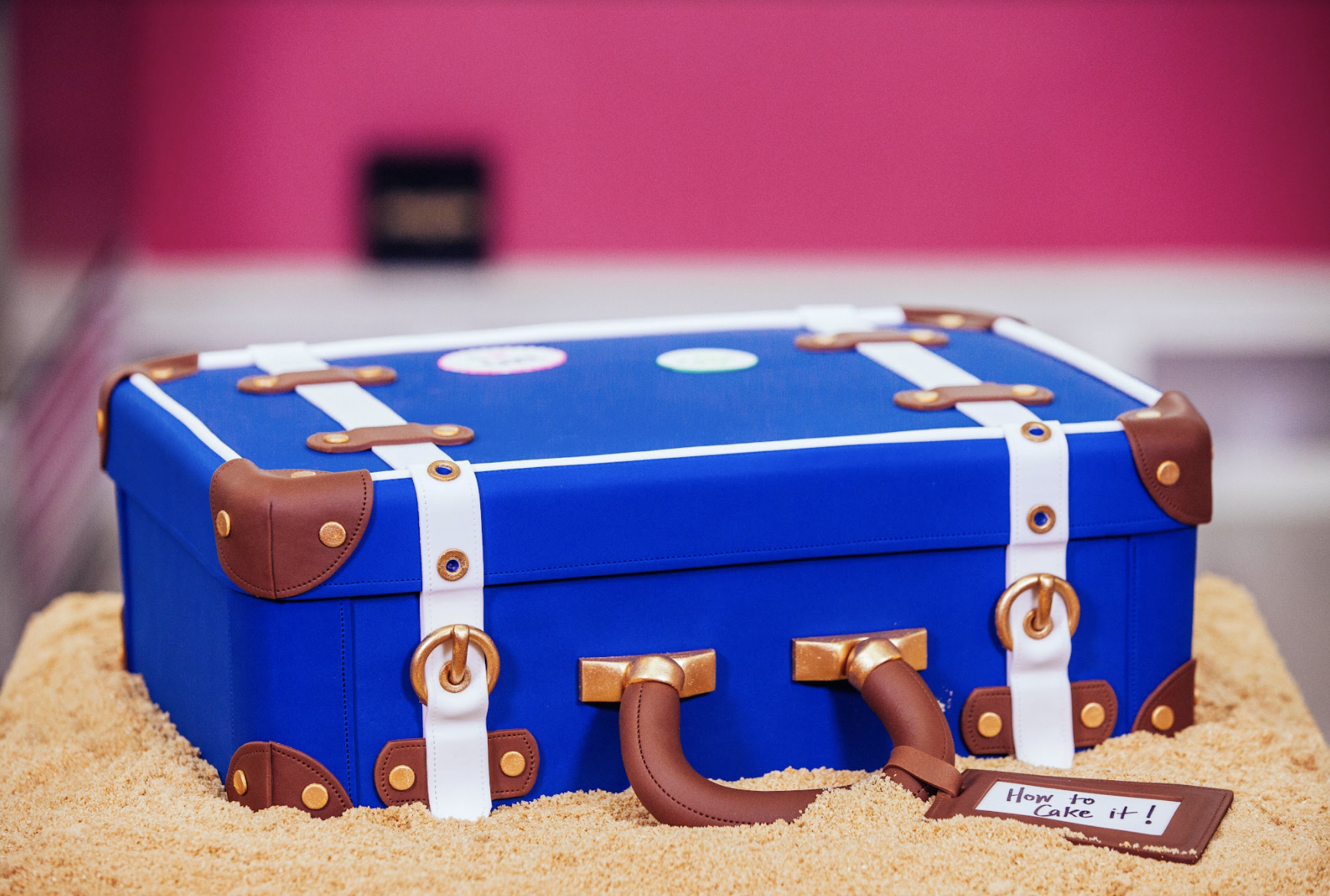 ---
3 x 8 lbs Yo's Ultimate Chocolate Cake
4 portions of Simple Syrup
Italian Meringue Buttercream
Chocolate Buttercream
White Chocolate Buttercream
7 1/2 lbs Blue Fondant (using leftovers or colours below)
Royal Blue Icing Color
Black Icing Color
1 lb White Fondant
1 lb Chocolate Fondant
Icing Sugar
4 oz Gum Paste
Vegetable Shortening
Gold Luster Dust
Copper Luster Dust
Clear Piping Gel
Edible Markers
Gel food coloring: violet, golden yellow, buttercup yellow
Bake your chocolate cake at 350 degrees for 50 minutes, or until a toothpick comes out clean. Allow to cool completely in their pans on a wire rack.

Prepare four recipes of simple syrup, and allow to cool at room temperature before moving to simple syrup squeeze bottle.

This is a great cake to use old fondant scraps with! After all luggage comes in all sorts of colours. I blended together different balls of blue, grey and black fondant scraps to create my cake, but if you don't have any lying around, you can knead Royal Blue and Violet gel food colouring into 7 ½ lb of white fondant. Deepen with just a touch of black gel food colouring.

Remove your rectangle cakes from their pans, and use a ruler and serrated knife to level them. Continuing with your ruler and serrated knife, cut all cakes in half horizontally. Reserve cake humps.

Level your rectangular cake humps to create three shorter cakes, which equal the size of one more cake layer.

Sprinkle all of your cake layers with simple syrup, and allow to soak in completely before decorating.

Begin to stack your cakes, spreading a layer of chocolate buttercream between each layer. Alternate your chocolate buttercreams as you go between chocolate and white chocolate buttercream. Reserve your unflavoured batch of buttercream.

Use your hump layer as the 7th layer on your cake, which allows you to have six whole layers of chocolate buttercream filling! Mmmmmm.

With this much filling, you can sometimes ruin the level of your cake. I don't blame you, chocolate buttercream is amazing. Take a moment to measure your cake, and level again with your serrated knife if needed.

Use a small serrated knife to soften the edges of your cake into four soft corners.

Crumb coat your cake with plain buttercream. Move to the fridge for 30 minutes to chill.

Retrieve your cake from the fridge, and give it another layer of buttercream, working to smooth out the sides and top. I used a bench scraper as well. Move to fridge for a final 30 minute chill.

Measure the top of your cake and roll out a slab of fondant large enough to cover it. Transfer to your cake, and trim away the excess with a sharp paring knife.

Measure the two long sides of your cake, and cover with fondant. Cut a straight seam at both corners.

Roll out another slab of blue fondant, and cut out rectangles to the size of the short sides of your cake. Smooth onto the cake, and trim with a sharp paring knife at the corners.

This suitcase needs a lid where the bag would open. Roll out more blue fondant, and cut out strips for the long and short sides.

Once again, apply the long sides first by brushing a little bit of water on the back of the strip. Then move on to the short pieces. Smooth around the top edge.

I used a piece of mat board to trim all 4 sides of my lid to the right height. Trim the top lip of your lid with a sharp pairing knife and a ruler.

Roll out some more blue fondant nice and thin. Measure the length from the bottom of your lid to the bottom of the case. Cut four equal strips, and wrap them around the corners of the cake to hide you seams. Again applying with a bit of water.

Soften some of your white fondant with vegetable shortening, and pass it through a clay extruder with a large faceplate to create white tubes. Apply them along the outer edge of the top of the lid with a bit of water.

Use an overstitch tool to roll stitching onto each fondant surface where it would occur on a fabric suitcase. Around the bottom of the lid, beside the cording, and the bands on all corners.

Roll out another slab of white fondant, and cut it into even strips. Use your overstitch tool to add stitching along the two lengths of the strips.

Working with a brush and some water, add two shorter strips from the bottom of the suitcase to the base of the lid. Then apply a longer strip from the back of the suitcase, up along the top of the suitcase, and meeting the bands that are already in place. Taper the end of the long strap and don't attach with water, as you'll want to add your hardware later.

Roll out your chocolate fondant, and use a circle cutter to cut out eight circles. Use the overstitch tool to roll stitching around the outer edge of the circle. Cut out a ½" wedge (like a tiny slice of cake) so that it can wrap around the top corner. Apply to cake using water as glue.

Work with the remaining four circles, and cut them into a half sphere. This will make it appear as though the rest of the corner is under the bag.

Roll out some more chocolate fondant, and cut out eight little straps. Use an overstitch tool along the outer edge, and attach four on top holding down each band. Add another two to the back, and two to the front. On the front of your cake, slide the bands underneath the white band that has yet to be attached.

All of the hardware on your cake is crafted from yellow gum paste, which is shaped, dried, and then dusted with vegetable shortening and gold luster dust. Tools for each listed below!

Roll tubes of yellow gum paste, and cut to the same length. Use a knife to add indents around the hinge.

Roll out a piece of yellow gum paste. Press out studs with a round piping tip, and grommets by pressing out a circle with a larger piping tip, and then removing the center with a smaller piping tip.

Roll out round tubes of yellow fondant, and form them around a circle cutter to dry. Roll a tiny tube, and pinch both ends to create a tongue. Pinch one end flat so it can rest against the buckle and the other end should taper so it will fit in the belt holes.

Add a pinch of CMC to some brown fondant, and roll into a large tube. Bend it and add texture with the overstitch tool. I like to make and attach the gold handle hardware at the large minute. If you feel like you need extra support, feel free to press into cake with a toothpick.

Create the holder out of chocolate fondant, and place a white gum paste rectangle in the center. If you're making this for a birthday or event, this is a great place to customize!

Roll out some white gumpaste, and use circle cutters to remove stickers, and your sharp paring knife to remove rectangles. Use food markers to personalize these to your travellers favourite places!
#howtocakeit
Sunday,Monday,Tuesday,Wednesday,Thursday,Friday,Saturday
January,February,March,April,May,June,July,August,September,October,November,December
Not enough items available. Only [max] left.
Add to Wishlist
Browse Wishlist
Remove Wishlist