Freshly Squeezed! This Lemonade Stand Cake is bursting with fresh flavors! This cake is stacked up with alternating pink and classic vanilla cake layers soaked in lemon simple syrup and fresh lemon curd infused Italian meringue buttercream between, as well as a fresh lemon shortbread bar in the middle - it's the perfect summer treat! I also decorated the cake with the most beautiful lemonade stand themed sugar cookies by our Bake You Happy Artist Megan!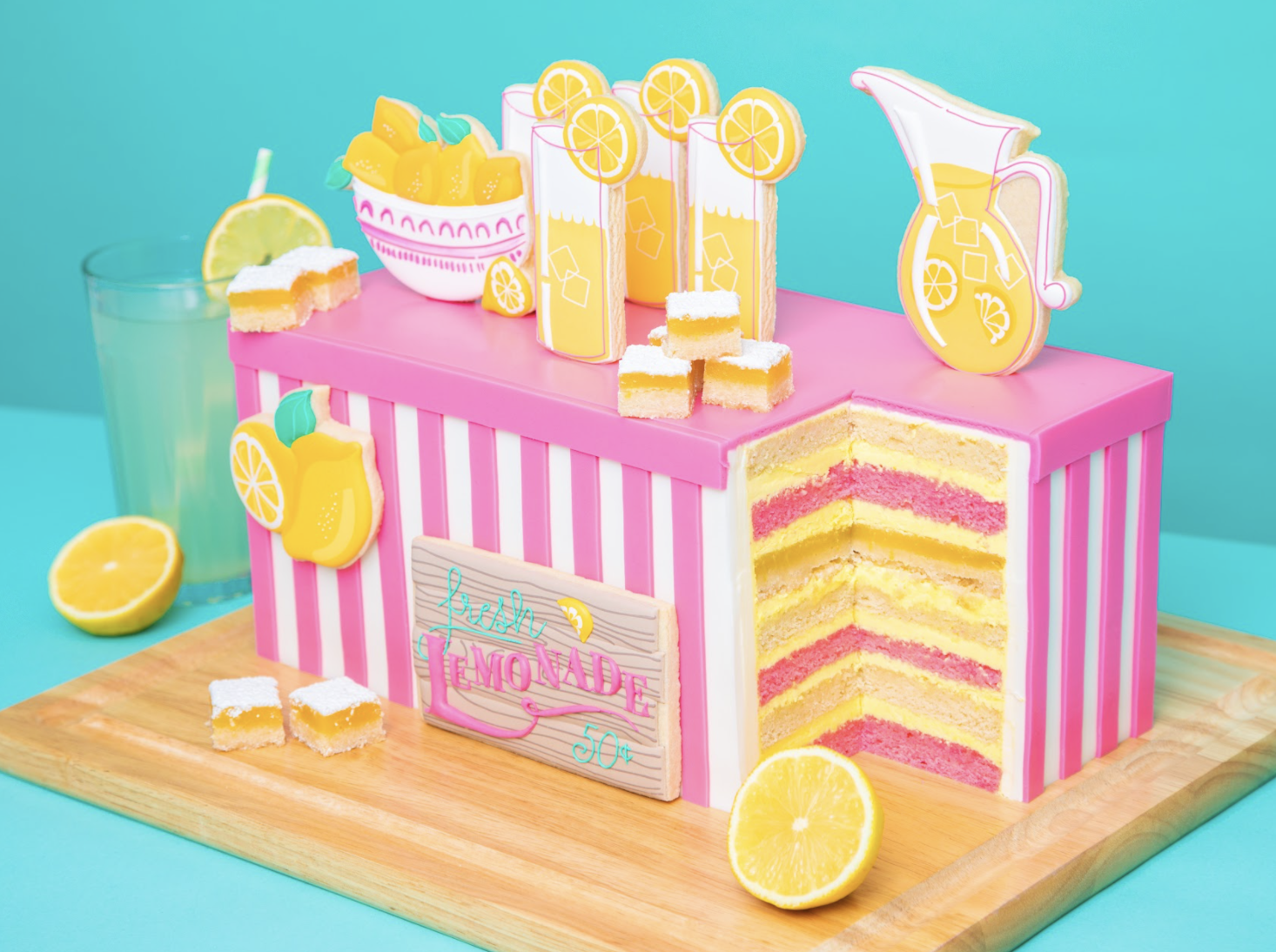 ---
8lbs Yo's Ultimate Vanilla Cake
1 batch of Lemon Shortbread Bars
1 batch of lemon simple syrup
2 batches of Italian meringue buttercream
1 cup of lemon curd
3lbs white fondant
1 ½ lbs hot pink fondant
Royal icing
Sugar cookies
Prepare one batch of lemon shortbread bars then set aside.

Preheat the oven to 350 degrees Fahrenheit then line your pans with parchment paper. Prepare 8lbs of Yo's Ultimate Vanilla Cake then use pink gel food coloring to color half the batter pink. Bake in two 9x13" rectangular cake pans for 1 hour and 20 minutes each.

Remove your cakes from their pans then level them. Remove the caramelization from the bottoms and layer each of the cakes into two layers. Remove the caramelization from the sides of the cakes.

Cut the cakes into 2 strips lengthwise at 5 ½" and 2 ¾" (the two smaller strips will make one layer).

Lay out all your layers then use Sir Squeeze A Lot to soak each layer with lemon simple syrup. Set aside to absorb.

Remove your bars from the pan then invert them onto the pan. Use a chef's knife to trim the bar to the same size as your cakes.

Use a bit of lemon curd to flavor your IMBC then add lemon yellow color to enhance it.

Fill and stack your cake as follows from bottom up:

Pink vanilla cake
IMBC
Plain vanilla cake
IMBC
Pink vanilla cake
IMBC
Plain vanilla cake
IMBC
Lemon bar
IMBC
Pink vanilla cake
IMBC
Plain vanilla cake

Chill your cake until firm.

Trim the sides of your cake and re-level if necessary then crumb coat your entire cake in more IMBC. Chill your cake for 20 minutes then ice again using a bench scraper to smooth out the edges. Chill once again.

Roll out 3 large slabs of white fondant - larger than the length and height of the sides of the cake. Roll out another slab of pink fondant for the top of the cake and 3 sheets of pink to make stripes.

Cut strips of white fondant to the exact height of your cake then starting with two opposite sides, lay the fondant on and smooth it out. Trim away any excess. Continue with the two remaining sides. Cover the top of your cake with a pink panel then cut it to size. Add narrower strips of pink fondant to the top to create the trim then cut out stripes of pink from thin sheets and glue them onto the cake with water - evenly spaced out.

Glue the sugar cookies onto the top of your cake with royal icing. For the cookies that stand on top, glue a popsicle stick to the back of each with royal icing then prop them up on the cake.
#howtocakeit
Sunday,Monday,Tuesday,Wednesday,Thursday,Friday,Saturday
January,February,March,April,May,June,July,August,September,October,November,December
Not enough items available. Only [max] left.
Add to Wishlist
Browse Wishlist
Remove Wishlist