The Sweetest Dish In All Of Lemon Meringuia! This Lemon Meringue Mega cake takes me on a trip to the magical land of Lemon Meringuia, where all of the mountains are made up of soft peaks of Italian Meringue and the rivers run with sweet, tart lemon curd. Ah… if only we could all live there every day! To make this Lemon Meringue Mega Cake, I filled three marbled Vanilla cakes with lemon buttercream, chopped lemon meringue pie cookies & yummy lemon curd. I even topped it with a whole Lemon Meringue Pie and decorated the cake with white chocolate ganache drizzle and sweet lemon candies!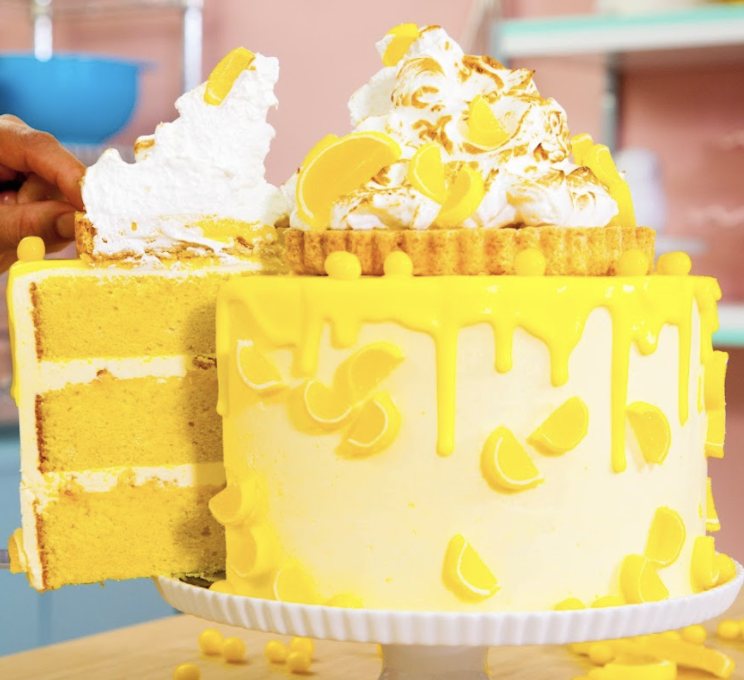 ---
9 lbs of Yo's Ultimate Vanilla Cake
Yellow Food Colouring
Frozen Pie Shell
Yellow Candy Melts
Lemon Simple Syrup
Italian Meringue Buttercream
Yo's Lemon Curd
Yo's Italian Meringue
1 package Lemon Meringue Pie Cookies
Yo's Dark Chocolate Ganache, substituting white chocolate instead of dark
Yellow Food Colouring
Candy Lemon Slices
Mini Candy Lemon Slices
Lemon Drops
Prepare 9 lbs of Yo's Ultimate Vanilla Cake recipe and split the batter into two bowls. Dye one half of your batter with some Yellow Food Colouring and leave the other half plain. Next, marble your cake batter in the same way I did with my YoYo Cake recipe, switching between your yellow and plain cake batter until you've evenly filled all three 9" round cake pans. (About 3 lbs in each pan!) Bake at 350 degrees until a toothpick comes out clean. Cool cakes completely in their pans, sitting on a wire rack.

Once your cakes are completely cool, gently remove them from their pans and level with a serrated knife. Cut off all the caramelization from the bottoms of each cake. Set aside.

Place all of your cake layers onto a flat surface and shower them with a layer of lemon simple syrup. Allow the syrup to soak in completely before moving on to the next step.

Take about 4 cups of your Italian Meringue Buttercream and mix in your Lemon Curd to taste using a Rubber Spatula. This can be as lemony or as light as you prefer! Once you're happy with the overall flavour, set aside in a separate bowl.

NOTE: Be careful to not add too much lemon curd to you buttercream as this will soften your mixture too much.

Chop up some store bought Lemon Meringue Pie cookies and set aside. We'll be filling our cakes with these in the next step!

Time to stack and fill your cakes! Place your first layer of cake onto a cake board. Using an offset spatula, spread a layer of lemon curd on top - keeping it about a half inch inside the border of your cake. Next, pipe a border around the top of your cake layer in order to keep the lemon curd from oozing out. Fill the centre with some chopped Lemon Meringue Pie cookies, and then top with Lemon Buttercream. Spread the buttercream carefully until all of the cookies are covered. Repeat this process with your next layer. Finally, gently lay your final cake layer overtop.

Crumb coat your cake with your Lemon Italian Meringue Buttercream using a large straight spatula. Chill cake in the fridge for about 20 minutes.

While your cake is chilling, let's make a Lemon Meringue Pie! Using a pre-baked home-made pastry shell (or store bought if you prefer), melt down some yellow candy melts and coat the bottom and sides of your pie shell with the melted chocolate. This helps to prevent the shell from going soggy when you fill it with your lemon curd, and also adds a bit of extra flavour.

Once your chocolate is set, fill your pastry shell with lemon curd, spreading it around with your offset spatula until it's flush with the top of your pie shell. Place in the fridge to chill.

Remove your Lemon Meringue Mega cake from the fridge and ice again with the same buttercream. This time, use the help of a Bench Scraper around the sides of your cake to help create a smooth finish. Chill for another 20 minutes.

While your cake is chilling, prepare some White Chocolate Ganache! Stir until all the chocolate is perfectly smooth before adding in your Yellow Food Colouring until you reach your desired colour. Set aside.

Remove your cake from the fridge and ice again a final time to make sure that all sides are perfectly smooth. Chill in the fridge for another 20 minutes.

Note: If your cake still doesn't seem smooth by this step, feel free to ice and chill as many times as necessary to get a perfectly smooth finish around the top and sides of your cake!

Remove your Lemon Meringue pie from the fridge and top with your Italian Meringue mixture. Spread the meringue around the tart, making sure to leave about a half an inch exposed so you can still see the lemon curd underneath.

Now, for the fun part! Carefully use a brulee torch to toast the peaks of your meringue until they are a soft golden brown. Set aside.

Remove your Lemon Meringue Mega cake from the fridge and place it on a sturdy cake stand. Fill a parchment paper piping bag with some of your yellow-dyed white chocolate ganache. Cut the tip with a scissor, then drizzle your chocolate ganache all around the side of your cake! Fill the top of your cake with the remaining white chocolate ganache and smooth with an offset spatula.

Carefully place your finished Lemon Meringue pie in the centre of your cake.

It's time to decorate! I mean, you can't call this a Lemon Meringue Mega Cake without adding lemon-flavoured candies! Top your cake with your favourite assorted lemon candies, such as lemon slices, mini lemon slices and lemon drops!

Note: Feel free to decorate your masterpiece however you'd like, using a bit of Italian Meringue Buttercream to glue your candies to the side of your cake!
#howtocakeit
Sunday,Monday,Tuesday,Wednesday,Thursday,Friday,Saturday
January,February,March,April,May,June,July,August,September,October,November,December
Not enough items available. Only [max] left.
Add to Wishlist
Browse Wishlist
Remove Wishlist