These cupcakes are woolly cute! Transform this delish funfetti recipe into the cutest pastel sheep using Jessica's classic cream cheese frosting, mini fondant details, and of course, decorate them with How To Cake It exclusive sprinkles!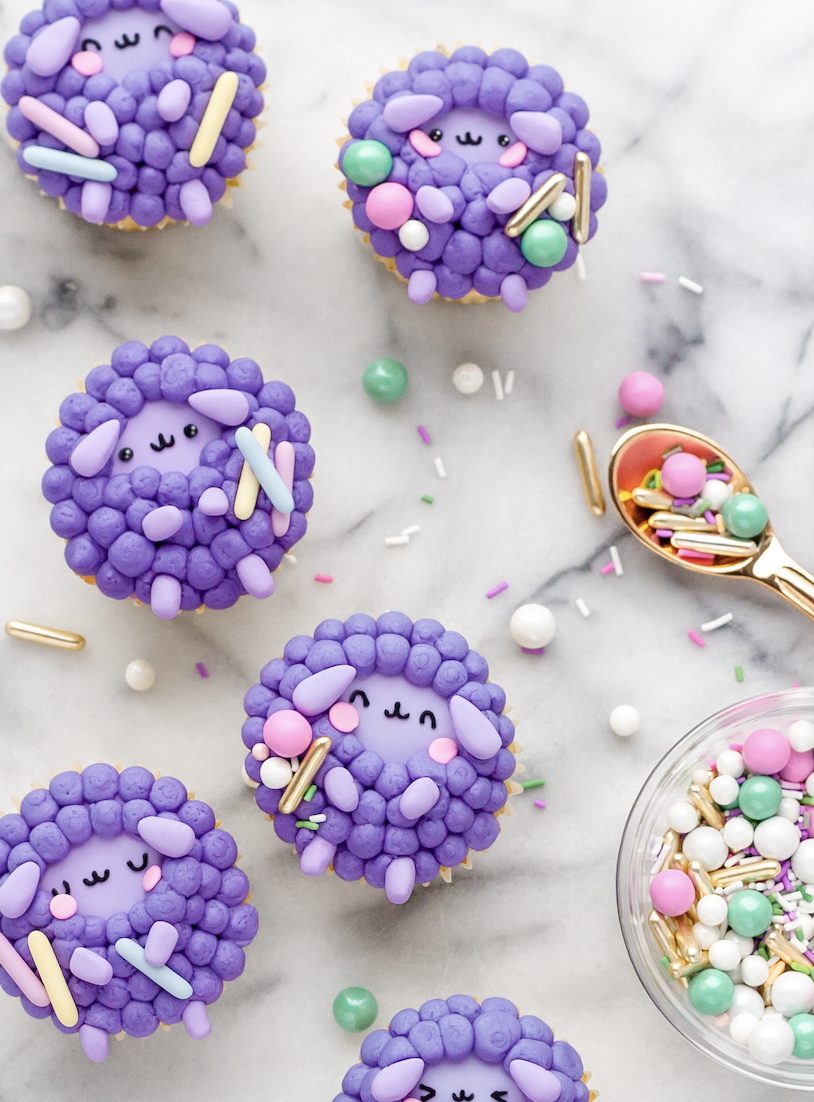 ---
Vanilla Funfetti Cupcakes
1 ¼ cups all-purpose flour
1 ¼ teaspoons baking powder
¼ teaspoon salt
7 tablespoons unsalted butter, room temp.
1 tablespoon vegetable oil
¾ cup granulated sugar
1 ½ teaspoons vanilla extract
2 large eggs, room temp.
½ cup buttermilk, room temp
¼ cup Spring-kle Celebration sprinkle mix (without the rods and medium/large round sprinkles)
8 oz. (1 block) cream cheese, room temp.
½ cup (1 stick) unsalted butter, room temp.
1 teaspoon vanilla extract
3 ½ cups (1 lb. bag) powdered sugar
Pastel Party and Spring-kle Celebration sprinkle mixes
Black royal icing or decorating icing
White fondant or purple and pink taffy candy
Purple and pink icing gel colors (unless using taffy)
Cream Cheese Frosting
Piping bag fitted with a standard coupler
Number 10 (or medium size round) piping tip
Small round cookie cutter (mine was about 1 ¾ inch)
To safely and easily bring the ingredients to room temperature, remove the butter about 45-60 minutes before beginning, and take the eggs and buttermilk out of the refrigerator about 30 minutes before you start mixing the batter.

If you'd prefer not to work with fondant you can easily replace it with taffy candy! Just heat the taffy pieces, in the microwave, for about 4-6 seconds per piece (on a heatproof plate) to make it more pliable before shaping or rolling it out.

Preheat the oven to 350°F. Prepare a standard cupcake pan with liners (I like to use parchment liners).

In a medium size mixing bowl, whisk together the flour, baking powder, and salt. Set aside.

In the bowl of a stand mixer, use the paddle attachment to beat the butter for 1 minute on medium speed. Scrape the sides and bottom of the bowl.

Add the sugar, vanilla and oil, and cream together on medium for 2-3 minutes until lighter in color and fluffy. Scrape the sides and bottom of the bowl again.

Add the eggs, one at a time, and mix until fully incorporated. Scrape the bowl again.

Slowly add in the dry ingredients alternating with the buttermilk, a third at a time, mixing on medium low, just until each is incorporated.

Mix the batter just until combined (it's ok if there is still a little flour that needs mixed in at this point as we will fix that when folding in the sprinkles).

Fold the sprinkles in (3-4 folds is all you need to do) making sure not to over mix so the color of the sprinkles doesn't spread into the batter.

Fill each cupcake liner ¾ full (about 3 TB each- you can use a large cookie scoop) and bake for 19-22 minutes, or until a toothpick inserted in the center comes out clean.

Allow the cupcakes to cool for 5 minutes in the pan before transferring to a cooling rack to cool completely. The cooled cupcakes will be mostly flat on top for the decorations.

Now, let's make the cream cheese frosting! Use a paddle attachment to whip the cream cheese and butter on medium until light and fluffy (about 2-3 minutes).

Slowly add the powdered sugar in, one cup at a time, and mix on low until incorporated. Once all of the sugar is added turn the mixer up to medium and continue to mix for 2 minutes.

Add the vanilla extract, purple and pink icing gels, and mix again until thoroughly combined (I like to start with a little of both colors then add a tiny bit more purple at a time until I achieve my desired color).

Transfer the frosting to your prepared piping bag and add the #10 piping tip.

Color some of your white fondant using the purple and pink icing gels (you want this version of purple to be lighter than the frosting). If you'd like to add cheeks to the lambs, you can also color a little fondant with just the pink icing gel.

Roll the purple fondant out to about 1/16th inch and use the cookie cutter to punch 12 circles out. Gather the extra fondant to make the ears and legs.

The ears and all 4 legs, for each lamb, can be made my rolling tiny balls of the fondant in between your thumb and pointer finger to form little logs. Press together the ends of each ear and round out the other end to create a tiny teardrop shape.

Once the cupcakes are completely cool you can begin decorating them. Pipe dots of the purple frosting all around the top edge on the cupcake and then work your way in leaving an oval of the purple fondant exposed (for the face).

Transfer the piped cupcakes to the refrigerator for 30 min to let the frosting firm up. Then you can use a clean finger to gently press any points on the frosting dots down to make the fluffy lamb fur.

TIP: If your frosting dots have any air bubbles you can dip your finger into a mug of warm water before pressing down the points and smoothing.

Add the fondant ears to either side of the face and the 4 legs.

Pipe the royal/decorating icing to make the faces on the fondant (I used a #1 tip). To easily do this, I create a "w" in the middle of the face then the eyes on either side. Add tiny balls of fondant for cheeks, if you would like.

Use the Pastel Party and Spring-kle Celebration sprinkle mixes to decorate the sides of your lambs and enjoy!

Extra frosting can be kept refrigerated for up to a week, or frozen for longer (allow it to come to room temp before using). Decorated cupcakes should be refrigerated. Undecorated cupcakes can be kept at room temperature in an airtight container.
#howtocakeit
Sunday,Monday,Tuesday,Wednesday,Thursday,Friday,Saturday
January,February,March,April,May,June,July,August,September,October,November,December
Not enough items available. Only [max] left.
Add to Wishlist
Browse Wishlist
Remove Wishlist