Lets take it back to basics! I love a good minimal, clean design for a cake, and the Kin Community logo was the perfect inspiration to show you how to crumb coat, chill, and cover my Ultimate Vanilla Cake in fondant.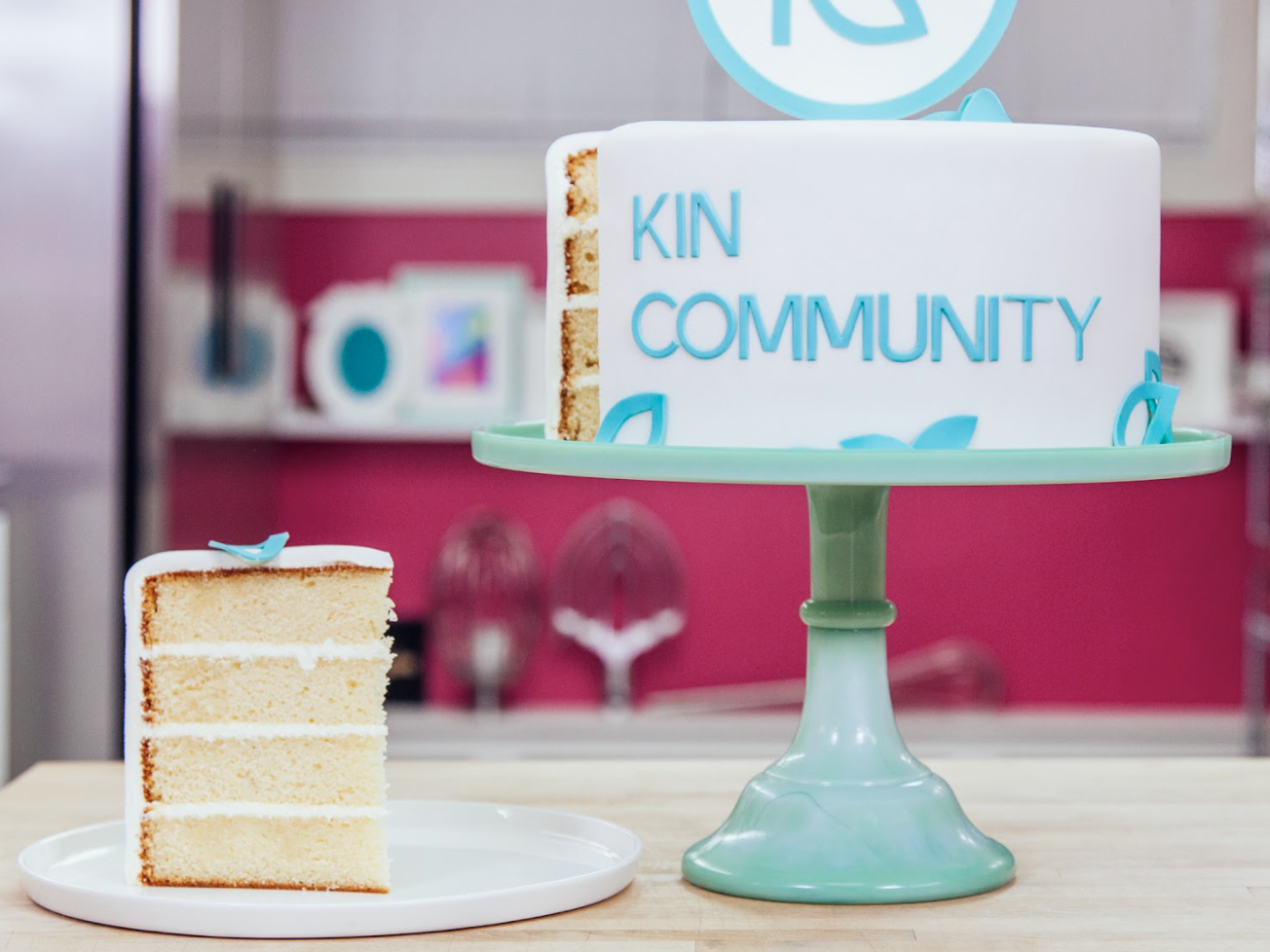 ---
1 x 8lb portion of Yos Ultimate Vanilla Cake
1 x recipe Italian Meringue Buttercream
Simple syrup
Icing Sugar
2 lbs White Fondant
Prepare your Ultimate Vanilla Cake batter and pour into prepared pans . Bake at 350 degrees for 1 hour and 20 minutes. Let cake cool completely in pans.

Remove your vanilla cakes from their pans, level off the tops and cut them in half using a ruler and serrated knife.

Stack your cake layers so that the bottom layer is on top. Soak each layer in simple syrup.

Place your cake board onto your lazy suzan.

Spread your buttercream evenly on your cake layer using an offset spatula.

Add your second simple syrup soaked layer of cake. Repeat filling and stacking process until you reach the top layer.

Crumb coat the entire cake. Chill your cake for 30 minutes. Once chilled, spread an even layer of icing onto the top and sides of your cake.

Hold your bench scraper straight up and down, and at a slight angle away from your cake. Pull your bench scraper all the way around your cake while turning your lazy susan. Remove any excess buttercream. Chill again for 30 minutes.

Knead your fondant well, then roll out. Should be thick. Cover your cake. Use a fondant smoother to smooth out the top and sides of the cake.

At the base, press the fondant into the cake as well as down onto the board to create a clean line at the bottom edge. Trim any excess fondant.

Be mindful of the clothing you are wearing while rolling fondant. You want to avoid wearing anything that sheds or causes a lot of lint. Tiny particles stick to fondant like glue.
#howtocakeit
Sunday,Monday,Tuesday,Wednesday,Thursday,Friday,Saturday
January,February,March,April,May,June,July,August,September,October,November,December
Not enough items available. Only [max] left.
Add to Wishlist
Browse Wishlist
Remove Wishlist