Ready for a total cake-ception? This has been on my to-cake list for so long now and I finally did it. I caked up my favorite things… the ingredients to make a cake! *mindblown*
Each of these ingredients has one thing in common… They're made of cake! I made my eggs out of layers of my Ultimate Vanilla Cake with a sweet Italian meringue buttercream, the bowl of cocoa out of my Ultimate Chocolate Cake filled with a chocolate Swiss meringue buttercream and iced in chocolate ganache, and last but not least, the butter block out of Butter Pound Cake with a pastel yellow Italian meringue buttercream!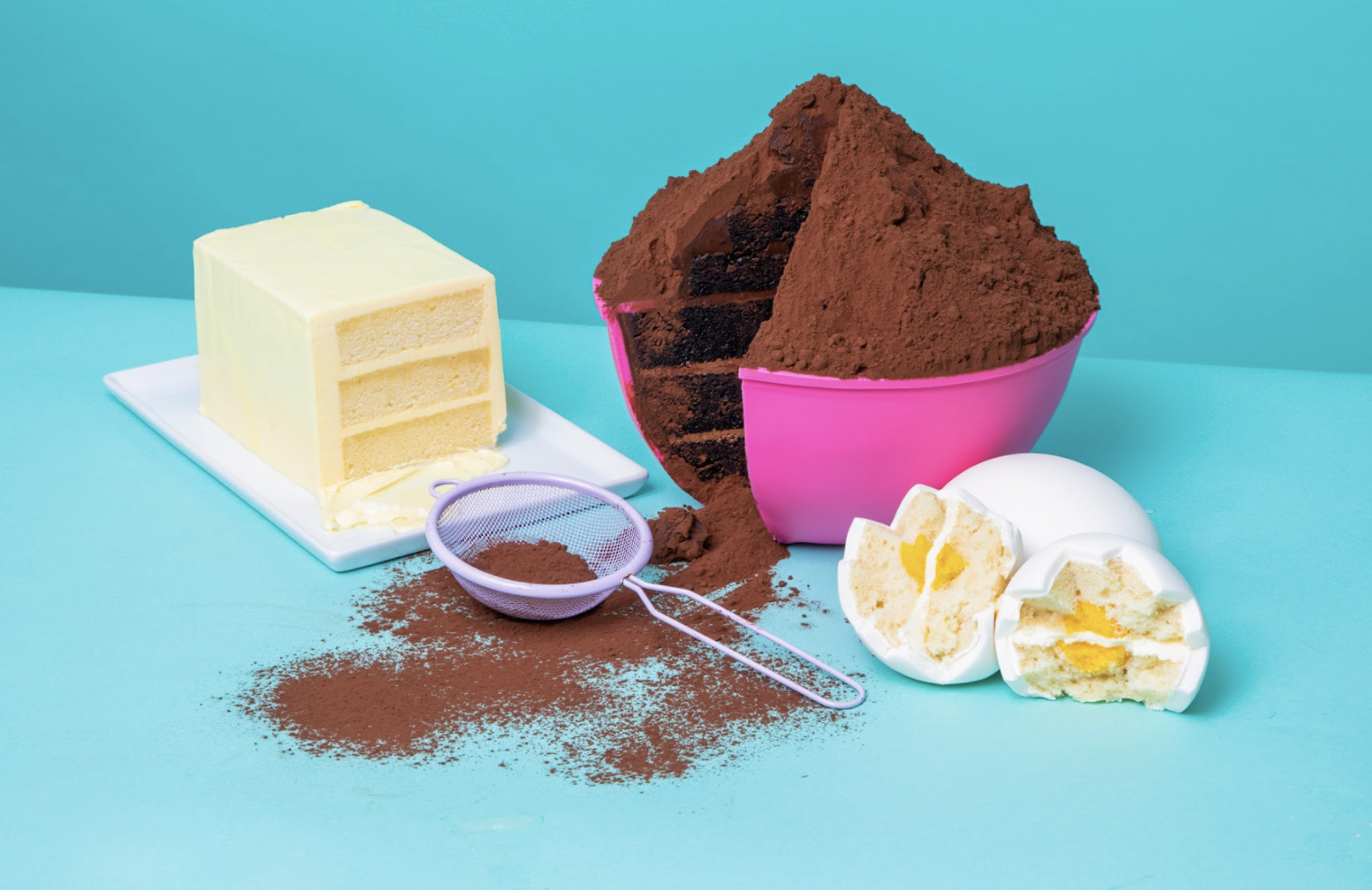 ---
6lbs Yo's Ultimate Vanilla Cake
4lbs Yo's Ultimate Chocolate Cake
3.5lbs Butter Cake
1 batch of Simple Syrup
1 batch of Chocolate Swiss Meringue Buttercream
1 batch of Italian Meringue Buttercream
½ batch of Chocolate Ganache
Lemon yellow gel coloring
Egg yellow gel coloring
1½ lbs white fondant
2lbs pink fondant
2 cups of cocoa powder
Line your pans with parchment paper and preheat your oven to 350 degrees Fahrenheit. Prepare the batter and bake as follows:

Eggs

Prepare 6lbs of vanilla cake batter then color 2lbs of it egg yellow (for the yolk). Bake the egg yellow batter in a small sphere mold for 20 minutes. In the meantime, fill your egg molds with the white vanilla batter and once the yolks are baked, add one to the centre of each egg mold and bake again for 40 minutes.

NOTE: I tried a few different methods for the eggs so check out the video to see them!

Bowl

Prepare 4lbs of chocolate cake batter then bake in an 8" ½ sphere pan for 45 minutes

Butter Block

Prepare 3.5lbs of butter pound cake batter then bake in a 12" square pan for 45 minutes

Eggs

Level your eggs in their pans first then remove them carefully.

Bowl

Level your chocolate sphere cake in the pan and save the hump for later. Remove the cake from the pan then layer it into 3 layers and cut a small piece from the bottom layer to create a flat bottom.

Butter Block

Remove your butter pound cake from the pan then level it. Remove all caramelization from the bottom and sides. Cut your cake into 6.5" x 3" rectangles.

Use Sir Squeeze A Lot to soak all of your cake layers with simple syrup then set them aside to absorb.

Eggs

Sandwich your eggs together with IMBC then crumb coat and chill your egg cakes till firm.

Bowl

Fill and stack your chocolate bowl upside down with chocolate SMBC then crumb coat it with ganache and chill until firm.

Butter Block

Color your remaining IMBC a light yellow to resemble butter. Fill and stack 3 layers of cake then crumb coat the stack and chill until firm.

Eggs

Ice your egg cakes with IMBC using my invention - a square piece of acetate, to smooth out the edges.

Bowl

Ice your bowl with chocolate ganache using my invention - a square piece of acetate, to smooth out the edges.

Butter Block

Ice your butter cake with more of the butter yellow IMBC.

* Ice all cakes again to perfect them if necessary.

Measure your butter block cake then cut parchment paper to size. Fold the sheet to fit the cake as if it were wrapped around the butter. Use this as a template to make indent into your cake with the paper.

Eggs

Cover your egg cakes with white fondant - making sure to smooth it all out and tuck the edges under.

Bowl

With the cake still upside down, cover it with a sheet of pink fondant. Flip your cake so that it sits right side up. Roll out a perfect of the same fondant - slightly larger than the diameter of the cake, then lay it onto the flat surface of the cake to create a top rim.

Take your chocolate cake hump that you saved earlier and cut out circles. Use them to build on top of the cake securing them in place with ganache. Top it all off with cocoa powder - using a template to protect the cake.
#howtocakeit
Sunday,Monday,Tuesday,Wednesday,Thursday,Friday,Saturday
January,February,March,April,May,June,July,August,September,October,November,December
Not enough items available. Only [max] left.
Add to Wishlist
Browse Wishlist
Remove Wishlist