BOO! Happy Halloween! This Halloween I am making a Scaredy Cake complete with grainy black chocolate ganache, a marshmallow cobweb and chocolate spiders with red eyes. Scared yet?! Dont worry, you'll feel better once you cut yourself a slice.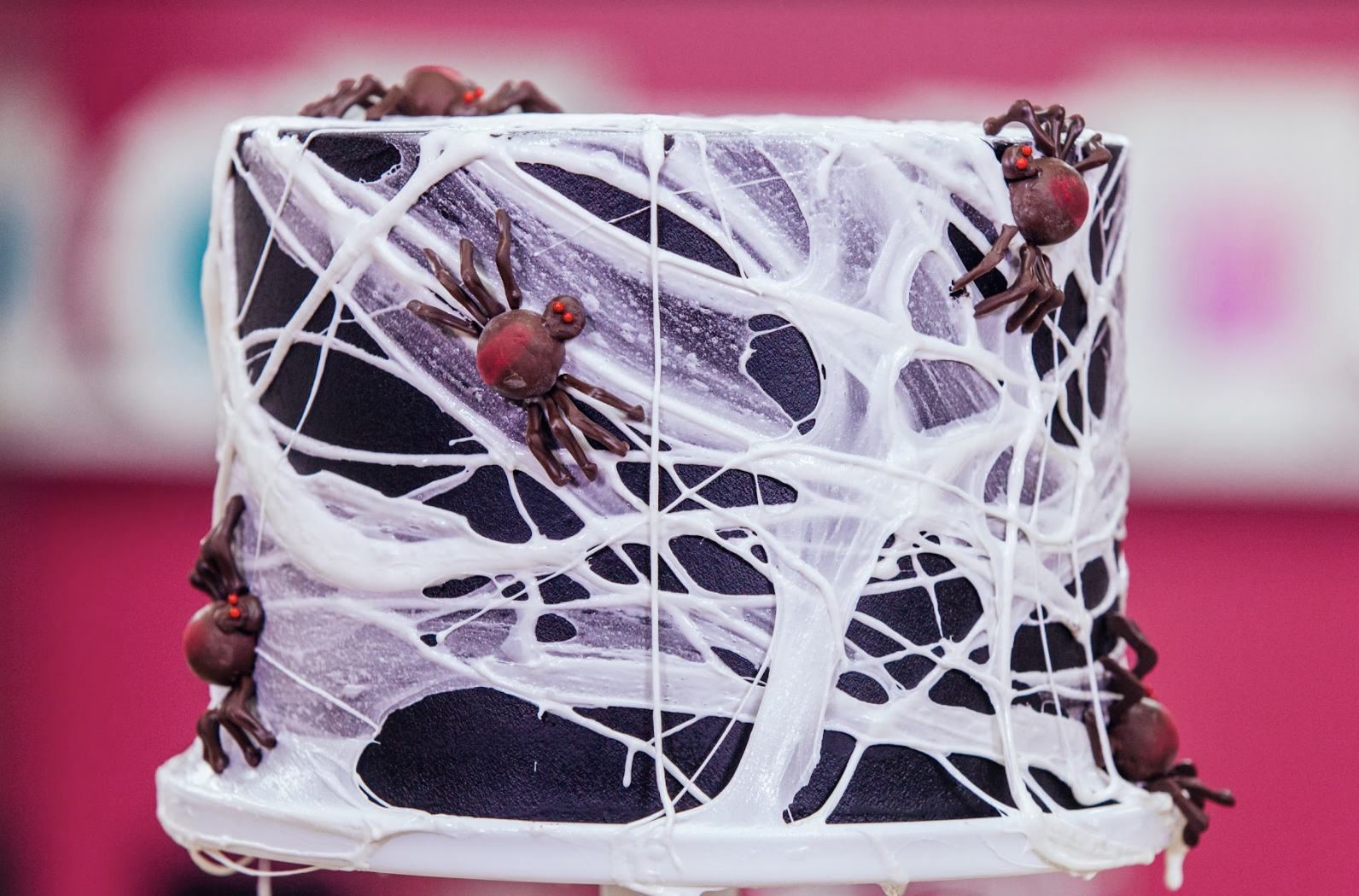 ---
8lbs of Yo's Ultimate Chocolate Cake
1 x recipe Italian Meringue Buttercream
Simple Syrup
Candy Corn
Gummy Worms
Orange Smarties
Black Smarties
Halloween Jelly Beans
1 package Mini Marshmallows
6 Chocolate Balls
Chocolate Candy Melts
16 oz Dark Chocolate
Red Sprinkles
Red Luster Dust
1 Black Icing Colour
1 Colour Right Black
ChefMaster Sunset Orange Gel Colour
Prepare your chocolate cake batter. When complete, add the entire container of Wilton Black Icing Colour. Blend on low speed and watch your batter turn black.

Divide your batter evenly into your three prepared 8 round pans. Bake at 350 degrees for 1 hour or until a cake tester comes out completely clean. Let cool completely in pans.

Prepare your chocolate ganache. Once complete, stir in an entire bottle of Wilton Colour Right Black food colouring. Let your ganache thicken until it is spreadable.

Remove your cakes from their pans and level them.

Take half of your buttercream, about 3 cups, and dye it a bright Halloween orange using ChefMaster Sunset Orange Gel colour.

Soak your first cake layer with simple syrup, and lay it onto your cake board. Evenly spread on the orange buttercream. Pile on a variety of Halloween candy.

Take a cup of you ganache and heat it in the microwave in 10 second increments. Drizzle half of your melted black chocolate ganache over your candy.

Soak the remaining two cake layers in simple syrup. Lay the second cake on top of your ganache-drizzled candies. Repeat the process and then top your cake with the final cake layer.

Use your small offset palette knife to spread the excess orange buttercream poking out of your layers around the sides of the cake.

Crumb coat the entire cake with your set chocolate ganache, and chill for 30 minutes.

Ice your entire cake with the rest of your set black chocolate ganache. Chill for 30 minutes.

Melt your marshmallows, 1 cup at a time, in the microwave for about 20-30 seconds. Stir out lumps. Use both hands to pull and stretch your melted marshmallow.

Wrap the pulled marshmallow around your cake in every direction. Add until you like the look of your cake, but you can still see black chocolate ganache.

Cut off a bit of each chocolate ball so that they can sit flat on your silicone mat. Melt your candy melts and pour into a parchment paper cone. Pipe a little head onto each chocolate ball.

Pipe V shapes of chocolate onto your silicone mat, these will resemble spider legs.

Add your chocolate balls to your cake using melted chocolate as glue. Brush a little melted chocolate onto the head of your spiders and add two red sprinkles as eyes. Finish them with red luster dust on their backs.
#howtocakeit
Sunday,Monday,Tuesday,Wednesday,Thursday,Friday,Saturday
January,February,March,April,May,June,July,August,September,October,November,December
Not enough items available. Only [max] left.
Add to Wishlist
Browse Wishlist
Remove Wishlist