This Easter candy is a little underrated, so I wanted to show it some love by caking one up in GIANT form. You'll want to share this sweet treat with all of your peeps!
To make my Giant Peep I started with 12lbs of my Yellow Velvet Cake, sealed with peepish yellow Italian Meringue Buttercream, and true to peep style gave this cake a final coat with yellow sugar, all topped off with chocolate ganache eyes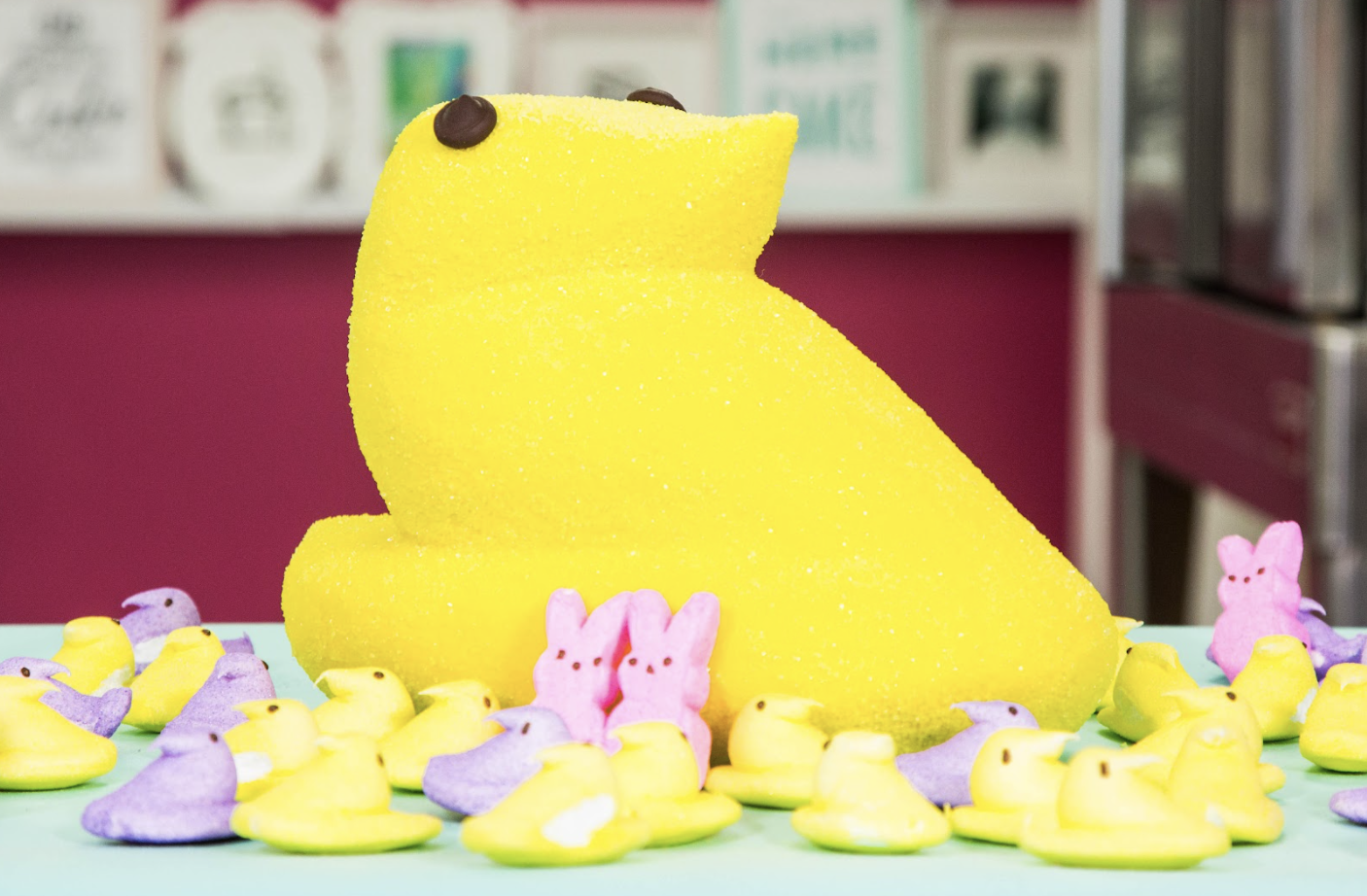 ---
12 lbs of Yo's Yellow Velvet Cake
Simple Syrup
2 batches of Yo's Italian Meringue Buttercream
Lemon Yellow Food Colouring
Golden Yellow Food Colouring
Coarse Sugar
Yellow Color Dust
Dark Chocolate Ganache
Prepare your cake batter and divide up amongst pans. Pour 5lbs of batter into each rectangle pan, 3lbs into each 8" round pan, 2.5lbs into the 7" round pan, and 1.5lbs into the 6" round pan. Bake at 350 degrees for 45 minutes for the 6" cake, and 1 hour for all remaining cakes. Let cool completely before removing from pans.

Level all cakes and remove caramelization from bottoms. Layer the 2 8", and 7" cakes

Drizzle all of your cake layers with simple syrup

Colour two batches of Italian Meringue Buttercream to match the cake using lemon and golden yellow food colouring

In three separate sections stack your cakes by spreading your yellow Italian Meringue Buttercream between the layers:

Section 1: 2 9"x13" Cakes

Section 2: 2 8" Round Cakes

Section 3: 7" round and 6" Round Cakes

Chill each section before carving

Note: To see how I separated my cakes watch the video here

Carve your cakes in their 3 separate sections, using a peep as your model:

Section 1: into a pointed oval

Section 2: like a rounded mound (center of peep)

Section 3: similar to a birds head

Use cake scraps to fill out the body where necessary

Note: To see how I got my peep shape check out my video here

Use Italian Meringue Buttercream to stack the 3 sections of your cake into a peep!

Once your cake is assembled it's a great time to assess the shape of your cake and add/remove sections until you're happy with it's peep likeness

Use a small offset spatula and yellow buttercream to crumb coat your cake and chill for 20 minutes

Using more yellow buttercream ice your cake and chill for another 20 minutes

Ice your cake one more time, doing your best to make it as smooth as possible. Once chilled a paper towel can be used to ensure a nice smooth texture.

Note: Watch my video here to see this technique

Blend 2 cups of coarse sugar with 1 teaspoon of yellow colour dust using a peep as a colour reference

Press your coloured sugar into the cake, using a paint brush to sweep away any extra

Use a round tip to pipe ganache onto a cake board into eyes for your Peep. Chill for several minutes before using a spatula to remove them, and secure onto your cake using extra ganache

Note: To see how I place the eyes on my Peep cake watch my video here
#howtocakeit
Sunday,Monday,Tuesday,Wednesday,Thursday,Friday,Saturday
January,February,March,April,May,June,July,August,September,October,November,December
Not enough items available. Only [max] left.
Add to Wishlist
Browse Wishlist
Remove Wishlist