The holidays are coming up and what is everyone's go-to gift? Chocolate! So it only seemed right that I cake up a giant chocolate… but not just any, I'm talking a GIANT Ferrero Rocher (I mean, it's wrapped in gold… How could I not?!)
I wanted to make sure I captured all the deliciousness of this holiday chocolate so to make this giant Ferrero Rocher Cake, I whipped up my Ultimate Chocolate Cake and created a secret chamber encrusted in a cocoa shortcrust pastry shell with nutella and actual Ferrero Rocher chocolates inside! To create the textured exterior, I chopped up roasted hazelnuts and folded them into my chocolate ganache which I used to ice the cake, then I melted some compound chocolate wafers and mixed in some more hazelnuts and poured it on top of the entire cake. Oh and of course, I wrapped it in a shining gold foil to finish it off!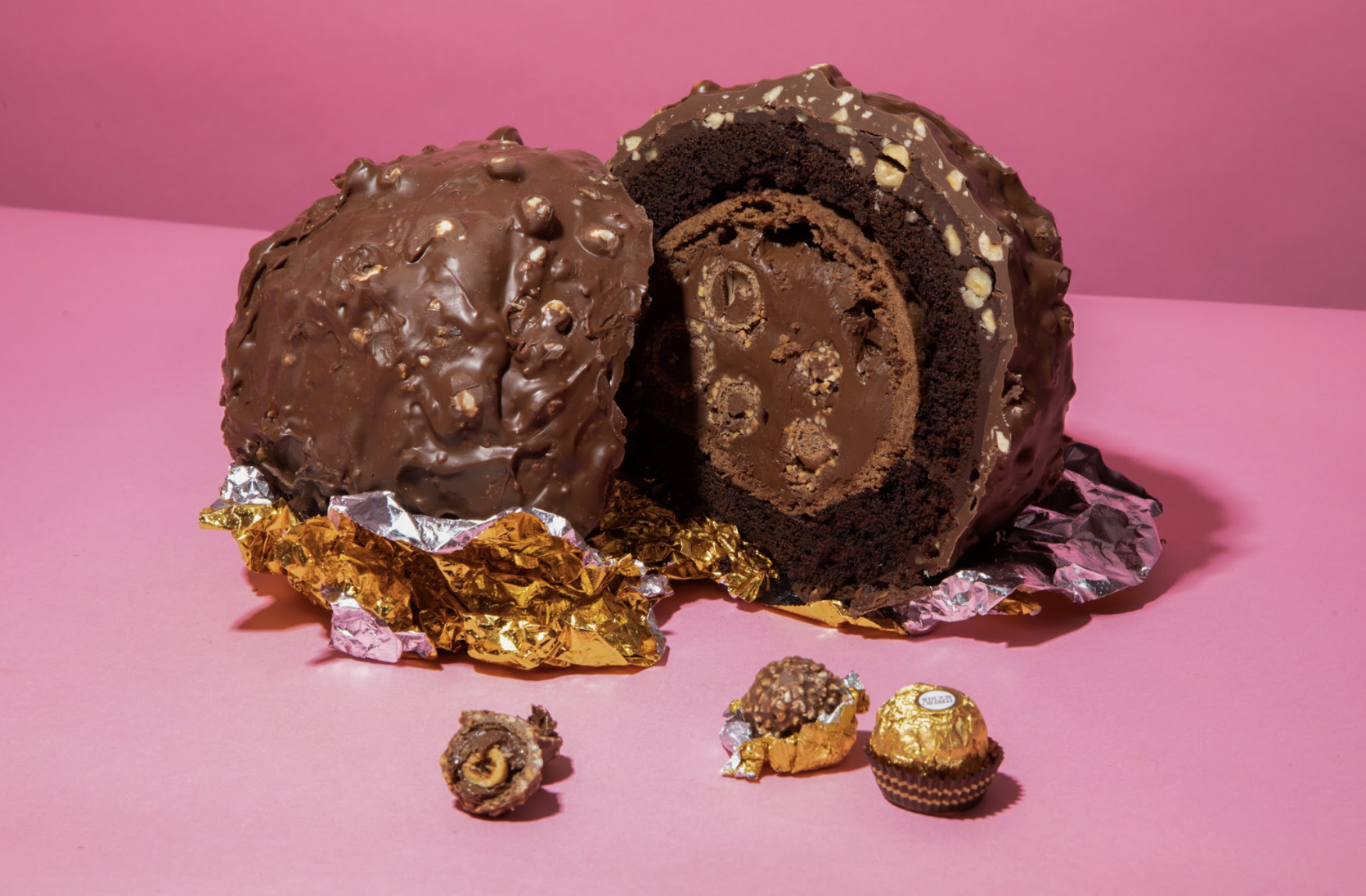 ---
1.5 Batches of Yo's Ultimate Chocolate Cake
1 x Yo's Dark Chocolate Ganache
1 x Yo's Simple Syrup
1 jar (725 gr) Nutella
10 Ferrero Rocher Chocolates
4 cups of Hazelnuts - Peeled, Roasted, Chopped
2 lb Milk Chocolate Melting Wafers
4 oz Dark chocolate melting wafers
Line your 6.5" sphere pans and set aside.

Prepare 1.5 batches of Yo's Ultimate Chocolate Cake.

Pour 2.5 pounds of batter into each sphere pan, and place on the supporting ring or a metal pastry ring on a baking sheet to keep the pans stable while baking.

Cool until room temperature, then wrap tightly in plastic wrap and place in the fridge overnight.

Level chocolate cake sphere in the pans, using the pan to keep the knife straight. Loosen the edges of the cake from your pan with a thin, flat spatula. Remove cake from pans.

Using a 4 1/4 inch round cutter and a large spoon, carve out a 2.5-inch deep dome out of your cakes. Make sure to choose a circle cutter that is slightly larger than the diameter of your baked cocoa shortcrust domes.

Simple syrup both domes using Sir Squeeze a Lot and leave for a few minutes until fully absorbed.

Place your cocoa shortcrust pastry domes into each sphere cake. Fill with Nutella and Ferraro Rocher chocolates (5 in each dome).

Using an offset spatula, spread a thin layer of dark chocolate ganache on the ring of surrounding cake on one half of the sphere cakes, then quickly place the two spheres together to form a dome. Chill in the fridge for 10 minutes to set the ganache.

When the ganache has set, place your cake dome on your cake board and lazy susan. Crumb coat your cake with your dark chocolate ganache using your small offset spatula. Chill in the fridge for 10 minutes.

Mix 1 ½ cups of chopped hazelnuts into the remaining ganache. Once the crumb coat is chilled, ice your sphere cake with your hazelnut ganache using a small offset spatula. Chill in the fridge until the ganache has set.

While your cake chills, melt your milk and dark chocolate wafers in the microwave in 20 seconds increments, stirring until completely melted with no lumps remaining. Stir in ¾ cups of chopped hazelnuts. Allow your hazelnut chocolate to cool completely - you want it to be pourable, but not hot!

Place your chilled cake on a resting rack over a baking sheet and pour your hazelnut chocolate all over your cake. You will need to use a small spatula to help direct the chocolate around the bottom. Chill until completely set!

Place cake in a large bowl to secure and wrap bottom in gold foil!
#howtocakeit
Sunday,Monday,Tuesday,Wednesday,Thursday,Friday,Saturday
January,February,March,April,May,June,July,August,September,October,November,December
Not enough items available. Only [max] left.
Add to Wishlist
Browse Wishlist
Remove Wishlist