Do I need to say anymore? I think the title speaks for itself. The only thing better than donuts, is giant ones. I'm going to cake giant donuts, and I'm very excited about this. I'm going to make a half dozen donuts that range from Lemon Meringue, Coconut Cream, Mint Oreo, S'mores, and of course a classic Sprinkle so that I can pay homage to Homer Simpson. I'm even making a Carnival themed donut topped with caramel corn, rock candy and cotton candy!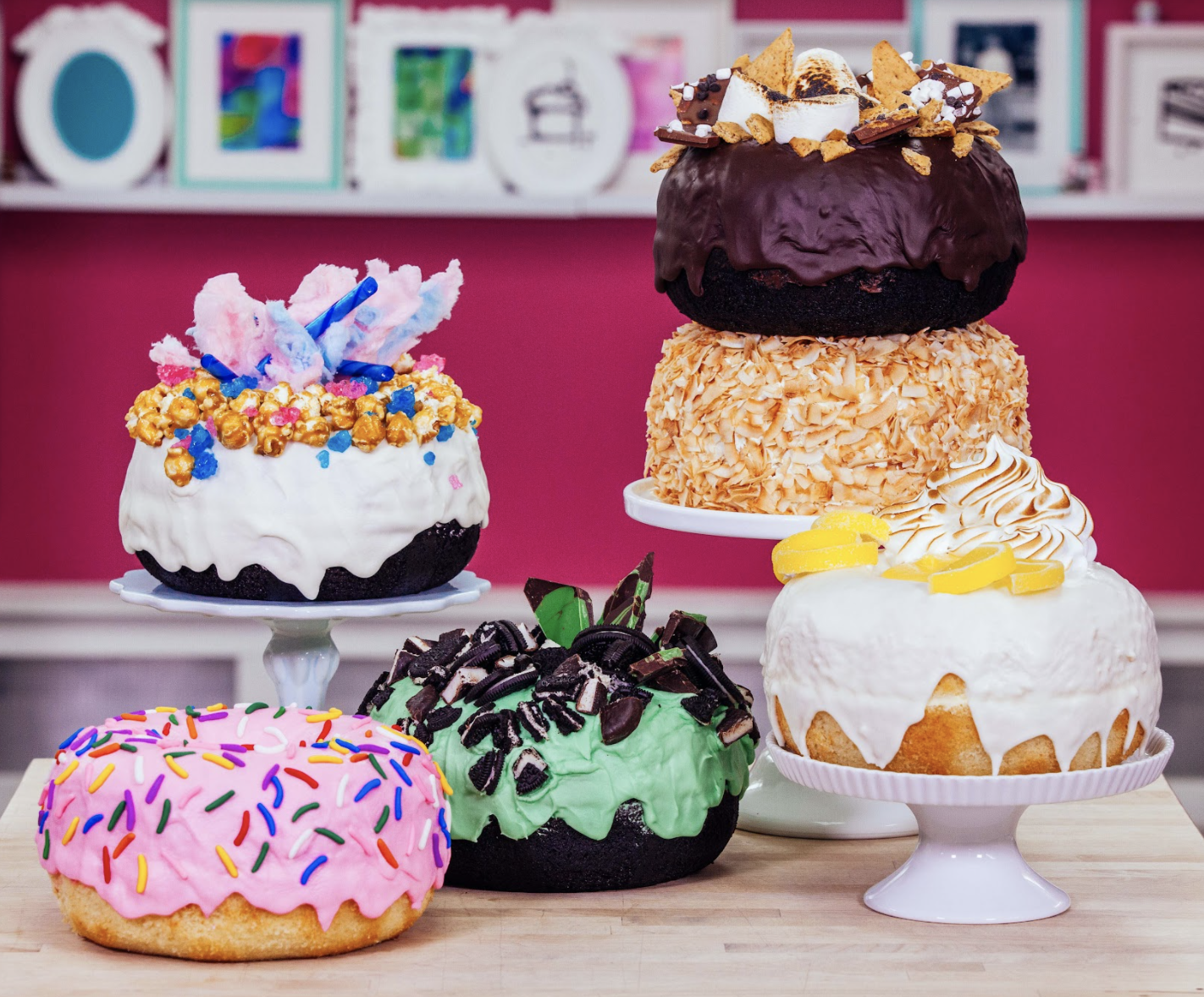 ---
2 x 6lb portion of Yo's Ultimate Vanilla Cake
6lb + 8lb portion of Yo's Ultimate Chocolate Cake
Italian Meringue Buttercream
Coconut Cream Filling
Simple Syrup
Lemon Curd
½ recipe Vanilla Frosting
Chocolate Buttercream
Vanilla Donut Glaze
Chocolate Donut Glaze
Creamed Coconut
Jumbo Marshmallows
Jumbo Fondant Sprinkles
Meringue
Gel food coloring: pink, kelly green, leaf green
Peppermint Extract
2 cups Toasted Coconut Chips
2 cups Caramel Popcorn
6 Pink and Blue Rock Candy Sticks
Cotton Candy
2 Candy Sticks
8 Oreo Cookies
8 Peppermint Patties
Chocolate Mint Bark
6 Graham Crackers
S'more Chocolate Bark
Prepare all of your cake pans by greasing them well with vegetable shortening. Cut strips of parchment paper 1" x 4" and lay eight of them in each donut pan half in a clock formation.

Prepare Yos Ultimate Chocolate and Vanilla Cake batter. Pour 2lbs of vanilla cake batter into 4 of the donut pan halves and the two 8" round pans. Pour 2 1/4 lbs of chocolate batter into the remaining 6 donut pan halves. Bake the cakes at 350 for about 40 minutes or until a toothpick inserted in the centre comes out clean. Let cool completely in their pans.

Level all of your half donut cakes by running your serrated knife along the top edge of each pan.

Remove the two 8" round vanilla cakes from their pans, and level them to be the same height as your donut cake halves. Using a small serrated knife, round the edges of both 8" vanilla cakes to mimic the shape of the donut cakes. Flip both cakes. Use the 3" round cutter to mark a circle in the centre of each cake. Scoop out a portion of cake from the centre of each, only dig halfway!

Use a variety of flavour combinations and fillings. Colour and flavour the buttercream to fill each donut as I went along. Feel free to use whatever fillings you love most.

Donut Cake Fillings:

Vanilla donut with lemon buttercream (lemon curd and buttercream mixed together)

Vanilla donut with pink buttercream

Vanilla 8" cakes with coconut cream filling and coconut buttercream (creamed coconut and buttercream mixed together)

Chocolate donut with vanilla frosting

Chocolate donut with mint green buttercream

Chocolate donut with chocolate buttercream

Fill each donut with a layer of filling, place the second cake on top, and smooth away any excess. Let chill.

Fill and decorate the Lemon Meringue Donut with vanilla glaze, jumbo marshmallows, lemon curd, and piped bruleed meringue.

Fill and decorate the Homer Simpson Sprinkle Donut by mixing a bit of Wilton Pink Icing Color with your vanilla glaze. Top with coloured fondant pinched into jumbo sprinkles.

Fill and decorate the Coconut Cream Pie Donut. Press toasted coconut into a thin layer of Italian Meringue Buttercream.

Fill and decorate the Carnival Donut by drizzling with vanilla glaze, and pressing in caramel popcorn. Top with rock candy, cotton candy, and candy sticks.

Fill and decorate the Mint Oreo Donut by mixing a bit of Wilton Kelly & Leaf Green Icing Color with vanilla glaze, and a touch of peppermint extract to taste. Top with roughly chopped Oreos, peppermint patties, and chocolate mint bark.

Fill and decorate the Smores Donut by drizzling with chocolate glaze. Top with graham crackers, jumbo marshmallows, and smores bark. Give the marshmallows a quick brulee to get them toasty.
#howtocakeit
Sunday,Monday,Tuesday,Wednesday,Thursday,Friday,Saturday
January,February,March,April,May,June,July,August,September,October,November,December
Not enough items available. Only [max] left.
Add to Wishlist
Browse Wishlist
Remove Wishlist