This ooey-gooey roll cake is a cinnamon lover's dream! Is there anything better than a fresh cinnamon bun? The sweet smell of spice hits your nose, it's dripping in cream cheese frosting just begging you to pull it apart...you think you could eat about 10 of them and be in a cinna-coma. Well now you can because I've caked one up in GIANT form!
For this bun I started with a dense roll cake recipe- don't worry, you won't see the cracks! It gets dusted in cinnamon sugar, and rolled up with a sweet, light cinnamon spread- I use cinnamon from Grenada just for my mom! This beast of a bun gets topped off with some dripping cream cheese frosting. The best part? It pulls apart just like a real bun!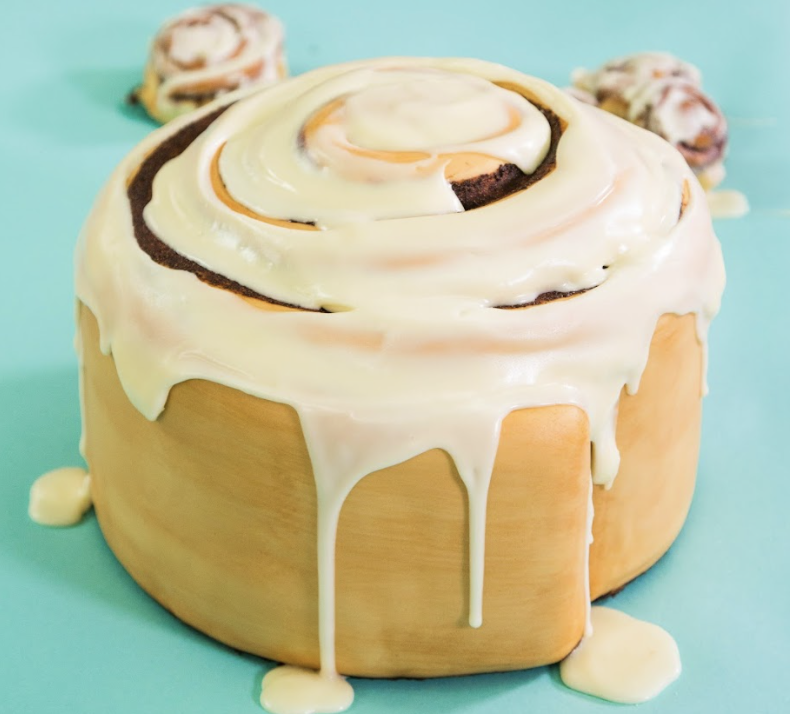 ---
1 cup butter
2 cups sugar
2 teaspoons vanilla
10 eggs
2 ¼ cups flour
1 teaspoon salt
2 cups sugar
2 ½ tablespoons cinnamon
1 ½ cups unsalted butter
1 ½ cups dark brown sugar
¼ cup cinnamon
¼ cup maple syrup
Simple syrup
Italian meringue buttercream
Simple Syrup
Yo's Cream Cheese Frosting
3lbs light tan fondant
Ivory food colouring
Brown food colouring
Clear food grade alcohol
Beat your butter, sugar, and vanilla until fluffy. Add eggs 2 at a time and mix until incorporated. Mix on high until incorporated. Fold in sifted flour and salt by hand.

Spread the batter onto a lined and greased 11 ½ x 16 ½" cookie sheet using a small offset spatula and bake at 350 degrees for 15 minutes.

Mix 2 cups of sugar with 2 ½ tablespoons of sugar. Lay out a fresh sheet of parchment and lightly sprinkle with cinnamon sugar mixture. After cooling for 2 minutes loosen the sides of your cake and flip onto this piece of parchment, and sprinkle the top as well.

Starting from the long end, use the piece of parchment paper underneath to help you roll your cake as tightly as you can.

Repeat this process 3 more times for a total of 4 rolled up cakes, and place in the fridge to chill.

Beat unsalted butter, cinnamon, and sugar on high until nice and fluffy. Add maple syrup to thin out to a spreadable consistency.

Remove the parchment from between your rolls- don't worry if the cakes are a little "sweaty". Using a ruler, trim them all to the same length, about 16" and then slice them in half leaving you with a total of eight 8" cakes.

Unravel your cakes as best as you can- don't worry about cracking! Shower all 8 layers of cake with simple syrup.

Starting with 4 of your cake layers, add a thin layer of cinnamon spread followed by some cream cheese frosting using a small offset spatula.

Roll up one layer of cake, and continue adding more layers where the last one ends. If your cake starts to feel unstable pop it in the fridge to firm up before continuing.

Apply cinnamon spread and cream cheese frosting to the next 2 layers and add them to the cake in the same manner, and then continue with the last 2 layers, chilling in between to keep everything firm. Chill one last time before moving on.

Note: See me roll it up here

Using a small serrated knife, carve your cake so its taller in the center just like a real cinnamon bun! Also take this time to round out any straight edges, round out the bottom, and deepen your grooves- remember to go little by little!

Note: It's easier than it looks- watch me do it here

Take a small offset spatula and some Italian Meringue Buttercream to crumb coat your cake, getting in all of the grooves, before chilling for 20 minutes.

Give your cake a good icing using more Italian Meringue Buttercream, and chill once again.

Roll out some light tan fondant large enough to cover your cake, and drape over using a french rolling pin. Work quickly to smooth it in to all of the grooves with your fingertips, and down the sides with your hands before trimming away a majority of the excess from the bottom.

Note: Don't fear the fondant! Watch me do this here

Use a soft paintbrush to further (gently) push the fondant into the grooves of your cinnamon bun. Take a small paring knife to finish cutting away the excess fondant from the bottom, using the side of the blade to tuck it under as you go.

Mix some ivory colouring with clear food grade alcohol and paint the entire surface of your cake. Once the first layer is dry you may choose to add another to deepen the colour and make it look just like a freshly baked cinnamon bun!

Add a little brown colouring to the same mixture as before and use a dry brushing technique to deepen the high points of your cake, as well as the outermost edge.

Note: To see this technique in action watch here

To make sure your bun has the same cinnamon swirl on the outside, blend some cloves, cinnamon, and maple syrup into your paint mixture from the previous step and carefully paint it into the spiral grooves on top, down the side "flap", and around the bottom of your cake. Place your cake in the fridge while the paint dries.

Take your leftover cream cheese frosting and thin it out slightly using some cream or whole milk. Place this frosting into a piping bag, and starting in the center of your cake pipe it on, spreading it around with a small offset spatula. Repeat this process all around your cake, letting the icing drip down the sides just like an ooey-gooey cinnamon bun!

Use a blowtorch on a low setting smooth out and ridges and lumps in your icing to make it look like it was freshly poured over top.
#howtocakeit
Sunday,Monday,Tuesday,Wednesday,Thursday,Friday,Saturday
January,February,March,April,May,June,July,August,September,October,November,December
Not enough items available. Only [max] left.
Add to Wishlist
Browse Wishlist
Remove Wishlist