Chocolate, caramel, pecans, coconut... Need I say more? I finally made a German chocolate MEGA cake which has been on my To Cake list for years and it is to drool for!
This German Chocolate Cake is about to be a total game changer with its layers of rich chocolate cake filled with homemade German chocolate filling and chocolate ganache. I also added chocolate turtles and chocolate bars drizzled in brightly colored melting chocolate with coconut shreds and sprinkles on top. I also gave it an extra colorful flair with swatches of brightly colored Italian meringue buttercream and a bit of gold because what cake doesn't need a little shimmer.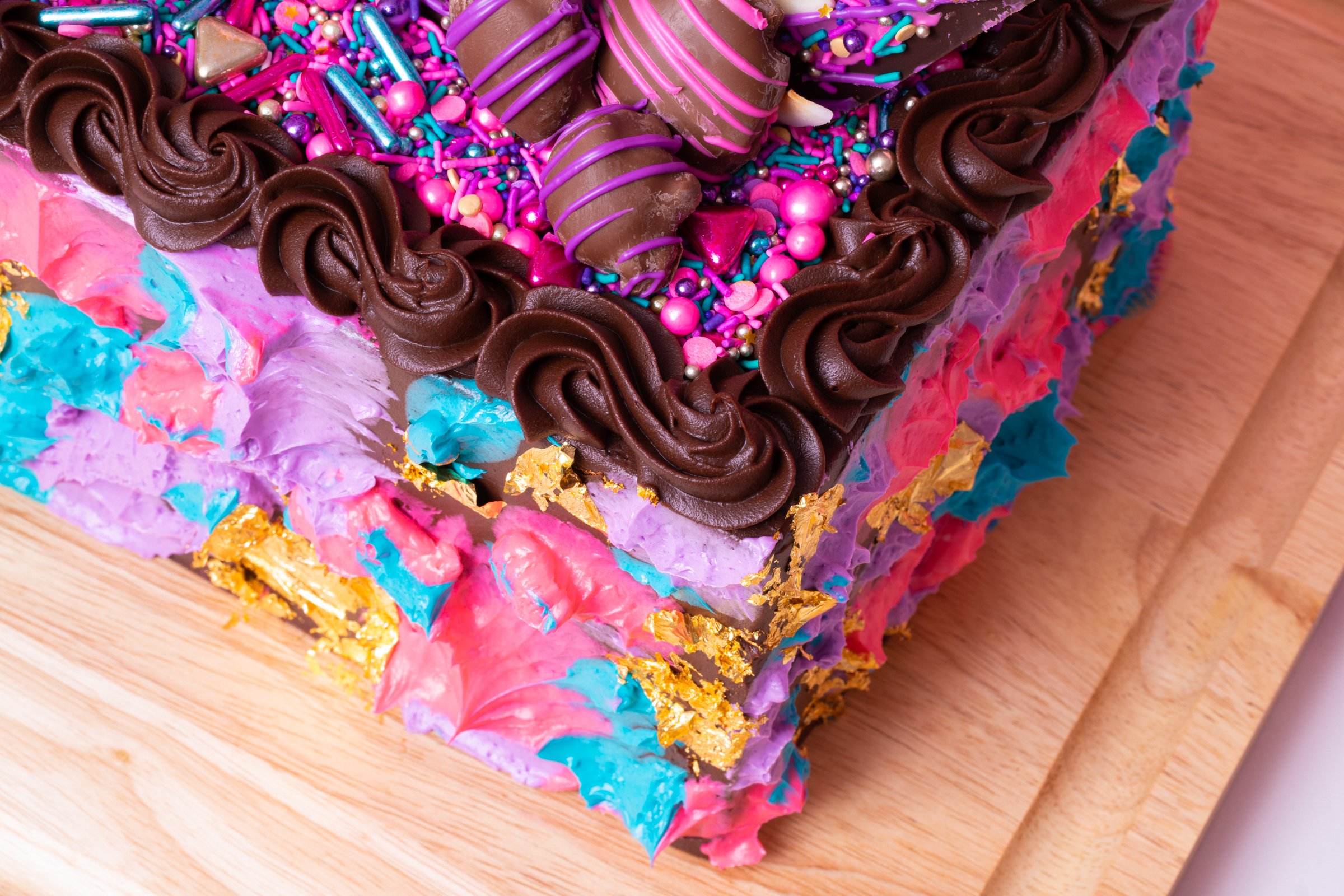 ---
8lbs of Yo's Ultimate Chocolate Cake
2 batches of simple syrup
1 batch of chocolate ganache
1 batch of German chocolate filling
Toasted coconut shreds
Sprinkles
Chocolate bars
Turtles
Candy melts
Melt your pink and purple chocolate melts then lay your chocolate bars on a tray. Spread on your pink chocolate then add on your coconut shreds and sprinkles. Drizzle on your purple chocolate and allow your bars to set. Once they've set, use a large chef's knife to cut the bars into large pieces.

Lay your turtles on a tray then melt your chocolate melts and drizzle each color on.

Line your pan with parchment paper then preheat your oven to 350 degrees Fahrenheit. Prepare 8lbs of chocolate cake batter then bake in a 11x15" cake pan for 45-50 minutes. Let your cake cool completely in its pan before removing.

Remove your cake from its pan then level off the top - saving the hump. Layer your cake into two then cut off the edges and trim it. Layer your two layers again to create a total of 4 layers. Level the hump and trim it to the same size as the other layers to create your 5th layer of cake.

Use Sir Squeeze A Lot to soak each of your layers with simple syrup then set aside to absorb.

Place your ganache in a piping bag with a #805 round piping tip then pipe a fence around the perimeter of your first cake layer. Dollop in your German chocolate filling then spread within the fence. Fill and stack your cake in this manor all the way up until you place your final layer.

Crumb coat your entire cake with ganache then chill. Ice your cake again with a very thin layer then chill.

Color your Italian meringue buttercream in various colors - I used blue, pink, and purple. Ice your colored IMBC onto your cake boards in patches then smash the boards up against the sides of your cake - make sure you press it then pull it off.

Pipe on an "S" border of ganache around the top edge of the cake with a #825 star tip.

Fill in the top of the cake with sprinkles then add on your decorated chocolate bars, turtles and some gold leaf!
#howtocakeit
Sunday,Monday,Tuesday,Wednesday,Thursday,Friday,Saturday
January,February,March,April,May,June,July,August,September,October,November,December
Not enough items available. Only [max] left.
Add to Wishlist
Browse Wishlist
Remove Wishlist