April showers bring CAKE flowers! I originally made this cake as a delicious treat for all the amazing mothers out there on Mothers Day, but these cakes can be a delicious treat for Mom (or Dad) any day of the year! Because lets be real, our parents deserved to be spoiled more than once a year. So lets spoil them with chocolate cake, chocolate ganache, and my Italian Meringue Buttercream, shaped like flower pots and topped with fresh flowers!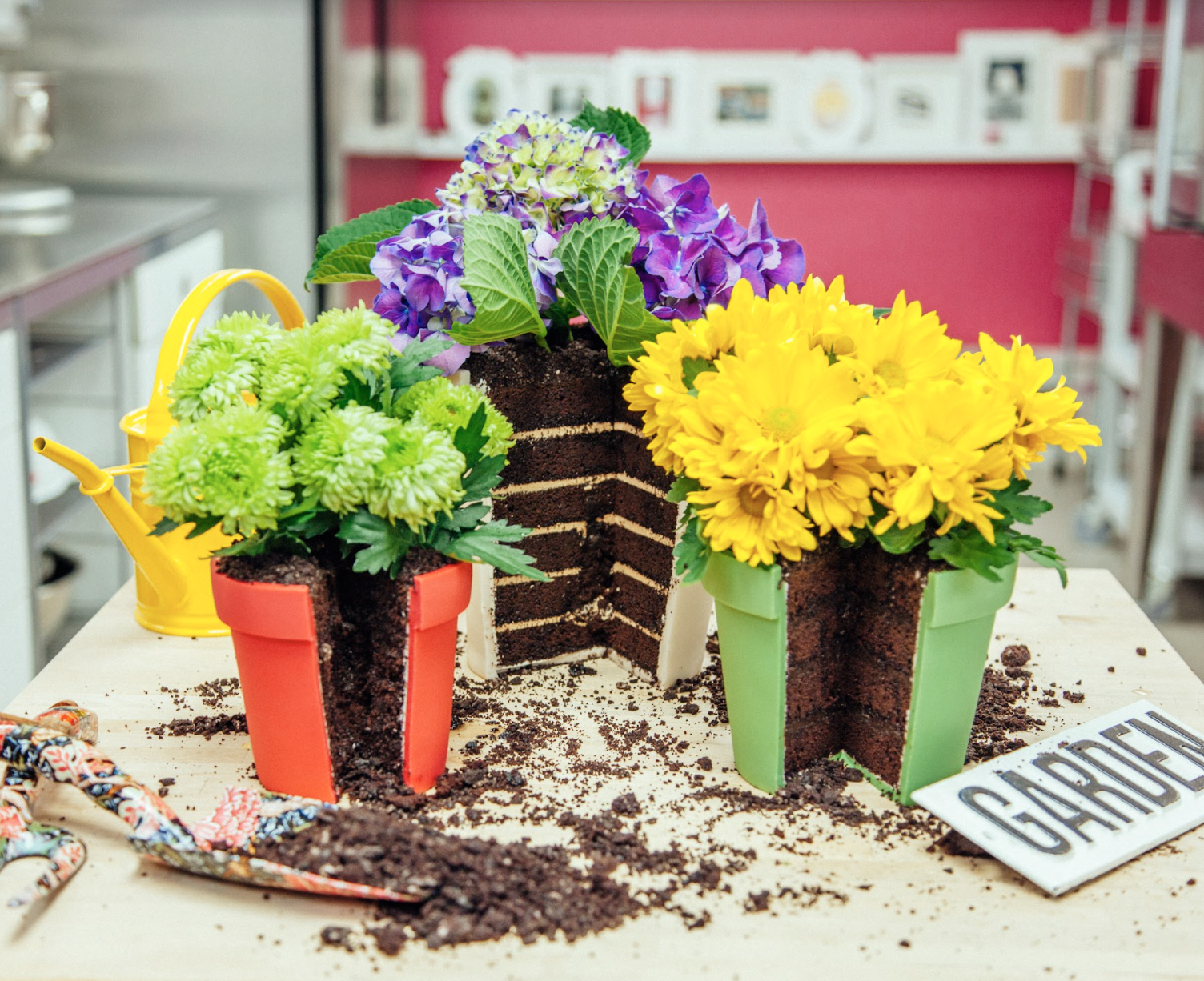 ---
7lbs of Yo's Ultimate Chocolate Cake
1 x Yo's Chocolate Ganache Recipe
1.5 batch of Italian Meringue Buttercream
4.5 lbs Satin Ice White Fondant
Ivory Icing Colour
4 Tablespoon Instant Coffee
2 Tablespoon Hot Water
Rose Pink Icing Colour
CakeCraft Food Colouring in Avocado
Fresh flowers - enough to fill each pot!
10 x Oreos
Prepare your Yos Ultimate Chocolate Cake batter, and divide among pans as outlined below:

6 round cake pans - 4lbs of batter divided evenly

5 round cake pans - 2lbs of batter divided evenly

4 round cake pans - 1lb of batter divided evenly

Bake each cake at 350 degrees, for the designated baking time listed below, or until a toothpick comes out clean and allow to cool completely in their pans.

6 round cake pans - 40 minutes

5 round cake pans - 30 minutes

4 round cake pans - 20 minutes

Prepare your Italian Meringue Buttercream, and set aside.

In a sealed jar, place your hot water and instant coffee. Shake until coffee dissolves. Slowly incorporate instant coffee into your Italian Meringue Buttercream.

Carve your cakes into the shape of a pot and fill cakes with coffee buttercream.

Cover your cakes with fondant, replicating the tapered look of a flower pot. Set aside.

Crush Oreo cookies, and any cake scraps. Mix together to replicate potting soil. Then sprinkle potting soil on top of cakes.

Place a plastic drinking straw into your cake, insert the stem of your fresh flowers inside the straw.

If youre not comfortable working with fondant, or simply want to cut down on prep time, you can actually bake my chocolate cake recipe directly in a terra cotta flower pot!
#howtocakeit
Sunday,Monday,Tuesday,Wednesday,Thursday,Friday,Saturday
January,February,March,April,May,June,July,August,September,October,November,December
Not enough items available. Only [max] left.
Add to Wishlist
Browse Wishlist
Remove Wishlist