This is the perfect cake to snuggle up with. Moist carrot cake with apples and plums that have been sauted in butter. All held together with cinnamon-infused Italian Meringue Buttercream and topped with homemade maple caramel. Whats more comforting than cake? Nothing, in my books.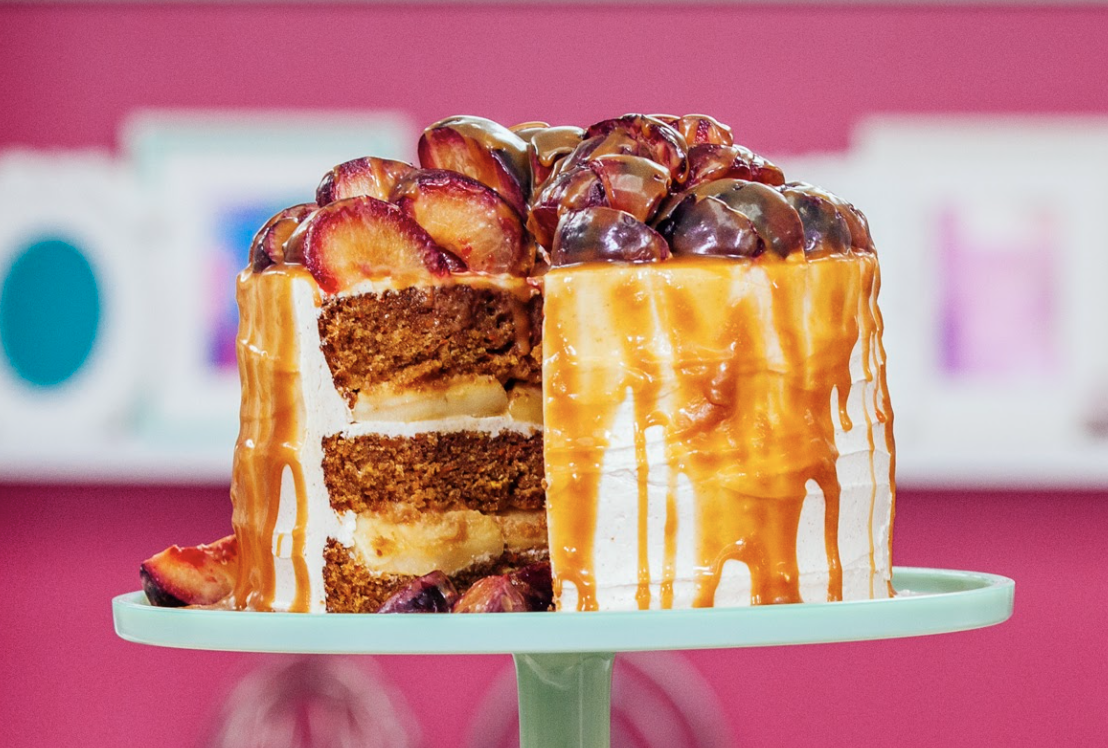 ---
1x recipe of Yo's Carrot Cake
1 x recipe Italian Meringue Buttercream
1 x recipe Maple Caramel
6 tart apples (I used Granny Smith)
6 firm plums
1 teaspoon ground cinnamon
Prepare your carrot cake batter, and divide evenly among pans. Bake at 350 degrees for 1 hour. Let cool completely in their pans.

Prepare your Italian Meringue Buttercream. Set aside.

Prepare your Maple Caramel. Set aside.

Peel your apples. Use your corer and divider to cut the apples into eight wedges. Cut all eight wedges in half.

Prepare your plums by cutting them in half along the pit with a paring knife. Remove the pit, and cut your plums into eight wedges.

Heat the cup of butter in your frying pan over medium heat. Add a layer of apple wedges. Make sure every apple wedge is laying flat in the pan. Turn them over once brown, and saute until the second side is golden as well. Repeat this process until all your apple wedges are cooked.

Then cook your plums in the same manner. Leave your fruit to cool completely.

Remove your carrot cakes from their pans and level them. Level off the bottom of one of the layers as well, and save that for the middle layer of your cake.

Take a cup of buttercream, and stir in cinnamon, a little at a time. Once well incorporated, add back to the original batch of buttercream. Fill your piping bag fitted with a #805 round tip with some cinnamon buttercream.

Lay the bottom layer of carrot cake, bottom down, onto your platter or cake board. Spread a thin layer of cinnamon buttercream. Now pipe a buttercream border along the outer perimeter of your cake layer.

Lay your sauted apple wedges in a fan pattern to fill in the circle. Lay a couple of wedges to fill the middle as well. Drizzle your homemade maple caramel over your apples making sure to keep it within the buttercream circle. Repeat the process for each layer.

Crumb coat your cake, chill for 10 minutes.

Ice the whole cake with your cinnamon buttercream. Use your offset spatula to create soft lines around your cake. Chill for 30 minutes.

Top your cake with the sauteed plums. Drizzle with your maple caramel and allow to drip down the sides of your cake.
#howtocakeit
Sunday,Monday,Tuesday,Wednesday,Thursday,Friday,Saturday
January,February,March,April,May,June,July,August,September,October,November,December
Not enough items available. Only [max] left.
Add to Wishlist
Browse Wishlist
Remove Wishlist