This mega cake is an Oreo lover's dream! Let's be real, when anyone talks about cookies and cream, they're talking Oreos so that's exactly what I went with. I folded chopped up mini Oreos into my Ultimate Vanilla Cake, baked my Ultimate Chocolate Cake with an Oreo crumb crust, then stacked the layers with an Oreo crumb Italian meringue buttercream, double stuffed Oreos, and black chocolate ganache! I also decorated the cake in more Oreos and even ones dipped in bright pink melted chocolate wafers with sprinkles on top!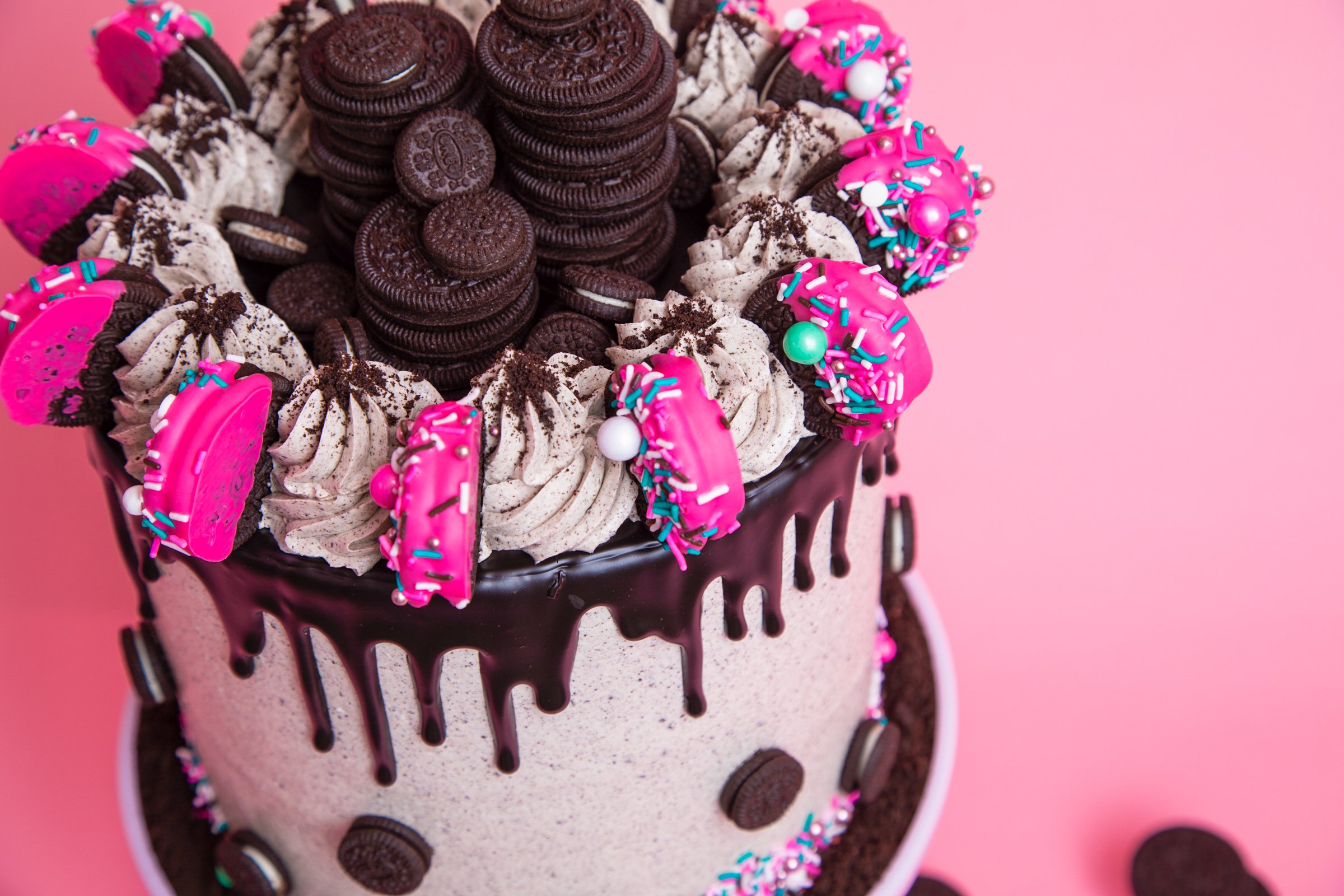 ---
4lbs Yo's Ultimate Vanilla Cake
2 cups chopped mini oreos
3lbs Yo's Ultimate Chocolate Cake
1 batch of simple syrup
2 batches of black ganache
2 cups Oreo crumbs
1/3 cup sugar
3/4 cup unsalted butter, melted
2 boxes of mini Oreos
2 packages of regular Oreos
3 packages of double stuffed Oreos
Bright pink chocolate wafers
"Summer Sprinklin" sprinkles
Make a batch of black chocolate ganache then let it thicken at room temperature overnight.

Line your pans with parchment paper and preheat your oven to 350 degrees Fahrenheit. Prepare 4lbs of vanilla cake batter then fold 2 cups of chopped up mini oreos in. Divide the batter into two 9" round cake pans and bake for 55 minutes.

Toss your sugar and Oreo crumbs together in a bowl then pour melted butter in and mix. Press your crumb mixture together into 2 removable bottom 8" round pans.

Prepare 3lbs of chocolate cake batter then divide evenly and pour over your two oreo crusts. Bake both for 45 minutes at 350 degrees Fahrenheit.

Remove your cakes from their pans - be careful with the oreo crust. Level the Oreo crust cakes then level and remove the caramelization from the vanilla Oreo cakes. Trim the vanilla cake to the same size as the 8" chocolate layers.

Use Sir Squeeze A lot to soak all of your cake layers with simple syrup then let them set.

Prepare one batch of Yo's Italian meringue buttercream then fold ½ cup of Oreo crumbs in.

Fill and stack your cake from bottom up as follows:

Chocolate cake layer
Oreo IMBC
Doubled stuffed Oreos
Pipe Oreo IMBC on top of each cookies + in the gaps
Vanilla oreo cake layer
Black ganache
Doubled stuffed Oreos
Spread black ganache onto a vanilla cake layer then stack upside down
Oreo IMBC
Doubled stuffed Oreos
Pipe Oreo IMBC on top of each cookies + in the gaps
Chocolate layer with Oreo crust - upside down so crumb side is up

Crumb coat your entire cake with Oreo IMBC then chill until firm. Ice the cake once again with the Oreo IMBC and a bench scraper and chill.

Prepare another batch of black chocolate ganache.

Pipe your chocolate ganache along the sides of the cake and allow it to drip. Fill in the top and smooth it out with an offset spatula. Place your cake in the fridge to chill.

Melt your pink chocolate wafers then dip your oreos in halfway - remove excess. Place the cookies on a tray with parchment paper or a silicone mat then before they set, sprinkle on your sprinkles.

This is the fun part - you can decorate your cake however you like! I piped mounds of Oreo buttercream around the top edge of the cake and placed the dipped Oreos in between with the pink half outwards. I also stacked Oreos and mini oreos on top of the cake using black ganache to stick them together then decorated the base with more cookies and sprinkles.
#howtocakeit
Sunday,Monday,Tuesday,Wednesday,Thursday,Friday,Saturday
January,February,March,April,May,June,July,August,September,October,November,December
Not enough items available. Only [max] left.
Add to Wishlist
Browse Wishlist
Remove Wishlist