You won't want to ignOREO this cookies and cream lover's dream recipe! I took my classic Italian Meringue Buttercream recipe and added a delicious cookies and cream twist to it for my Cookies & Cream Mega Cake! With tons of real Oreo crumbs folded in, this recipe goes perfectly with any vanilla or chocolate cake (or on its own!).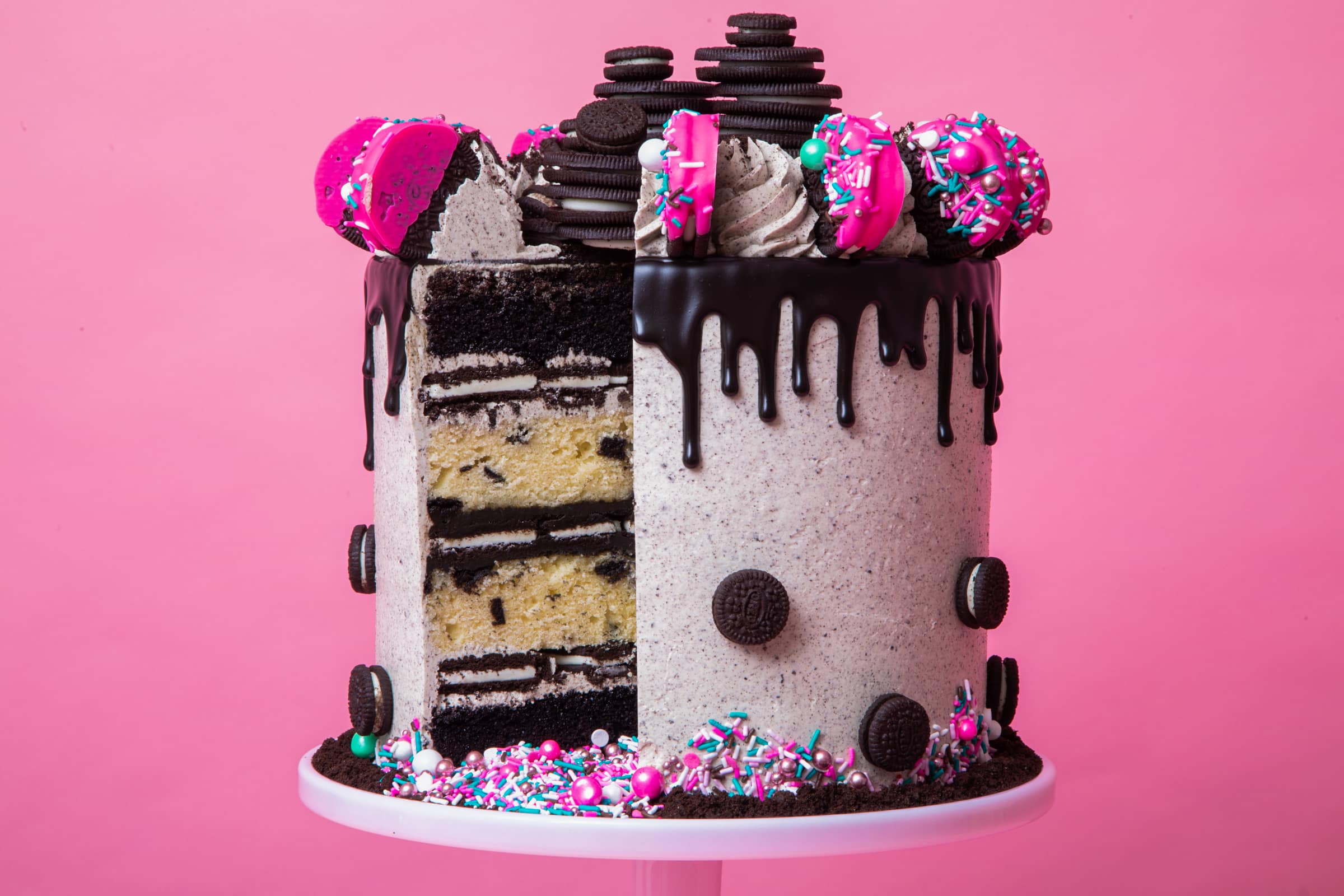 ---
1 3/4 cups sugar
1/2 cup water
8 large egg whites, at room temperature
2 cups (4 sticks) unsalted butter, cut into tablespoon size pieces at room temperature
1 tsp pure vanilla extract
1/2 cup Oreo crumbs
In a small saucepan, combine the sugar and 1/2 cup water. Place over medium heat and bring to a boil. Clip a candy thermometer to the side of the pan.

While the sugar syrup is heating, put the egg whites in the bowl of a stand mixer fitted with the whisk attachment.

When the syrup reachers 230°F on the candy thermometer, begin to whip the egg whites on medium-high speed. Whip until the egg whites are stiff. The idea is to get to this stage of the eggs stiff by the time your syrup reaches 240°F and you can move to the next step.

When the syrup reached 240°F, immediately remove the pan from the heat and, with the mixer running, pour the syrup into the egg whites in a very think stream. Pour the syrup between the side of the bowl and the whisk attachment. Be very careful, this syrup is HOT! You do not want it to hit the whisk attachment and splash you.

Whip the meringue at high speed until thick and glossy and the bowl is no longer warm on the outside, about 8-12 minutes. The most important thing is that the mixture completely cools down, and when you touch the side of your bowl, you feel no heat. This may take longer for you, or it may happen faster.

With the mixer running, add the room temperature butter, a piece at a time, whipping until each piece is fully incorporated before adding the next. Scrape down the sides of the bowl with a spatula occasionally.

After all the butter has been added, continue to whip the buttercream until it's thick and smooth, 3-5 minutes. Again, this may take longer! Often when adding the butter, the mixture appears to deflate and even become soupy. Do not lose hope! Keep whipping! Beat in the vanilla towards the end!

When your buttercream is light and fluffy, add in your Oreo crumbs on low speed or use a rubber spatula to fold them in to the buttercream.

Use immediately or transfer to an airtight container and store in the refrigerator for up to 1 week or the freezer for up to 2 months.
#howtocakeit
Sunday,Monday,Tuesday,Wednesday,Thursday,Friday,Saturday
January,February,March,April,May,June,July,August,September,October,November,December
Not enough items available. Only [max] left.
Add to Wishlist
Browse Wishlist
Remove Wishlist