Where Sweet And Salty Come Together In Perfect Harmony! I'm a big fan of mixing sweet and salty flavours together - like rich dark chocolate, salted peanuts and creamy, dreamy peanut butter. It's the best of both worlds! That's why I've layered my ultimate chocolate cake and peanut butter blondies with alternating rings of my creamy peanut butter frosting and chocolate ganache, covering it with even MORE chocolate ganache and decorating the entire cake with an array of sweet and nutty treats.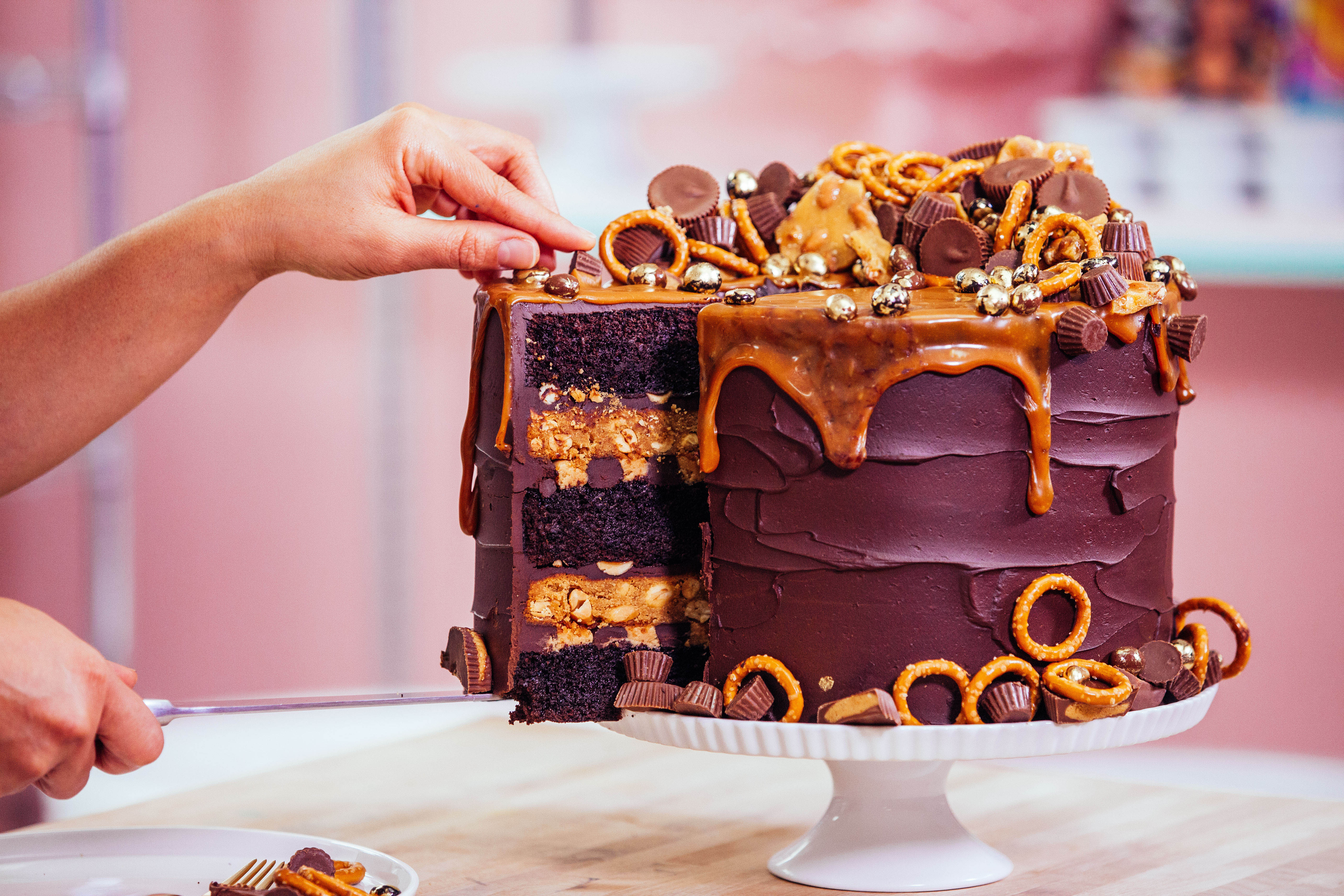 ---
8 lbs Yo's Ultimate Chocolate Cake
Simple Syrup
Dark Chocolate Ganache (4x recipe)
Peanut Butter Frosting
Peanut Butter Blondies (2x recipe)
1 cup Salted Roasted Peanuts
Quick Caramel
Pretzel Rings (or your favourite shape of pretzel)
Peanut Butter Cups
Mini Peanut Butter Cups
Peanut Brittle
Milk Chocolate Covered Peanuts
Dark Chocolate Covered Peanuts
Gold Luster Dust
Clear Food Grade Alcohol
Prepare your Ultimate Chocolate Cake batter and divide evenly between three of your prepared 9" cake pans. Bake at 350º for 55 minutes or until a toothpick comes out clean. Cool cakes completely in their pans sitting on a wire rack.

Prepare your Peanut Butter Blondies. Divide batter evenly between the remaining two 9" round cake pans. Bake at 350º for 25- 30 minutes or until a toothpick comes out clean. Cool blondies completely in their pans sitting on a wire rack.

Prepare one recipe of Simple Syrup, and allow to cool completely before pouring into a simple syrup squeeze bottle.

Remove cakes from their pans. Once your cakes are completely cool, remove them from their pans and level with a ruler and serrated knife.

Lay out your three chocolate cake rounds on a flat surface and sprinkle with simple syrup. Allow to soak in completely prior to decorating.

Remove your peanut butter blondies from their pans. Allow to cool completely.

Start with one round of chocolate cake on the bottom. Using a piping bag, pipe alternating rings of chocolate ganache and peanut butter frosting on top of this layer, beginning from the outside of the cake and continuing in a bullseye pattern until you reach the centre.

Place one of your peanut butter blondies on top of your first chocolate cake layer and spread a generous amount of ganache on top with your regular offset spatula. Sprinkle on some salted roasted peanuts.

Repeat this assembly with another layer of chocolate cake. Pipe your alternating rings of peanut butter frosting and chocolate ganache, again starting from the outside until it reaches the centre. Layer on your second blondie. Spread your ganache over the blondie, sprinkle on some more salted roasted peanuts and - finally, place that last layer of chocolate cake on top.

Once fully stacked, crumb coat the entire cake in chocolate ganache and let chill in the fridge for 20 minutes.

Retrieve your cake from the fridge and ice again with the rest of the chocolate ganache. Return to fridge for a final 20-minute chill.

Make Quick Caramel and let cool. Pour into centre of top of cake and, using your small offset spatula, push over the sides so the caramel drips over the edge of the cake naturally.


Note: The caramel does tend to cool really quickly when spread over the chilled cake, so you have to be fast. If you have one, you can use a blowtorch to reheat the caramel on your cake.

Dress those peanuts up a little by mixing your gold luster dust and clear food grade alcohol in a bowl. Once it looks like a shimmery paint, place your dark chocolate and milk chocolate-covered peanuts in the bowl and swirl around the bowl until they create a fun golden pattern.


Note: Make sure not to coat the chocolate-covered peanuts completely! They should just have a nice gold swirl.

This is the fun part! Using your pretzel rings, mini and regular peanut butter cups and peanut brittle, decorate the top and sides of your cake any way you'd like! Add any finishing touches with your golden-dipped chocolate-covered peanuts.
#howtocakeit
Sunday,Monday,Tuesday,Wednesday,Thursday,Friday,Saturday
January,February,March,April,May,June,July,August,September,October,November,December
Not enough items available. Only [max] left.
Add to Wishlist
Browse Wishlist
Remove Wishlist