There is nothing more homey and comforting than a chocolate chip cookie. The perfect cookie is crisp and caramelized on the outside, soft and chewy on the inside. Were going to stack layers of giant chocolate chip cookies with chocolate chip vanilla, and hold it all together with cookie butter buttercream. Oh, and did I mention the eggless cookie dough? This Chocolate Chip Mega Cake is going to be the ultimate tribute to the chocolate chip cookie!
On that note, I have to tell you a little secret. Although I am an avid baker, I have always been jealous of my friend Derek's chocolate chip cookies. They are delightful and so is he :) I asked Derek to help me out with my Chocolate Chip Cookie Mega Cake, and now I have his recipe! And so do you! Yay for everyone.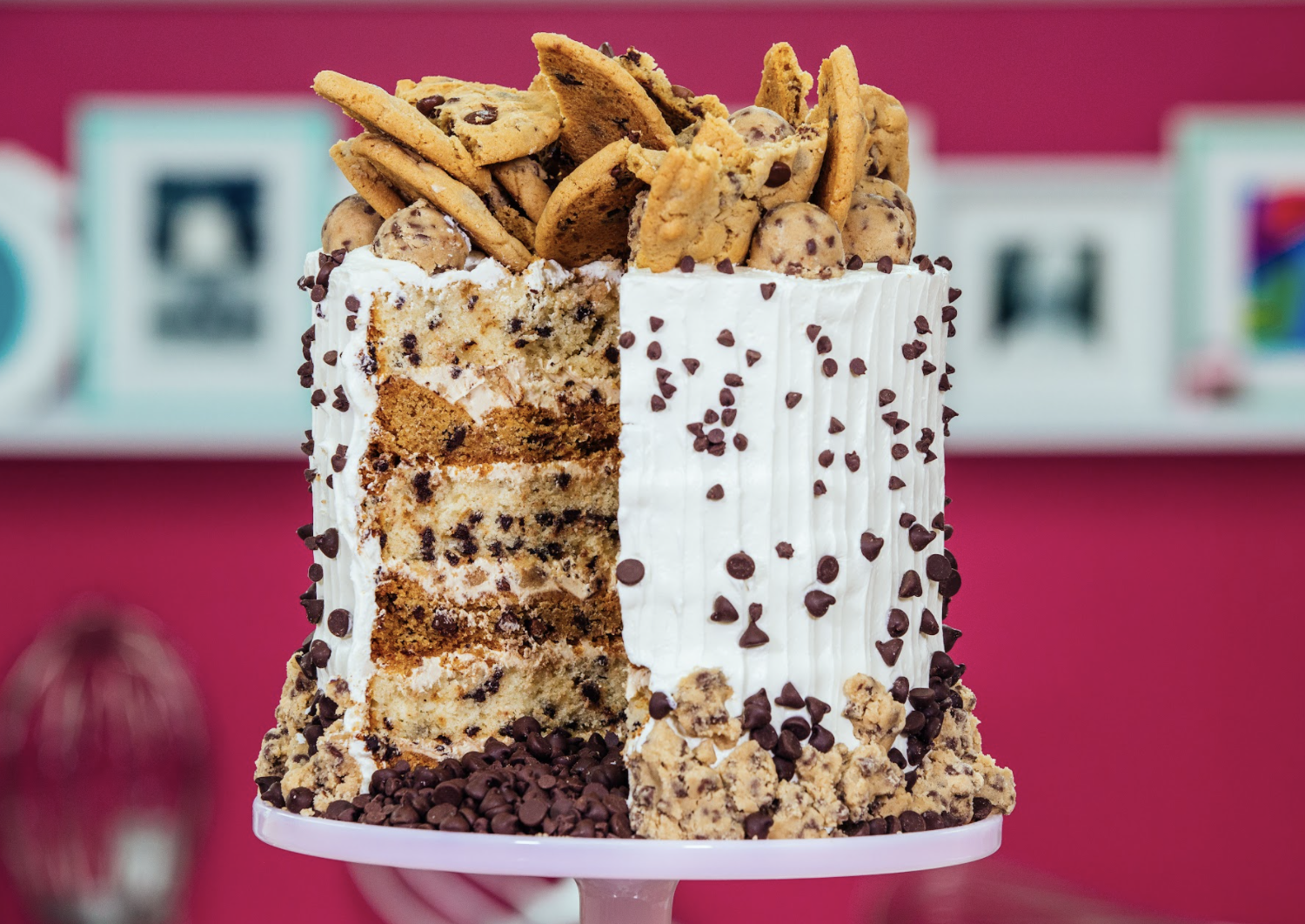 ---
4 lbs Yo's Ultimate Vanilla Cake
2 cups mini semi sweet chocolate chips
2 ¾ cups flour
1 ¼ teaspoons salt
1 teaspoon baking powder
1 teaspoon baking soda
1 ¼ cup unsalted butter, room temperature
1 ¼ cup light brown sugar
3/4 cup sugar
2 eggs, room temperature
1 teaspoon vanilla
1 1/4 cup semi sweet chocolate chips
3/4 cup milk chocolate chips
If you can, I'd recommend that you bake your chocolate chip cookie components the day before as its quite a lot to cool. This allows you to have them all set and cooled for assembly the next day.

Prepare the 4lb portion of Yo's Ultimate Vanilla Cake batter. Fold in 2 cups of mini semi-sweet chocolate chips into the batter until fully incorporated. Divide the batter between 3 prepared pans, and bake at 350 for 40 minutes or until a toothpick comes out clean. Let cool completely in pans.

Preheat your oven to 350F and line your baking sheet with parchment paper

Stir the flour and baking soda together in a bowl and set aside
In the bowl of a stand mixer with a paddle attachment, beat your butter, both sugars, and vanilla for 3 minutes on medium speed
On the lowest speed, add your eggs one at a time, and mix until fully incorporated
Add your flour in thirds, mixing on low speed until combined. Be careful not to overmix
Fold in the chocolate chips, both semi-sweet and milk chocolate




*I doubled this recipe for my Chocolate Chip Cookie Mega Cake, but I did have some leftover cookies. But when is extra chocolate chip cookies ever a problem. ;)

Once your ingredients are incorporated, portion the dough. When making dough balls, I use a scale to weigh out 1.5 oz balls, so that I can make sure each cookie will be the same size. If you don't have a scale, just eye ball it!
Bake your cookies for 10-12 minutes, or until golden around the edges. Once baked, set your cookies aside to cool on the baking tray.




TIP: Chill your dough for 30 minutes before the rolling stage to help maintain the size of your cookies!

Prepare your cookie butter buttercream and eggless cookie dough.

Remove cakes from their pans, levelling and removing the caramelization from the bottom.

Prepare your simple syrup and soak the chocolate chip vanilla cakes.

Use a giant cookie at the base and spread on a thin layer of cookie butter buttercream with an offset spatula. Crumb the eggless cookie dough along the inside of the dip of the cookie. Add more buttercream to even out the top layer and place the first chocolate chip vanilla cake on top. Repeat until all of the giant cookies and cake layers are stacked. The topmost layer should be a chocolate chip vanilla cakes.

If there is cookie butter buttercream leftover, use it to crumb coat, otherwise use plain buttercream. Let chill, ice, then chill once more.

Crumble more eggless cookie dough and press around the base of the cake. Add the cup of semi sweet chocolate chips and toss the cup of mini chocolate chips near the top of the cake.

Take the cookies and break them in half. Add them to the top of your cake in every direction. Use an ice cream scoop to create domes of eggless cookie dough.
#howtocakeit
Sunday,Monday,Tuesday,Wednesday,Thursday,Friday,Saturday
January,February,March,April,May,June,July,August,September,October,November,December
Not enough items available. Only [max] left.
Add to Wishlist
Browse Wishlist
Remove Wishlist