Vibrant Vanilla Cake With Rose White Chocolate Ganache. I really wish you could understand the amount of time I spend gazing at gorgeous cakes via Instagram. It's become an obsession. I drool over the buttercream, ganache, scrumptious cakes. They are topped with chocolate, meringues, candy and all things delicious. Ive been obsessing over Katherine Sabbaths drip cakes for a long time now, and couldnt wait to put a How To Cake It twist on it.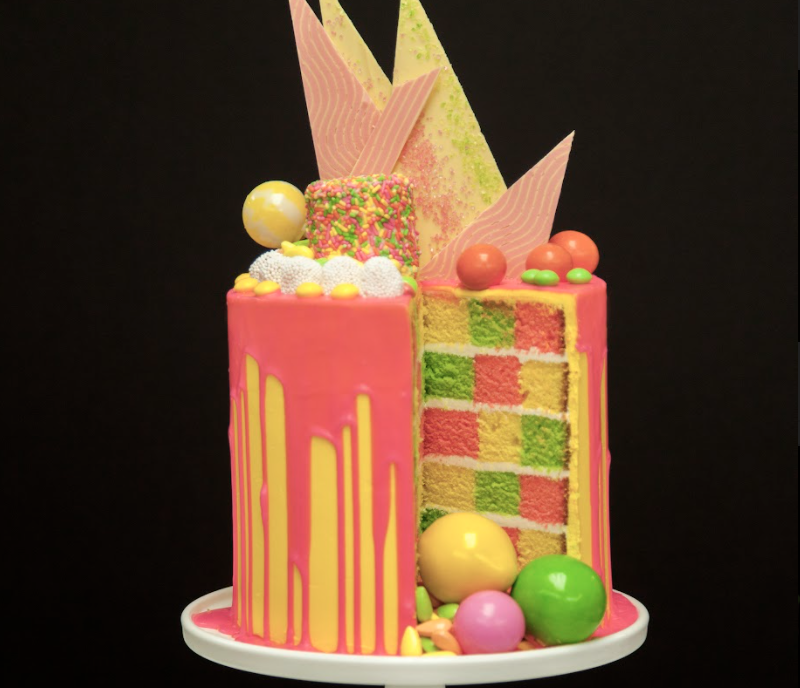 ---
6lbs portion of Yo's Ultimate Vanilla Cake
1 batch of Italian Meringue Buttercream
1 batch of White Chocolate Ganache
Candy Toppings: Gummies, Gumballs, Chocolate Bark, Chocolate Shards, Lollipops, Marshmallows
Chefmaster Lemon Yellow Gel colour
Sugarflair Bitter Lemon/Lime Gel colour
Wilton Rose Icing Colours
Rose Food Colouring
Prepare the 6lb portion of Yos Ultimate Vanilla Cake. Divide your batter into three bowls, dye each bowl of batter a different colour using your candies as a guide. I used Chefmaster Lemon Yellow, Sugarflair Bitter Lemon/Lime Gel Colour, and Wilton Rose Icing Colour.

Bake your cakes at 350 degrees for 50 minutes, or until an inserted toothpick comes out clean. Let cool completely in their pans.

Prepare your White Chocolate Ganache. Add your Wilton Rose food colouring until you have reached your desired shade of pink. Set aside.

Remove cakes from their pans, level them and cut them into two layers each.

Lay all six layers out on a table. Center your 4 1/2" cutter on one of the layers. Use a ruler to help you. Cut an inner circle of cake, and repeat with the other 5 layers. Now, using your 2 1/4" cutter, repeat the process cutting a second circle from all 6 layers.

Carefully remove the inner circles of cake from the layers. Place the cake circles back into opposite colour cake layers. All 6 of your layers should have all 3 colours.

Layer your cakes, and fill with buttercream. Be careful to stack your layers in order. Crumb coat and chill for 15 minutes.

Colour your buttercream with the Chefmaster Lemon Yellow. You can be more generous than usual with the yellow colour, because we are aiming for vibrant and bright. Remove your cake from the fridge and ice again.

Pour the ganache very slowly over your cake, a little at a time, and use a small offset palette knife to guide it towards the edges

Chill for 20 minutes to allow the ganache to set up.

Decorate your cake with your favourite candy toppings!
#howtocakeit
Sunday,Monday,Tuesday,Wednesday,Thursday,Friday,Saturday
January,February,March,April,May,June,July,August,September,October,November,December
Not enough items available. Only [max] left.
Add to Wishlist
Browse Wishlist
Remove Wishlist