You light up my life! One of my favourite things about fall is definitely all the Thanksgiving food! All the spices and flavours just scream home and family! These candle cakes not only represent the warmth of the season but are also flavoured in all the classic Thanksgiving dinner tastes! If you're looking for the perfect Thanksgiving dessert, this is it!
To make my Candle Cakes, I began by making 1.5lbs of my Ultimate Chocolate Cake, 3lbs of my Spiced Vanilla Cake, and 4.5lbs of my Pumpkin Spice Cake. Each candle cake is stacked with a flavoured sweet Italian Meringue Buttercream giving it the perfect Thanksgiving taste. The chocolate cake is stacked with a smooth cranberry clove buttercream, the vanilla cake with an apple spiced buttercream, and lastly, the pumpkin spice cake is filled with a delicious ginger buttercream. Each cake also includes a small chamber fit to add a tealight in making it also a delicious candle holder! Each cake carries its own strong flavour and will definitely be a huge hit at your Thanksgiving dinner.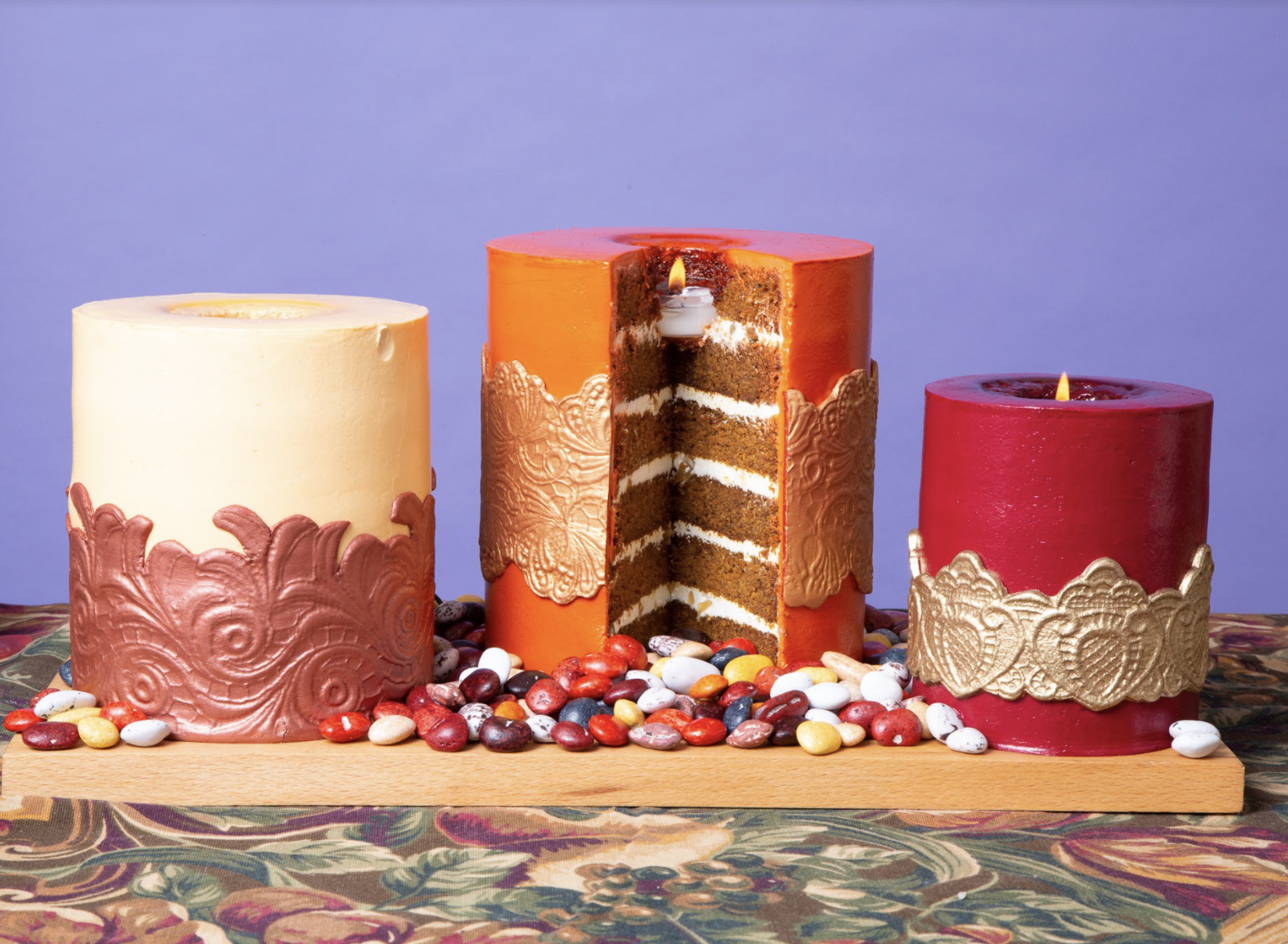 ---
1.5lb Yo's Ultimate Chocolate Cake
3lbs Yo's Vanilla Spice Cake
4.5lbs Pumpkin Spice Cake
1 batch of Simple Syrup
2 batches of Yo's Italian Meringue Buttercream
Cranberry sauce
Apple pie filling
Ginger jam
Cinnamon
Cloves
Nutmeg
Gel food coloring: copper, orange, brown, ivory, claret, red, burgundy
Gold lustre dust
Rose gold lustre dust
Old gold lustre dust
Tea lights
2lbs burgundy fondant
Line the bottoms of all your pans with parchment paper and preheat your oven to 350 degrees Fahrenheit. Bake each cake as follows:

4" round pan x 3 → 0.5lbs chocolate cake batter → 30 minutes
5" round pan x 3 → 1lb vanilla spice cake → 50 minutes
6" round pan x3 → 1.5lbs pumpkin spice cake → 1 hour 5 minutes

Let your cakes cool completely in their pans before removing.

Remove all of your cakes from their pans then level each of them. Remove the caramelization from the bottoms of the vanilla spice cakes as well.


Using a large serrated knife, layer all of your pumpkin spice and vanilla spice cakes.


Using Sir Squeeze-A-Lot, soak all of your layers with simple syrup then let them sit for a couple of minutes.


In a food processor, puree your apple pie filling until it is smooth. Take your puree and whisk it into a bit of your IMBC. Add some cinnamon and nutmeg until you are satisfied with the flavour.


Puree your cranberry sauce in a food processor until smooth then pour it into a strainer. Take the strained mixture then add ground cloves to the mix and whisk it into your IMBC.


To make your ginger buttercream, take your stem ginger jam and whisk it into your IMBC until it is completely integrated.


You will be making three separate candle cakes – one of each flavour. Before you start stacking, use a circle cutter (approx. the size of a tea light candle) and cut out the centre of one layer of each flavour. This will be for your tea light candle to sit in. Beginning with the pumpkin spice cake, fill and stack your layers with ginger buttercream until you finish off the layers. Next, stack your vanilla spice cake with your apple spice buttercream. Lastly, stack your chocolate cake with the cranberry clove buttercream. Chill all of your cakes until they are firm.


We need smooth buttercream for the outside of our candles, in beautifully coloured fall shades. Begin with three bowls of buttercream. To make a lovely pumpkin colour mix in copper, orange, and brown food colouring into your IMBC until you are satisfied with the colour. For the ivory candle, mix in some ivory food colouring into the IMBC. Lastly, for the cranberry clove candle, add in claret, red, and burgundy food colouring until you are happy with the colouring.


Crumb coat your pumpkin spice cake with the coloured ginger buttercream (orange), your vanilla spice cake with the coloured apple cinnamon buttercream (ivory), and your chocolate cake with the coloured cranberry clove buttercream (red). Place all three of your cakes in the fridge until they are firm.


Remove your cakes from the fridge and ice them all once again with their respective flavoured buttercreams. Use a bench scraper to smooth out all of the edges then let your cakes chill once again until firm.


To create the decorative band that wraps around each candle, roll out some thin burgundy fondant then press it into an embosser (use the same embosser for each or switch it up – it's all up to you!). Smooth the back with your fingertips to ensure an even imprint. Sprinkle on some corn-starch to the back of it to prevent it from sticking. Roll over it with a small fondant rolling pin then trim away the excess. Once you have done so, flip it over onto the board so that the imprinted fondant comes out.

TIP: Use a sharp paring knife to trim and clean away the edges.


Each of the three patterns will be painted a different colour so mix together a bit of gold lustre dust and food grade alcohol to create a paint then do the same for both your rose gold and old gold lustre dusts creating three metallic paints. Now paint each of your patterns one of the metallic colours and let them dry completely.


Once your painted embossed fondant strips have dried, carefully wrap them around your cakes and press them into the fresh icing to make them stick.

NOTE: Try to make the seams line up as perfectly as possible.


Press a tealight into the chamber of each cake at the top.

#howtocakeit
Sunday,Monday,Tuesday,Wednesday,Thursday,Friday,Saturday
January,February,March,April,May,June,July,August,September,October,November,December
Not enough items available. Only [max] left.
Add to Wishlist
Browse Wishlist
Remove Wishlist