There is nothing more satisfying than a burger and fries - especially when it's made out CAKE! Delicious, fulfilling and topped just the way you like it. I occasionally like to treat myself to this meal. But a sweet version of a burger and fries? Now, thats a real treat!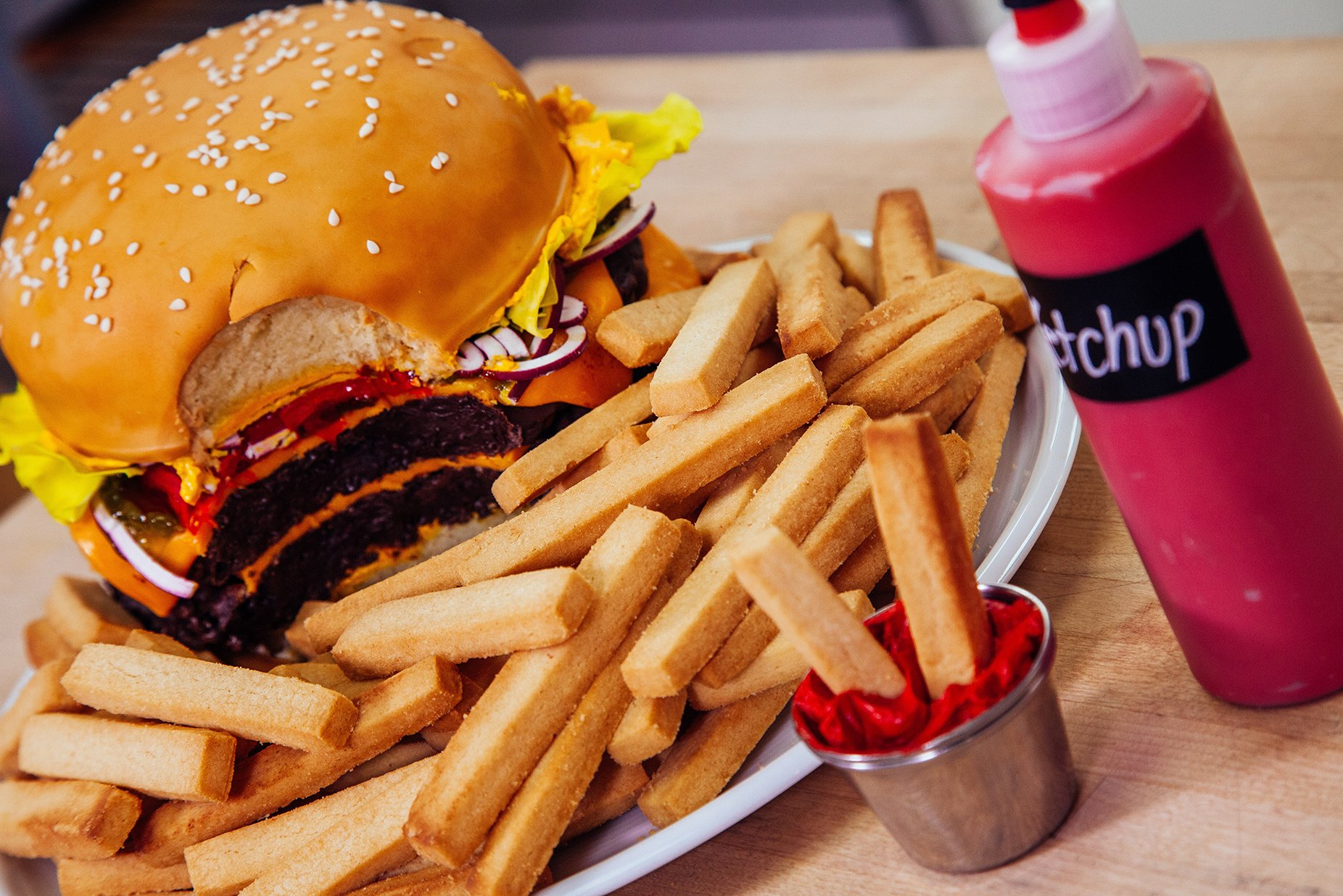 ---
3lb portion of Yo's Ultimate Vanilla Cake
1 portion of Yo's Sugar Cookie French Fries
1 batch of Italian Meringue Buttercream
1 1/2lbs White Fondant
¼ cup Light Cocoa Compound Chocolate
½ cup Dark Cocoa Compound Chocolate
1 cups Mini Marshmallows
1 cups Cocoa Rice Cereal
5oz Gum Paste
¼ cup Clear Piping Gel
½ recipe of Modeling Chocolate
Green Apple Licorice
Green Wine Gums
Icing sugar
Color Right Performance (Base Yellow, Base Brown)
Ivory Icing Colour
Lemon Extract
Vegetable shortening
Vegetable oil
Gel food coloring: lemon yellow, golden yellow, buttercup yellow, moss green, leaf green
Color dust: red, brown
Red No Taste Icing Color
Prepare your Ultimate Vanilla Cake batter. Pour 2lbs of batter into one pan, and 1lb of batter into the other. Bake at 350 degrees for 1 hour and 10 minutes (2lb pan), and 40 minutes (1lb pan) or until a cake tester comes out completely clean. Let cool completely in their pans.

Prepare your Sugar Cookie Dough. Chill for 3 hours.

Prepare your Italian Meringue Buttercream. Set aside.

Remove cakes from their pans, and level them. Carve out your bottom and top bun.

Crumb coat both cakes, and chill. Once chilled, ice again, and return to fridge.

Cut off a little piece of fondant, about 1/4lb. Add 2 drops of Base Yellow, and 1 drop of Base Brown, kneading the colour thoroughly into the fondant. Work the small amount of fondant into the larger amount. Add more colour if needed. Knead fondant into a ball, and cut it in half. One kneaded and rolled out, cover both hamburger buns with fondant. Cover your buns with a coat of Ivory Icing Colour to give it a sheen.

Use a little of your leftover bun coloured fondant to colour your gumpaste. To form the sesame seeds, pinch off bits of gumpaste. Roll them into a ball between your fingertips, and then flatten. Apply seeds while your coat of Ivory is still wet.

Melt both candy melts in the microwave in 20 second increments. Stir between each heating. Place your mini marshmallows in a bowl and heat them in the microwave for 30 seconds. Stir the marshmallows, pour in both melted candy melts and continue to stir. Now stir in your cocoa rice cereal. Quickly mold the entire mixture into a ball, and flatten to look like a patty. Make sure to form your patty a little bit larger than a 6 circle!

Take a piece of your gumpaste and roll it very thin. Dab some cornstarch onto the Deep Leaf Vein section of your flower impression mat. Lay your thinly rolled gumpaste on top, and gently rub your fingers over top. You will see the veins appear in your gumpaste. Trim the edges of your gumpaste with a sharp knife and avoid cutting perfectly straight lines. Lay your gumpaste lettuce leaf onto your sponge and use a ball tool to ruffle the edges of the lettuce leaf.

Lay your lettuce leaves to dry on some crumpled up paper towel. This will help them to dry in a more realistic formation. Use 8 drops of Base Yellow and 1 drop of Base Blue with some lemon extract. To help soften the colour add Ivory gel. Use a brush to lightly coat both sides of each lettuce leaf. Set aside.

Roll out your gumpaste to 1/8 thick. Paint the surface of your gumpaste with a mixture of 8 drops Base Pink, 1 drop Base Blue, and 2 drops Base Crimson diluted slightly with lemon extract to resemble the colour of onions. Cut your gumpaste into thin strips that are about 1/16 thick. Make sure to wipe off your knife between every single cut. Lay your strips on their side in a row, with all of the painted surfaces facing one direction. Gently, press the strips together into one another. Fold all of the strips into a half circle, making sure that the painted edges face the outside. Use your sharp knife to cut across the entire onion slice and give it an even edge. Set aside.

Roll out your red fondant 2oz at a time. You can roll it however thick you like your tomato slices on your burger. Cut out one circle of fondant from each 2oz portion. Lay your red fondant circles on a board, and paint all around the outside edge with some base red. Set aside.

Gradually mix your Lemon Yellow, Golden Yellow, and Buttercup Yellow food colouring into cup of buttercream until you have a colour that resembles mustard. Set aside.

Chop the green apple licorice and the green wine gums into tiny chunks. Wiping a little vegetable oil onto the blade of your knife will help reduce sticking. Colour your clear piping gel with Moss Green, Leaf Green, and Golden Yellow icing colours until you achieve relish green. Stir in your chopped candy. Set aside.

Roll out your modeling chocolate to 1/8 thick. Cut out a 6 square. Set aside.

Place the bottom bun onto a plate with the exposed vanilla cake facing up. Spread on some mustard. It will act as glue to hold your patty in place. Add a slice of cheese. If you choose to make a double cheeseburger, add another patty and slice of cheese.

Brle the edges of the cheese that hang over the patties. Just slightly, so they look melted. Spread a nice portion of relish onto your cheese. Add the two tomato slices and the onion. Add lettuce. Turn your top bun over and spread on some mustard onto the exposed vanilla cake. Lay your top bun onto your burger. Set aside.

Cut your chilled sugar cookie dough into thick strips. Using your paring knife, cut each strip into random length french fries.

Lay your fries onto your prepared baking trays. Make sure to leave room between the fries. Chill your cut sugar cookie french fries for 1 hour.

Bake the fries at 350 for 10 12 minutes until they are golden at the edges.

Mix equal parts of Goldenrod and Brown Color Dusts. Lightly brush this mixture onto the corners and edges of your fries. Set aside.

Mix Red (No Taste) and Ivory icing colours into cup of buttercream until you achieve a ketchup colour. Put your buttercream ketchup into a squeeze bottle or in a ramekin on the side.

If you find that the fondant sticks to your hands as you knead, rub a little vegetable shortening on them. If you are kneading for a long time, and you find your hands are getting warmer, take a minute to wash your hands in cool water and dry them thoroughly. Rub some shortening into your hands again, and return to kneading.
#howtocakeit
Sunday,Monday,Tuesday,Wednesday,Thursday,Friday,Saturday
January,February,March,April,May,June,July,August,September,October,November,December
Not enough items available. Only [max] left.
Add to Wishlist
Browse Wishlist
Remove Wishlist