Fun fact: Black Forest Cake was the first cake that I ever ate. You could say that it's what started my love of all things sweet, and with summer meaning that cherry season is in full swing I decided to take a trip down memory lane and whip one up How To Cake It style!
This cake forest started off as 7.5lbs of my Ultimate Chocolate cake, soaked in cherry simple syrup and stacked together with ganache, chocolate, and plain buttercream, layered with cherry jam and fresh cherries. Covered in chocolate bark this cake stands tall with pretzel trees and a cocoa nib trail!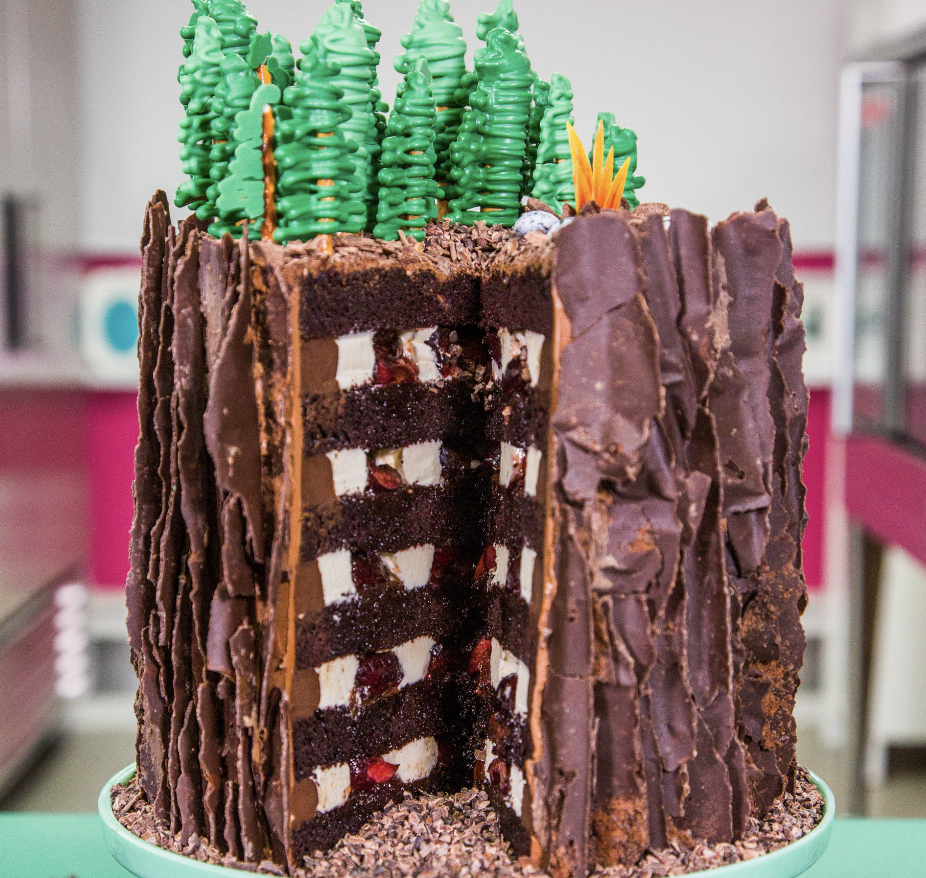 ---
7.5lbs Yo's Ultimate Chocolate Cake
Cherry Simple Syrup
Yo's Dark Chocolate Ganache
Yo's Famous Italian Meringue Buttercream
Yo's Chocolate Swiss Meringue Buttercream
Fresh Cherries, pitted and quartered
Cherry Jam
Pretzel Sticks
Green, Yellow, White Candy Melts
3lbs Dark Chocolate Melts
Chocolate Shavings
Cocoa Nibs
Stone Chocolates
Wafer Paper
Divide your batter into you cake pans (2.5lbs per pan) and bake at 350 degrees for 1 hour 10 minutes. Allow your cakes to cool completely before removing from their pans

Once cool, level your cakes and cut horizontally in half to create 2 layers from each.

Soak all of your cake layers in Cherry Simple Syrup

Begin stacking your cake by piping a ring of ganache around the outside, followed by a ring of Italian Meringue Buttercream, then cherry jam, all the way into the middle. Top the cherry jam with your quartered cherries. Repeat with all of your cake layers. Chill for 20 minutes.

Crumb coat your cake in Chocolate Swiss Meringue Buttercream and chill for 20 minutes before icing your cake with the same buttercream and chilling for another 20 minutes.

Spread melted dark chocolate on a sheet of parchment, and while still wet roll the parchment up. Set aside until dry and unroll to reveal pieces of bark. Move your cake to it's fine; serving dish and apply these to the side of your cake, filling in any gaps with more chocolate buttercream.

Lay pretzel sticks on a sheet of parchment a few inches apart, and drizzle with melted green candy melts. Mix in yellow and white for some color variation and allow to set completely before removing. Poke holes into the top of your cake before inserting trees.

Add cocoa nibs around the base of your cake, as well as a stone candy trail on top complete with optional wafer paper campfire
#howtocakeit
Sunday,Monday,Tuesday,Wednesday,Thursday,Friday,Saturday
January,February,March,April,May,June,July,August,September,October,November,December
Not enough items available. Only [max] left.
Add to Wishlist
Browse Wishlist
Remove Wishlist